Shoulder or Shudder Pads?
Right along with leggings, off-shoulder tees and acid washed jeans comes an inevitable '80s institution that we never thought would ever see the light of day: welcome back, shoulder pads.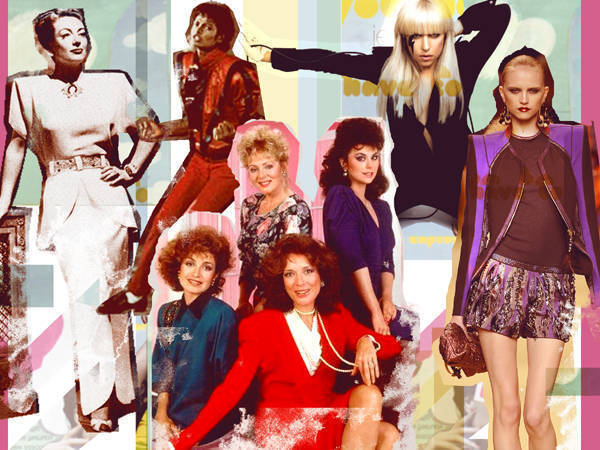 Left to Right: 1930s, Joan Crawford; 1982, Michael Jackson in "Thriller"; 1986 TV show "Designing Women," 2009, Lady Gaga; 2009, Louis Vuitton,'s Spring-Summer '09 collection.
The image of Lady Gaga and her over-the-top '80s inspired outfits fused with '90s futurism made me realize something I've been trying to avoid–the '80s isn't just back, it's hot. Right along with leggings, the off-shoulder tees and acid-washed jeans comes an inevitable '80s institution that I never thought would ever see the light of day- welcome back, shoulder pads.
First used in the 1930s by designer Elsa Schiaparelli to add structure to sleeve designs, these small, semi-circular pads' function in life was to extend the shoulders a little bit and to accentuate the waist. Sleeve designs like leg o' mutton, short puff sleeves, and peplums required structural support to keep them pert. One of the earlier fashion icons to first wear shoulder pads was Joan Crawford. Her strong shoulders perfectly complemented her usual onscreen persona as a hardworking young woman who always finds romance and financial success. Shoulder pads stayed popular up until the '50s as women's coats and dresses were tailored and military inspired. They started to decline in popularity when women's fashion turned soft and fluid in the '60s and '70s.
ADVERTISEMENT - CONTINUE READING BELOW
Shoulder pads' star moment exploded in the '80s when working women wanted shoulders as broad as the men's in the workplace. The pads weren't just to extend the shoulders, they also added height. Thinking one could never have too much of a good thing, shoulder pads got bigger and bulkier. It wasn't unusual for women to wear more than one pair under their clothes. The shoulder pads eventually came with Velcro so you could conveniently stick on your favorite pair no matter what your outfit! As style didn't discriminate against anyone, even those with short necks donned their own padded sets- making it super convenient to doze-off anytime during the day by just resting your head to the side. I think Michael Jackson's Thriller moves wouldn't have been as exciting without his quilted red jacket with pointy shoulders. So it was for men and women of the time, they willfully carried the era's fashion burden on their shoulders.
CONTINUE READING BELOW
Recommended Videos
As with anything that gets too popular and mainstream, shoulder pads became out of fashion in the minimalist 90s. As women woke up from their foamy daze, they swore never again to let themselves look like they were in an eternal shudder and made dishwasher pads of their once favorite pairs. Foam sales went down and the pads waited for the perfect moment to sink their sticky-velcros once again onto willing shoulders.
It was a gentle reincarnation. The '80s was slowly moving back into the mainstream with acid colors, leggings and giant tees. It wasn't an '80s explosion like it was before. It was slow, gentle and deliberate -making it easy for shoulder pad virgins to accept the change. Modern shoulder pads aren't literally always just foam discs under clothes, they have mutated to several layers of fabric sewn onto the shoulders outside tops and dresses. They also come in the form of several pleats, bulbous sleeves, and even delicate petal-like layers. It was a well-planned comeback and attune to the needs and aesthetic of the modern times. It has morphed to different forms to accommodate all sizes, styles and shapes. It may not be as singularly iconic an item as it was before, but everyone can feel its return, and padded or not, everyone who's lived though it before can't help but shudder a little bit.
ADVERTISEMENT - CONTINUE READING BELOW
Maybe we've been having too many adaptable trends lately that the fashion dictators decided to throw us a fashion curve ball. Boho-chic? Loved it. Minimalist '90s? Embraced it. Tribal? Carry pa. But shoulder pads? Shudder. I had the same feeling about harem pants coming back in style-but you know what, I've started to love that look. Really. So maybe that's all it will take again for this trend to take off -show people how to wear it again without looking '80s. The point is to look current and hip, and yes, brave. So how do we foray into this trend? For those of a certain age going into this trend the second time around, it will be much more difficult as living through a trend twice is always bad news. Look through magazines, go online and see how stylish people are wearing it now. For the zygotes hatched in the '80s just seeing this trend for the first time, enjoy yourself. Wear 'em as big and as out-there as you want: poufy, layered, stiff and structural, you have so many options to choose fro. Embrace this look that defined a generation's breakthroughs and then make new and exciting breakthroughs of your own. Maybe with this generation's help, the shoulder pads' inevitable return in the future won't be so scary anymore. Here, six tips to carry off the trend:
1. Make sure to cinch your waist to avoid a boxy silhouette.
2. If you're short-necked, go for styles that extend the shoulders and avoid the ones that add height.
ADVERTISEMENT - CONTINUE READING BELOW
3. To soften the structured frame of a jacket with strong shoulders, pair with full skirts, draped skirts or a flimsy dress.
4. Hairstyle alert: It goes without saying you can do without anything that looks remotely '80s. If you have a long neck, any hairstyle will do. Short neck? A chin-length bob or ponytail shows off your neck best.
5. The only way to know if you are overdoing it is if you're uncomfortable with your outfit. If the pads overpower your frame, ditch them.
6. I'll tell it like it is: The short and stocky cannot wear this. There are other trends for you!
Share this story with your friends!
---
Help us make Spot.ph better!
Take the short survey
Load More Stories