Clean and Green Tumblers
There's a new Starbucks beverage tumbler in town. And she's green, lean and definitely not mean to the environment.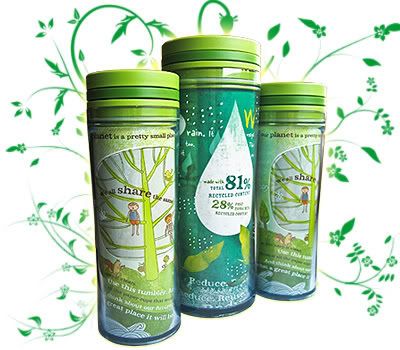 The inner body of these sleek green tumblers is made from 100% recycled plastic.
We all know that Starbucks is serious about great coffee and loyal customers (What corporate slave hasn't enjoyed the warm smile and chipper greeting from his or her neighborhood barista?). But Starbucks' pledge to the environment didn't quite sink in until we noticed a dearth of napkins � recycled, at that � at our nearest café. These days, you have to ask your barista for the prized brown things (and she will probably give you just one or two � forget reaching into the napkin container to grab your monthly napkin supply at work).
Starbucks has taken their pledge to be kinder to mother earth with their recent venture into global responsibility, coming in the form of a tumbler, which is currently available in 8 and 16 ounce sizes. The inner body of the tumblers is made from Recycled Polypropolene (PP, otherwise known as 100% recycled plastic), and the lid, which operates unlike any other tumbler lid out there, is made of FDA approved virgin materials. They take some getting used to but once you know to twist the top layer ever-so-slightly without turning the entire top, you'll become an instant fan. We road tested these tumblers by putting them in our purses while commuting to work, we tipped them over someone's head, only to be pleasantly surprised to find that our coffee remained in tact, without any of the messy spillage that we used to worry about with those other, non eco-friendly tumblers.
ADVERTISEMENT - CONTINUE READING BELOW
A few numbers to digest as you enjoy your beverage of choice: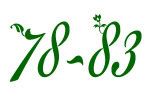 The total recycled content of the tumblers ranges from 78% - 83% and are entirely nontoxic and completely safe for customers to use.

Starbucks is offering a personal cup discount of P5.00 when customers bring their own tumblers to the café. "It seems rather singular but the impact from [our eco-friendly] behavior is incredible given the number of drinks we serve. It is also an advocacy we'd like our patrons to share with us," says Zarah Perez, Starbucks Global Responsibility.
ADVERTISEMENT - CONTINUE READING BELOW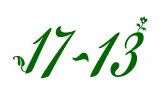 From Feb. 17 to April 13, Starbucks customers will receive a complimentary tall sized Starbucks beverage of their choice with every purchase of the environmentally friendly Starbucks tumblers.
Go ahead. Hug a tree by sippin' on your coffee.
The Recycled Tumblers are available at your neighborhood Starbucks cafe.
Load More Stories