10 Power Planners for 2010: A Sneak Peek
Replete with charts, trackers, affirmations and discounts galore, today's daily diaries are a far cry from their wimpy siblings of yesteryear.
1. Starbucks Coffee 2010 Planner
Perfect for: The coffee addict with a Starbucks habit.
Why you should get it: The much-coveted planner has people guzzling coffee like mad from holiday-red cups. This year's planners have textured covers in three different designs, featuring black-and-white photos tracing the stages of the coffee bean. Each planner has three to four columns per page (one for each day) and comes with a coffee bean bookmark.
Extras: Coupons that entitle you to complimentary espresso shots and fraps, and discounts on tumblers and coffee beans.
How to get it: Redeem the planner at any Starbucks branch by completing the 17 stickers of the promo card on or before January 6, 2010. Every redemption comes with a donation for typhoon victims and to SparkHope, Starbucks' flagship program for early childhood care and development in partnership with the United Nations Children's Fund.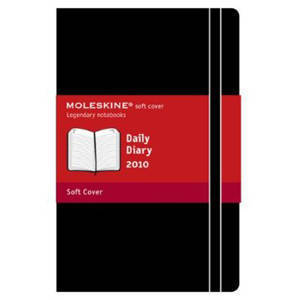 Perfect for: The classicist who loves tradition and simplicity
Why you should get it: It's the little black book of planners. For 2010, take your pick from the Moleskine planner range: from hardbound to softbound, weekly to monthly, and notebooks to desk calendars with detachable pages. Every Moleskine planner is thread-bound and has acid-free paper, a bookmark, an elastic closure and an expandable inner pocket containing a fact sheet tracing the history of Moleskine.
Extras: None.
How to get it: Available in all major bookstores for P679 to P1,349
3. Belle de Jour 2010 Power Planner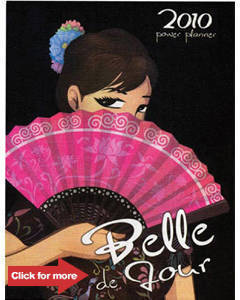 Perfect for: The on-the-ball belle
Why you should get it: "The planner for It girls," Belle de Jour comes with time management tools, affirmations, and articles on beauty, health, travel and career. Conceptualized by entrepreneur Darlyn Ty who could not find her ideal planner back in 2006, the Belle de Jour Power Planner 2010 is the fourth in the series.
Extras: P10,000 worth of discount coupons
How to get it: Available at Powerbooks for P598. Tip: Join the Belle de Jour Circle and get five percent off.
4. Cosmopolitan Date Book 2010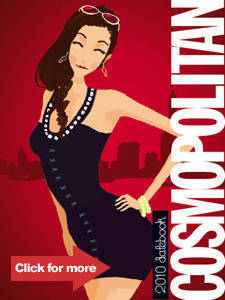 Perfect for: The fun, fearless female
Why you should get it: Aside from a yearly overview, monthly calendars, life lists and stickers to help you plot 2010, it has weekly dares, fashion and beauty tips, and a period tracker.
Extras: Freebies, discounts and exclusive treats
How to get it: Available in all bookstores and magazine stands for P250
5. This Journal Will Actually Change Someone's Life!!!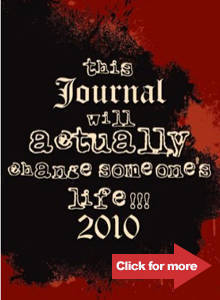 Perfect for: The quirky soul-searcher
Why you should get it: It's the funky planner that keeps on giving. Scattered among its pages are quirky holidays (Hairstyle Appreciation Day, Plan Your Epitaph Day, etc.) and tidbits (Studies show that if a cat falls off the 7th floor of a building, it has about 30 percent less chance of surviving than a cat that falls off the 20th floor. DO NOT attempt to prove this!). It also has mood charts, expense charts, health charts, soul inventory and space for notes. All proceeds of the planner go to Lifeline Foundation's medical missions, relief aid missions, adoption advocacy and more.
Extras: None
How to get it: Available at Powerbooks and Fully Booked for P720.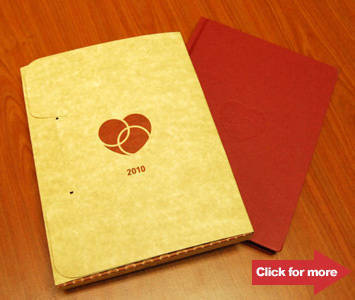 Perfect for: The art-appreciating philantropist
Why you should get it: The planner with a heart for indigenous peoples (IPs) features passages written by IPs and paintings of Retchor Umpan, an Obo Manobo artist, the planner helps fund Got Heart Foundation's projects for IPs. It comes with full-color printing on matte paper inside and a de-bossed Got Heart logo on the cover.
Extras: None
How to get it: The planners are sold for P489 (to be picked up at Green Meadows Subdivision or Ateneo de Manila University in Quezon City) and P500 (includes shipment within Metro Manila). Place your orders here.
7. Powerbooks Reader's Journal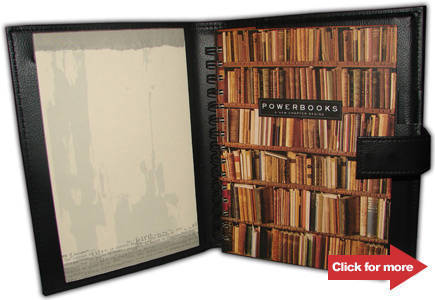 Perfect for: The eternal bookworm
Why you should get it: It will last you a lifetime. The "dateless" planner (you can fill in the dates) promotes reading with its monthly sections that contain literary quotes and guide questions about books you've read.
Extras: A leather cover and stationery.
How to get it: Get the Powerbooks Reader's Journal for free with an accumulated Powerbooks purchase of P5,000 on or before January 31, 2010. You can also purchase it for P598.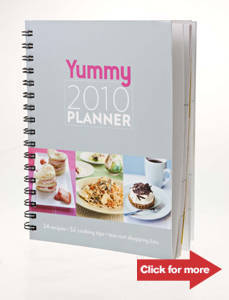 Perfect for: The organized foodie
Why you should get it: With 24 recipes and space for your own shopping lists, restos to try and recipes to cook, the Yummy 2010 Planner lives up to its name. It also comes with colorful stickers (kids-in-the-kitchen day, try a new pastry, organize the pantry and more).
Extras: None
How to get it: Available for P250 in all newsstands, bookstores and supermarkets.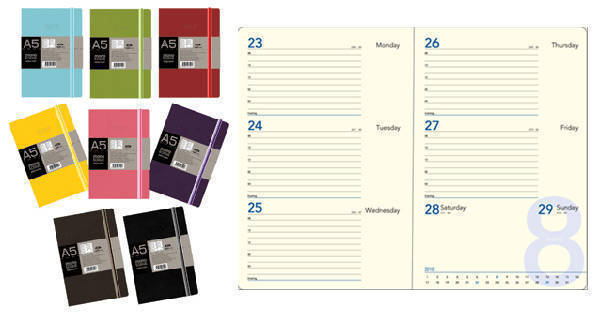 Cover and pages of Luxe Monologue Diary
Perfect for: The corporate cat
Why you should get it: Plain and simple with its solid-colored cover and striped elastic band closure, it has pages for your investment portfolio and performance analysis, plus conversion tables, time zones and maps printed in color. This weekly planner is printed on cream acid-free paper.
Extras: None
How to get it: Available for P499 at Fully Booked.
10. Van Gogh 2010
Cover and pages of Van Gogh 2010
Perfect for: The art lover who travels light
Why you should get it: People who want a planner small enough to fit in a pocket will like TeNeus' spiral Van Gogh 2010 planner; their small engagement calendar is only 5 x 3.75 inches. Dividing the months are pictures of Van Gogh's paintings from museums around the world–great for an instant inspiration fix. The planner has space for notes, birthdays and addresses, plus world time differences, international dial codes and international holidays. TeNeus also has planners featuring other artists like Salvador Dali, Gustav Klimt, James Rizzi, Wassily Kandinsky and Alphonse Mucha.
Extras: None
How to get it: Available for P399 at Fully Booked.
Read "More 2010 Planners (You might wish you'd gotten one of these instead)."
Load More Stories