Earth Hour Prep: Spot.ph's Green Guide to Smart Shopping
SPOT.ph takes you to greener pastures with eco-friendly picks like water-powered alarm clocks, wearable junk, cornstarch-made plates, and more.
With March 27's Earth Hour on our minds, Spot.ph wants you to know that going green isn't that difficult-as long as you've already made up your mind to be eco-friendly all the way. You'll just have to commit to ditching the convenient-but-harmful stuff and opt for things that won't put too much strain on the Earth. Start living green with SPOT.ph's 10 eco-friendly picks: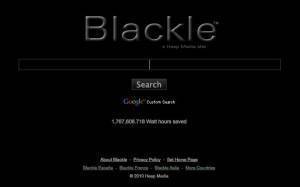 1. Once you go black, never go back. You can "Save energy one search at a time" with Blackle.com, one of the black search engines powered by Google Custom Search. Running on the premise that it takes 15 watts lesser to power a dark screen compared to a white screen, Blackle has saved over 1,766,326.540 watt hours since 2005. Every little bit does count.
�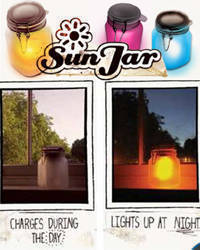 2. Light up your life. Quirks' Sun Jar stores sunlight during the day and shines at night. How? "Really simple: a glass jar, a solar panel, battery and LED light," according to Quirks. It's suitable for use indoors or in the garden.
The Sun Jar is available for P1,850 at Quirks Novelties & Curiosities, 320-A Level R3 Power Plant Mall, Rockwell, Makati City.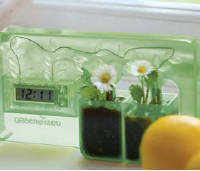 3. It's time to get wet. You have to fill Quirks' Water Clock with-what else?-H2O so it can help you tell time. Heck, you can even grow your own plant in it and use the moist soil to power the clock! Just remember that you have to water your clock or it won't run. Telling your boss, "I forgot to water my alarm clock," just doesn't sound sane (yet).
ADVERTISEMENT - CONTINUE READING BELOW
The Water Clock is available for P645 at Quirks Novelties & Curiosities, 320-A Level R3 Power Plant Mall, Rockwell, Makati City.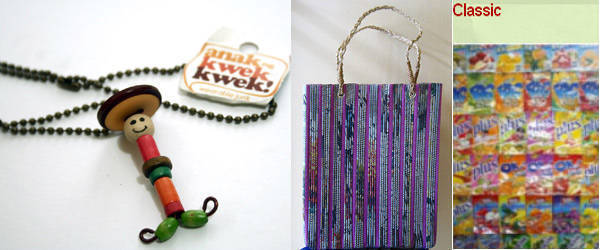 Left to right: Anak ng Kwek Kwek necklace, EchoVillage Store newspaper bag and Kilus Foundation doypack bag
4. Turn trashy. Wear treasures made from trash like Anak ng Kwek Kwek's "wearable junk," EchoVillage Store's newspaper bags and Kilus Foundation's doypack bags. You'll stand out at a green, affordable price.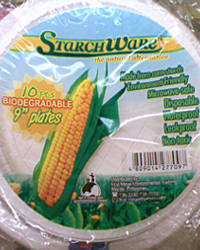 5. Step up to the plate. Reusable plates (glass, ceramic, etc.) are still the best. However, if you can't help but use disposable plates, go the green way. Paper plates (not the laminated ones) cost only about a third of plastic plates. For waterproof and microwavable plates, those made from biodegradable materials like cornstarch and natural fibers are available in supermarkets. They're more expensive than the usual paper plates-but paying a little extra in order to be eco-friendly is worth it.
Available in local supermarkets: Cornstarch-made StarchWare (P54.75 for 10 pieces), and natural-fiber-made EarthWare (P91.75 for 12 pieces).
How to use cloth gift wrappers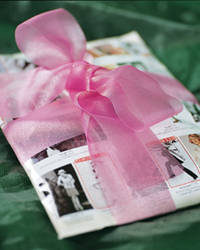 6. It's a wrap. Give your gifts a glossy finish by turning old magazines to funky wrapping. Score no-sweat extra points by wrapping the gift in the receiver's latest obsession, be it a magazine spread featuring American Idol's new big four or the returning Lost castaways.
7. Say it with flowers. Ditch the confetti and throw petals and leaves during summer soirees instead. They're not only eco-friendly-fresh flowers and leaves look and smell so much better, too. Michi Calica in New Manila, Ore's Flower Shop in Pasig and Tecson Flower Shop in SM Fairview are some of the flower shops that offer petal confetti by the bag. You can also do it yourself; use petals and leaves that have fallen off but still look presentable for a more eco-conscious choice.
ADVERTISEMENT - CONTINUE READING BELOW
8. Don't be so plastic. Fiestas equal colorful plastic banderitas hanging from pole to pole along the streets. Instead, do what Barangay Tambo in Parañaque City did in 2008 and use "packaging leftovers and product ads" as decorations. The barangay took another green route by using bamboo and banana trees to create fiesta arcs.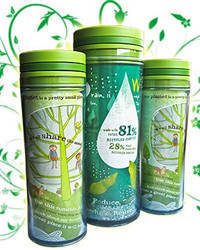 Starbucks tumblers
9. Thumbs up for the tumbler. Rise above posers who carry around branded takeout cups like they're Oscars. Tote tumblers to minimize the use of plastic and Styrofoam cups. With your own stylish tumbler, you can be sure that your "drinking habit" won't hurt the Earth. Tumblers are available in local supermarkets, department stores and most coffee shops like Starbucks (some branches of which sell tumblers made from 100% recycled plastic, among other tumblers).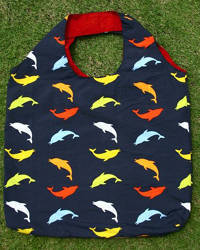 Beansprout bag
10. Just bag it. You already know to always bring a foldable bag to save tons of plastic bags from small-item purchases and you might even inspire others to bag it too. EchoStore branches in Serendra and Podium are just some of the stores that sell foldable bags like the Beansprout bag (P200) which holds up to seven kilos worth of items. You can also find foldable bags online at Ebay.ph and Sulit.com.ph, among others. Going for a greener game plan? Make your own foldable bag.
How to make a foldable bag from your old clothes
ADVERTISEMENT - CONTINUE READING BELOW
�
Artwork (homepage) by Warren Espejo. Photos by Ocs Alvarez (magazine-wrapped gift) and Dyan Zarzuela (EchoVillage Store newspaper bag and StarchWare), and courtesy of Beansprout, Quirks, Anak ng Kwek Kwek and Kilus Foundation.
Load More Stories