SPOT.ph's Guide to Thrift Shops in Manila
SPOT.ph checks out more shops that offer irresistible deals for bargain hunters.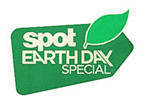 Whoever thinks eco-friendly shopping isn't fun just doesn't know where to look.
These days, thrift shops are a dime a dozen. � Anyone who's patient enough to go through messy piles of so-called junk will most likely end up with treasures-be it shoes, bags, books, and even old Liwayway magazines-at rock bottom prices.
ADVERTISEMENT - CONTINUE READING BELOW
When it comes to bargains, Divisoria, Quiapo, and Greenhills are the usual places that come to mind. � But if you've already milked these thrift spots for all they're worth, you can check out these second-hand shops that boast of irresistible deals for bargain hunters.
BANGKAL
Sandwiched between the cities of Makati and Pasay, this long queue of little stores is a haven for those with a good eye for secondhand designer bags, gym equipment, and antique furniture and decor. Newbies can make their way from EDSA by taking a right turn down Evangelista street (past Magallanes southbound) and stopping at the Hizon and Apolinario street intersections. Here are just some of the many stores you can find there:
CONTINUE READING BELOW
Recommended Videos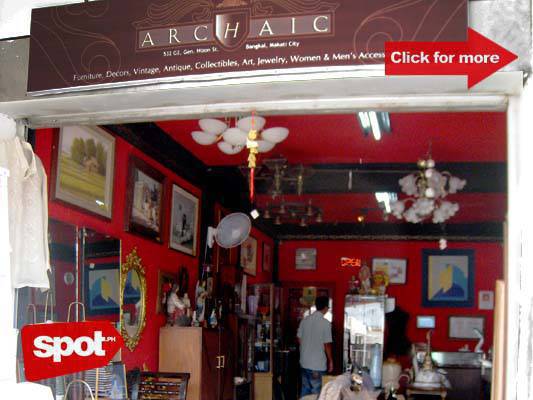 ADVERTISEMENT - CONTINUE READING BELOW
Shop name: Archaic
Number: 759-3112
Store hours: 9 a.m. to 6 p.m. (Monday to Saturday)
This classy thrift shop has already been featured on some glossy magazines for its quality finds. With its organized layout, buyers can easily spot items they're looking for. The store offers chic European and American-inspired furniture and art, lighting fixtures, vintage knickknacks, designer bags and luggage, jewelry and watches, and even a samurai sword. With all items promised to be 20% less than their department store counterparts, people with cash to spare can definitely take something home.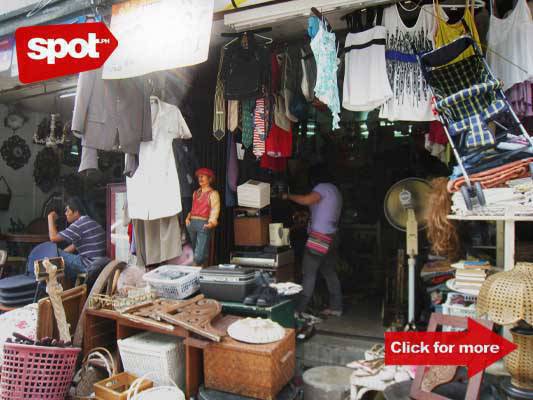 ADVERTISEMENT - CONTINUE READING BELOW
Shop name: Femy's Thrift Shop
Number: 384-5224
Store hours: 9 a.m. to 6 p.m. (Monday to Saturday) 9 a.m. to 12 noon (Sunday)
With two separate branches on the stretch of Hizon street, Femy's Thrift Shop offers a wide range of items for thrift buyers. People can purchase paintings, China, chandeliers, shoes, and clothes. � Haggling is definitely allowed.
BANGKAL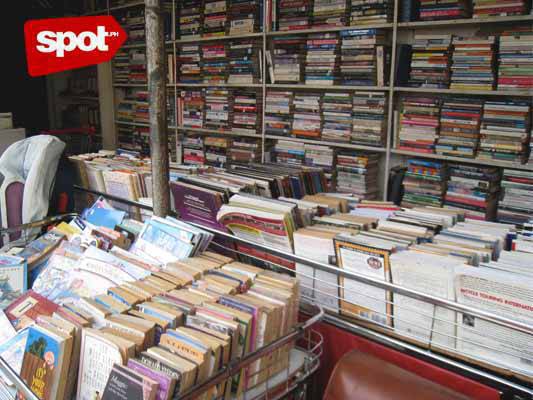 ADVERTISEMENT - CONTINUE READING BELOW
Shop name: Bangkal Thrift Bookshop
Store hours: 9 a.m. to 6 p.m. (Monday to Saturday)

Adjacent to the main Bangkal Thrift Shop compound is a stall that looks like an open-air version of Booksale. The shelves are in total disarray making it difficult for the casual shopper. On the upside, most of the books on display are sold depending on their thickness. The paperbacks on the table cost around P50 to P75, while the shelved hardbound editions cost P150 to P200.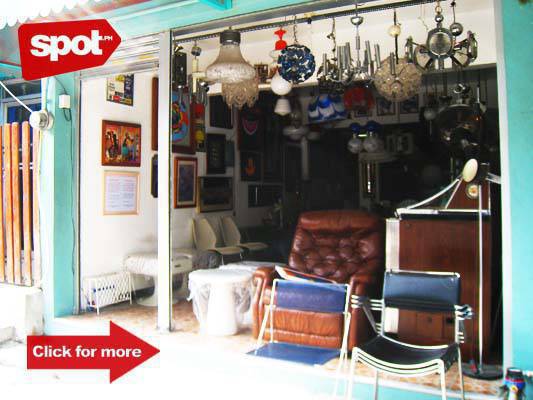 ADVERTISEMENT - CONTINUE READING BELOW
Shop name: Mercatino
Number: 848-8255
Store hours: 10 a.m. to 5 p.m.
Those searching for retro fixtures for their home can find both big and small accents and furniture that date back to the swinging '60s or earlier. They sell authentic vintage couches, lamps, tables, television sets, and even a jukebox for negotiable prices
CUBAO X
Tagged as the hipster hang-out of Quezon City, this cozy compound of shops and galleries boasts of more textured and sophisticated tastes. � Aside from Heima, Sputnik, and the many shoe stores, shoppers also come here for the nifty finds in its quirky thrift shops.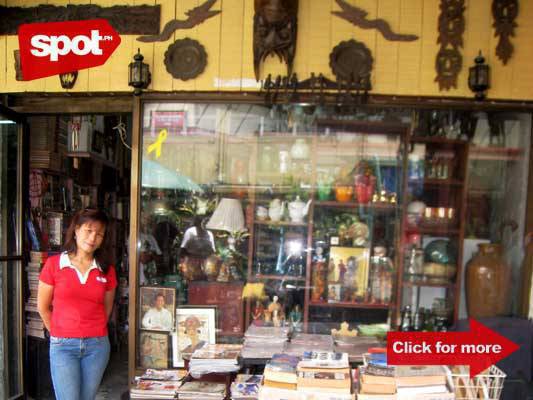 ADVERTISEMENT - CONTINUE READING BELOW
Shop name: Ms. Remy's Thrift Store
Number: (0909) 999-3093 or (0927) 227-3700
Store hours: 9:30 a.m. to 9:30 p.m.
For over six years, Ms. Remy has been selling hard-to-find merchandise to people who have discovered her humble space near the compound's exit. � Her array of vintage books that are organized by author would be enough to make any collector smile. � She also takes pride in the antique glassware and China she's acquired over the years.
Right at the storefront is a spread of vintage magazines and books which sell for as cheap as P2 to P5 a piece. � Vintage magazines from the '50s and '60s are sold in threes for just P100. � Inside, paperback titles sell for P90 to P180, while the serious hardbound editions like Umberto Eco titles go up to P450. The store also has restored vintage pieces such as typewriters, cameras, and luggage. � There are even old records.
ADVERTISEMENT - CONTINUE READING BELOW
The store is frequented by old and young alike. � Older costumers usually go for the chic lighting fixtures and furniture while younger buyers usually go out with a stack of books and vintage Wayfarers.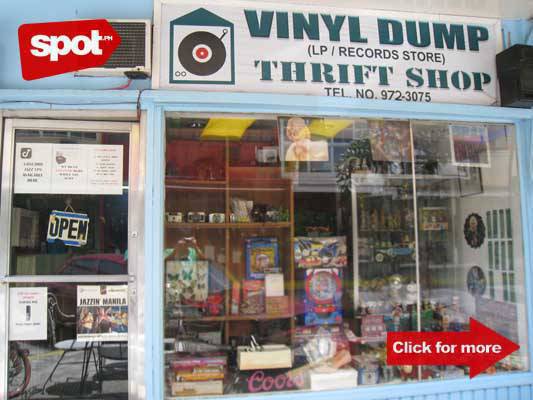 Shop name: The Vinyl Dump
Number: 437-3234
Store Hours: 10 a.m. to 9:30 p.m.
On the other side of the compound is a shop called the Vinyl Dump Thrift Store. It's a secondhand shop with shelves packed with good-condition vinyl records sold at P10 a piece. Some rare ones sell for only P150 or lower depending on the scarcity and quality.
ADVERTISEMENT - CONTINUE READING BELOW
But what good are records without players, right? Well, the store also sells restored turntables, players, and other audio equipment, all of which are either shipped from the USA or bought from local sellers. Those who have damaged players can always come in and have them fixed for a certain price.
KAMUNING
Widely popular for its textiles and tailors, Kamuning has also become a place for mini ukay-ukays. One of the more popular stalls is the one found near Chowking Kamuning along EDSA. But for those looking for rare musical bargains, Swap Meet is the place to be.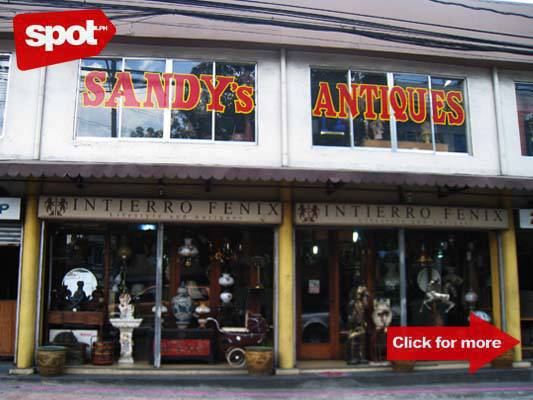 ADVERTISEMENT - CONTINUE READING BELOW
Shop name: Swap Meet
Number: 467-8060 or (0918) 227-9866 or (0912) 438-7865
Store Hours: 10 a.m. to 7 p.m.
Hidden on the second floor of a furniture shop building along Kamuning Avenue is a treasure trove of old records. Fans of Rico J. Puno, the APO Hiking Society, VST & Co, The Beatles, and the like, will have a blast sampling the tracks as they play on the store's turntable. Although the mint condition, collector's discs sell for around P3,000, interested buyers can have the original recordings transferred to compact discs for only P250. � Aside from the music, people can also purchase old wooden furniture, framed posters, secondhand players, trinkets, and gramophones.
DILIMAN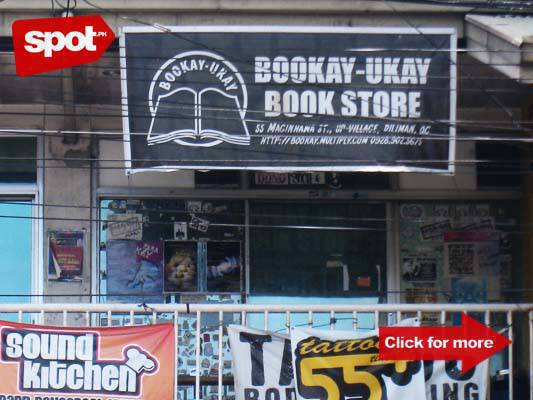 ADVERTISEMENT - CONTINUE READING BELOW
Shop name: Bookay-Ukay
Number: (0905) 428-3125
Store Hours: 1 p.m. to 10 p.m.
Along the stretch of Maginhawa Street in UP Village is a hotspot for serious bibliophiles. � Found on the 3rd floor of lot 55, in between the Tomato Kick restaurant and a tattoo shop, the store stands out with its strong indie trappings and awesome piles of books. � Bookworms will find themselves getting multiple bookgasms just by going through the thousands of titles neatly shelved to fit their literary categories ranging from philosophy to self-help, heavy metal to religion, picture books to bestsellers, school literary folios to Manga, and even your dirty lad's magazines.
The prices vary depending on the titles and date of publication. Classics can sell for as cheap as P10. Rare hardbound editions can go up to P500 or more. � In fact, the store's most expensive book is a signed copy of Neil Gaiman's Anansi Boys for P2,500. � Other merchandise include original bags, trinkets, and graffiti shirts. � Documentaries in VCD and VHS format worth around P100 to P150, guitars, various musical instruments, skateboards, and cameras can be ordered in advance.
ADVERTISEMENT - CONTINUE READING BELOW
Occasionally, the store also holds events such as magazine launches, film screenings, and exhibits showcasing the works of up-and-coming artists.
KATIPUNAN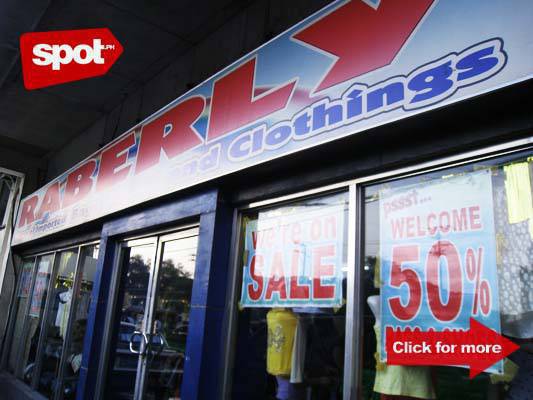 Shop name: Raberly
Store Hours: 10 a.m. to 7 p.m.
Also found at the Harrison Plaza and the Pasay LRT station, this ukay-ukay stop near the LRT Katipunan station promises clothes for all sorts of fashion statements. � With several pieces ranging from office to casual wear, thrift shoppers can mix and match to their heart's content. � Blouses, shirts, skirts, and pants cost around P85 to P155. � Other selected pieces are placed in the 3 for P100 section. Shoes and designer boots range from P300 to P1,000. � Prices can go way lower depending on how good you haggle.
ADVERTISEMENT - CONTINUE READING BELOW
ORTIGAS
Just a stone's throw away from Greenhills are two shops on the southbound side of the EDSA-Ortigas intersection. � Though somewhat off-kilter, these stores have several aisles' worth of clothes from the US. � Ukay-ukay sa Ortigas is a good place to start. � Located beside the Philippine Overseas Employment Administration building, it's filled with rows of pants, blouses, shirts, jackets, and shoes.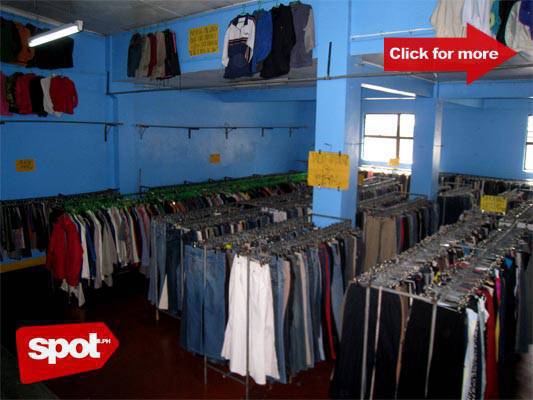 ADVERTISEMENT - CONTINUE READING BELOW
Shop name: Ukay-ukay sa Ortigas
Number: 496-9286
Store Hours: 10 a.m. to 10 p.m.
With a little patience, you'll be able to spot branded goods from Zara, Hush Puppies, and North Face among the generics. Hagglers will have a grand time here since the store's attendants are friendly, and attentive. They're also very flexible about prices-especially if you're persuasive enough.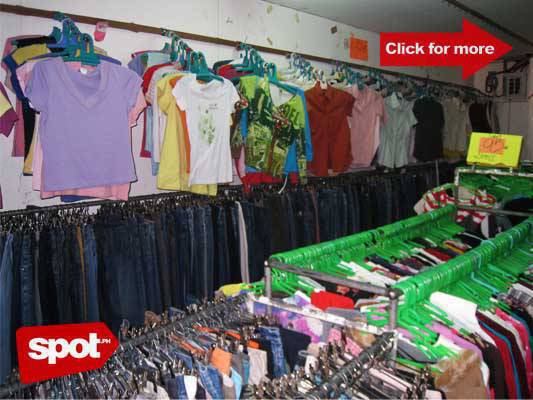 ADVERTISEMENT - CONTINUE READING BELOW
Shop name: Lucky 888
Store Hours: 10 a.m. to 9 p.m.
Just across Ortigas is the old �Fashion de Lite, now called the Lucky 888 shop. For P100, people can already get as many as four items off the racks. They offer signature pants, shoes, and blouses. � But the real steals are the bags hanging from the ceiling.
SPOT.ph wants to know: Where do you go find great thrift shop bargains?
Share this story with your friends!
---
Help us make Spot.ph better!
Take the short survey
Load More Stories