SPOT.ph Road-tests 10 Popular Home Massage Services
Instant rejuvenation that's just a phone call away.
With home massage services mushrooming all over Metro Manila, everyone's need to be kneaded is just a phone call away. SPOT.ph asked beauty editors, writers, and massage regulars which ones they have on speed dial and narrowed down the choices to the 10 most talked-about services in the city. For this test, we chose to try the standard Swedish massage. Check out this list when you want a quick session to get the kinks out of your tired bodies (listed in no particular order):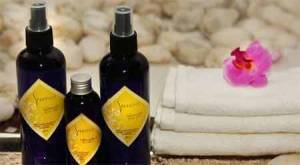 1. Spaholics
Phone Numbers: 633-5880, (0917) 531-3531
Website: www.spaholics.com
E-mail: info@spaholics.com
Areas serviced: Most parts of Alabang, Quezon City, San Juan, and Makati (1 p.m. to 12 midnight daily)
Price: P500/hour


ADVERTISEMENT - CONTINUE READING BELOW
The lowdown: According to the information on their website, the "Spaholics Massage" combines Swedish massage techniques with "the traditional Filipino remedy called hilot, renowned for its healing benefits." They are also known for their Hotstone Massage (P650/hour), a big favorite among Spaholics regulars, according to the receptionist.

Spaholics' bookings are done efficiently: the receptionist calls if the inquiry is sent through an SMS message, asks for the home address and confirms the appointment. The therapists, who come in Oriental-inspired mint green uniforms with their hair pulled back into neat buns or headbands, aren't chatty. They bring their own custom-built massage beds, which only takes them less than ten minutes to set up. The therapists also ask if the pressure is too much or too little. Their massage oils also come in two scents: lavender and eucalyptus.

Thumbs up for: Spaholics' extras turn the normal home massage routine into a serene experience. They bring their own CD player for mood music, pack fresh towels with them and offer ginger tea after the treatment. They even bring their own hot water in Thermoses placed inside uniform black bags.
CONTINUE READING BELOW
Recommended Videos
ADVERTISEMENT - CONTINUE READING BELOW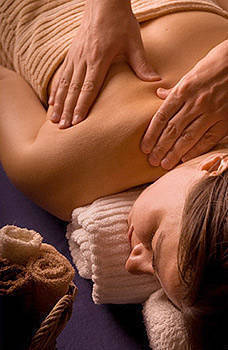 2. Orange Home Spa
Phone Numbers: Makati, Madaluyong or Pasay: 517-5564 or (0919) 624-1181; Pasig, Quezon City or San Juan: 996-2615 or (0919) 624-1181; BF Homes, Paranaque and Alabang: 996-6257 or (0923) 930-3522.
Website: www.orangehomespa.com
Areas covered: Makati, Mandaluyong, Pasay, Pasig, Quezon City, San Juan, BF Homes Paranaque, and Alabang (Monday to Saturday: 2 p.m. to 12 midnight, Sunday: 1 p.m. to 12 midnight)
Price: P300/hour or P500 for 2 hours

The lowdown: The therapists, wearing outfits that make them look like nurses in scrubs, are transported to different parts of town using scooters. They also inform you, sans textspeak, if they are running a bit late. Orange Spa's therapists exert serious force and showed above average massage techniques. But be sure to choose a comfy bed, they do not bring massage beds nor towels.

Thumbs-up for: The impressive calf and back technique of Orange Spa's therapists makes up for their 15-minute tardiness during our massage test.



ADVERTISEMENT - CONTINUE READING BELOW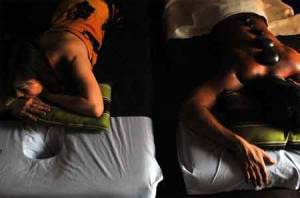 3. Islands Massage Mobile & Day Spa
Phone Numbers: 403-7008, 583-0075, 377-4717, (0908) 137-6565
Areas covered: Metro Manila (Open 24 hours)
Price: P250/hour

The lowdown: Everything is done swiftly and straight to the point, from the call to the actual massage session. When you call to make an appointment, they no longer ask for directions when they've already serviced customers in your area.

The therapist, garbed in a navy blue scrub-like uniform, brings only unscented massage oils, with no towels or massage beds to go with the service, so there's no need to wait for the therapist to set-up. They know their routine by heart but will ask you if the pressure is too much (or too little) and they knead the kinks and knots way faster than you expect.

Thumbs-up for: Prompt therapists and availability of their services 24/7. Islands Massage & Mobile Day Spa is perfect for those on the look-out for a no-frills, swift massage session.
ADVERTISEMENT - CONTINUE READING BELOW
4. Spa Works
Phone Numbers: 975-3255, 394-8674, (0917) 596-0011, (0922) 8320111
Areas covered: Metro Manila (11 a.m. to 1 a.m. daily)
Price: P300/hour
Click here to see the pdf copy of their list of services.
The lowdown: When we called, Spa Works' owner was manning the phone himself, and he was very efficient in taking down our booking. Plus, they have caller ID, so no need to dictate your number. In the several times that we booked them, the therapists were consistently on time, if not early, and always looked very professional in their purple uniforms. There's an extra charge (P120) for the use of a portable massage bed and aromatherapy, but if you get a Body Treatment package (P650), you get a one-hour massage, a body scrub (choose among coffee, dead sea salt or strawberry and oatmeal), use of the massage bed, aromatherapy, music and fresh linen.
Their technique is very good, always working out every kink in your back. And yes, they ask if the pressure is okay. They make sure to wash their hands before massaging your hair and face. Their massage oil smells good, even if sometimes the amount of oil applied tends to be a little on the heavy side.
ADVERTISEMENT - CONTINUE READING BELOW
Just a few inconsistencies: Sometimes they bring an aromatherapy burner, and sometimes they don't. One time, they provided spa music via cell phone, and other times, they didn't, citing "Low Batt" as the reason. 

Thumbs-up for: Impressive technique--flow is smooth and uninterrupted, and their nimble hands never leave your skin. One therapist said they were trained by a therapist who used to work in The Farm in San Benito. Consistently reliable, pleasant and well-trained.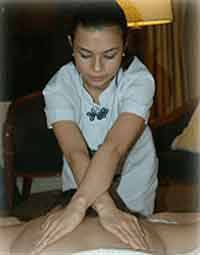 5. Serenity Aromatherapy Spa
Phone Numbers: 890-2033, 897-2763, (0916) 391-1035, (0920) 904-4660
Website: www.call4serenity.com
Areas serviced: Mostly Makati; minimum number of hours is required for areas outside of Makati (Open 24/7).
Price: P275/hour

The lowdown: Serenity's lively and friendly receptionist gamely answers questions from a home-massage newbie with the enthusiasm of a game show contestant. Make sure you ask for the minimum number of hours required for your area - some require a four-hour massage for them to make the trip.

With no massage bed, candles or music, their prompt and neat-looking therapist takes less than a minute to set up. While the therapist was a bit shy about asking if the pressure was above our pain tolerance, the massage was generally smooth and unhurried. If you're a big fan of Swedish massage, Serenity is a very viable option for when you want service that's on-the-dot and done in the comfort of your own home.

Thumbs-up for: All praises for the punctuality of the therapist and the smooth flow of the service. We like it that they don't seem to be in a hurry during the massage, making one feel more relaxed despite the absence of ambient music and lighting.


ADVERTISEMENT - CONTINUE READING BELOW
6. Massage By Us
Phone Numbers: 334-9677, 387-9999, (0920) 96RELAX
Areas covered: Makati, Alabang, Cavite, Las Pinas, Muntinlupa, Paranaque and Taguig
(10 a.m. to 12 mn daily)
Price: P250/hour

The low-down: When you call Massage by Us, you may be greeted by a professional spiel or at times, a less articulate representative. They ask you about the pressure you want and if you want massage beds, which may be requested for an additional P100. They also have caller ID so there's no need to give out your contact details.

The masseuse, dressed in an all-white ensemble (white uniform, sock and canvas shoes) will call the headquarters before starting the massage session. Massage oils come in lavender, green tea, and grapefruit, with no overpowering scents. Be ready with your own towels, they only bring a sarong. No candles or music either.

Thumbs-up for: The price is just right for the budget-conscious. Their list of salon services, which includes blow-dry, mani, pedi and waxing, all at P250, are reason enough to bundle the affordable services with your massage session.
ADVERTISEMENT - CONTINUE READING BELOW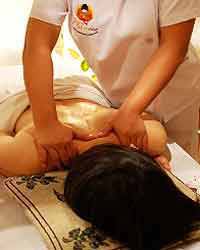 7. Asian Massage
Phone Numbers: Pasig: 535-07 56, 692-2432, (0909) 376-4266; The Fort: 728-2985; Marikina or Cainta: 943-8720, 796-3791; Las Pinas: 873-2553; Timog, Quezon City: 631-97 03, 408-84 94, (0929) 433-3786; Cubao and Katipunan: 666-6591, 844-2373, (0928) 630-7259; Greenhills and Mandaluyong: 728-2985, (0928) 554-8392; Paranaque: (0917)801-4352; Malate and Pasay: 536-6894, 528-4686, (0917) 817-2748; Makati: 843-4067, 758-2589, 728-5263
Website: www.asianmassageph.com
Areas covered: Makati, Greenhills, Paranaque, Quezon City, Marikina, Antipolo, Pasay, Malate, Ortigas and Las Pinas (Open 24 hours)
Price: P250/hour

The Lowdown: Asian Massage's neat-looking therapists (in scrub-like uniforms, with their hair pulled back and wearing no jewelry), provide relief from stiff spots and sore joints with their skilled kneading. While the service is as basic as you can get: no massage beds, lavender oil and sheets in lieu of towels, the therapists also respect your need for quiet bliss and keep their mobile phones on silent during the massage sessions.

Thumbs up for: Asian Massage provides an above-average massage experience with punctual, well-trained therapists.
ADVERTISEMENT - CONTINUE READING BELOW
8. Dial-A-Massage
Phone Numbers: 727-3954, 723-7157, 723-9552, 725-3364
Areas covered: Mandaluyong, San Juan, Ortigas, Quezon City, Pasig, Libis, Makati (1 p.m. to 12 mn daily)
Price: P275/ hour

The lowdown: Dial-A-Massage's representative asked all the pertinent questions (name, preferred massage, contact number and address, and time of massage) when we made the call. The therapists was polite, and arrived early for the appointment.

Dial-A-Massage gives you a basic massage session: no massage bed, no candles or music to set the mood but the oil they use comes in a woody olive scent. The therapists are also very diligent in asking if the pressure applied is just right.

Thumbs-up for: Polite and skilled therapists at a budget-friendly price.
9. Massage at Home
Phone Numbers: 742-1829, (0915) 331-0088
Areas covered: Metro Manila (1 p.m. to 1 a.m. daily)
Price: P300/hour, minimum of 2 hours for home service


The lowdown: While Massage at Home's efficient receptionist did away with the basic spiel and offered little information during the call, the therapist was neat and courteous, and even wore socks since she had to step on the bed. The therapist also made sure she applied and maintain just the right amount of pressure throughout the session, according to the client's level of comfort.

Whatever Massage at Home lacked in aesthetics and equipment (no massage bed, no towel and no other options for the massage oil except lavender), they more than made up for with impressive massage skills - forceful and strong but never uncomfortable or painful.

Thumbs-up for: The basic yet impressive service is one that you would gladly ask for again. The therapists also arrived way ahead of schedule, even in an area which is usually difficult to find.
ADVERTISEMENT - CONTINUE READING BELOW
10. Spa Du Soleil
Phone Numbers: 775-5002, 381-9242, (0915) 212-7999, (0922) 430-4999, (0921) 257-6999
Website: www.spadusoleil.ph
Areas covered: Makati, Taguig (Bonifacio Global City), San Juan, Pasig, Mandaluyong, Quezon City, Pasay, Paranaque and Alabang. They also do special out-of-town spa parties. (2 p.m. to 1 a.m. daily)
Price: P500/hour

The lowdown: Dressed in a neat scrub-like uniform, the therapist comes armed with clean towels, oil bottles, and a portable spa bed, and are adept at relieving heavy-duty knots with their Swedish massage.

Spa Du Soleil regulars may remember therapists being more prompt or sessions with Zen music, tea service and even decorations to give the service a Mediterranean vibe. All these were missing during the test session, and the therapist arrived almost two hours late for this session.

Thumbs-up for: The kneading technique of Spa Du Soleil trumps the generic technique of run-of-the-mill masahistas who charge cheap.


Photographs from www.spaholics.com, orangehomespa.com, James Singlador for Islands Massage and Mobile Day Spa, www.asianmassageph.com.
ADVERTISEMENT - CONTINUE READING BELOW
Share this story with your friends!
---
Help us make Spot.ph better!
Take the short survey
Load More Stories