CHECK IT OUT: Crafternoons with Alessandra Lanot
It's time to roll up your sleeves and get creative!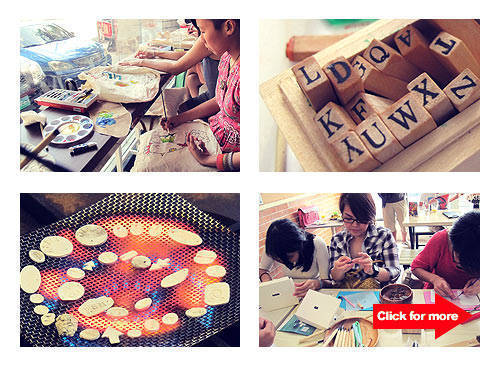 Are your creative juices flowing yet? Click for more

(SPOT.ph)If the last time you worked with your hands was through a chicken wing, then you might be in trouble, creatively speaking. Contrary to what Mark Zuckerberg and Taylor Swift let on, creativity doesn't end with youth-and the end products don't have to be an addictive social network or a Grammy-winning album either. Enter Crafternoons, a series of craft sessions where creativity comes in all shapes and sizes.
ADVERTISEMENT - CONTINUE READING BELOW
Alessandra Lanot, who co-owns Pipino Restaurant and Pino Resto Bar, began teaching crafts after graduating from high school with Art Adventures, a mobile arts and crafts workshop for kids. After eight years, however, the crafter cum graphic designer had to close shop to focus on other matters, but she couldn't escape teaching that easily.
To push her to do something creative everyday, Lanot opened a blog (lifeafterbreakfast.com) in October last year . "I post about the things I make, and get lots of e-mails and queries on how to make them," says Lanot. "It gave me the idea to hold craft workshops again because so many people were interested in it."
CONTINUE READING BELOW
Recommended Videos
Crafternoons are one-day classes that anyone-from Martha Stewart types to burly men-can sign up for. There are courses for watercolor basics, silver clay, jewelry-making, rubber-cut stamping, calligraphy, and embroidery. This month, she also opened workshops for jam-making, glass etching, gingerbread cookie-decorating, and make-your-own-gifts classes. (Check Lanot's blog for schedules and venues).
ADVERTISEMENT - CONTINUE READING BELOW
To the newcomer, classes seem awkward at first: tables full of excited, bantering crafters who hint at a longtime friendship that it seems rather imposing to just join in. But that's just what Crafternoons are about-more than learning how to carve and sew, there's a social aspect; chances are, most of the chatty crafters one sees also just met.
The classes, which are normally scheduled during weekends, are attended by a motley of different people. One attendee even revealed to Lanot that Crafternoons were her only sources of "me" time. But there are other therapeutic effect.  "It's funny because at one point during the workshops, everyone is so silent... Working with your hands keeps your mind off other things, because you have to focus on the thing you are creating."
Share this story with your friends!
---
Help us make Spot.ph better!
Take the short survey
Load More Stories