No Excuses: Ten Fun Ways to Keep Healthy in 2013
Because being healthy doesn't need to be droll.
(SPOT.ph) Raise your hand if you've resolved to be healthier this 2013! Now pat yourselves on the back for making a great lifestyle choice. Done both? Great, you've just passed your first fitness test-you can actually move. And that's the only prerequisite to take on any of the top fitness trends for the year. Forget fancy equipment, ditch the fad diets-this 2013, it's all about trusting good old common sense, relying on your body to heal itself, and holding onto a great dose of willingness to stick it out. Here are 10 SPOT-tried-and-tested trends that are sure to transform you this year!
Zumba
It sounds so 2010 but the American College of Sports Medicine's study on 2013 fitness trends notes that Zumba is here to stay. Sashay and shimmy your way to a tighter core and leaner legs-and the moves are Saturday-night-dance floor-approved. The reason it works is because Zumba is a high-intensity workout. Your heart racing literally means that more fat is burning-and you hardly feel it because you're having too much fun with all your friends. Gyms like Gold's offer Zumba classes taught by certified instructors. Certified to party? You're guaranteed to have fun!
SPOT-check! Zumba is also available as a game on Wii. Why not round up some friends for a private party of your own?
Book a spot: Gold's Gym offers classes to members, while Zumba- certified instructor Jill Ngo teaches at Peak Performance Dance and Fitness in Makati City. And, we also wrote about it here.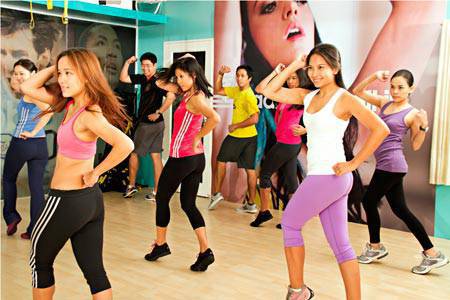 ADVERTISEMENT - CONTINUE READING BELOW
TRX Suspension Training
Another top-notcher in the ACSM's study is body weight or suspension training, which wins points in the practicality department: no clunky weights or bulky machines to litter your already limited living space, just your own body weight pushing you to go harder. An often-overlooked benefit: functionality. The exercises here mimic natural movements like pushing, pulling, and lifting, making routine stuff like carrying groceries or pushing furniture around a breeze. TRX is the body weight exercise tool-the adjustable straps support your arms and legs as you perform modified versions of exercises you're already familiar with. You can purchase your own TRX system with instructional DVD (or look up tons more instructionals online) or you could join TRX classes offered by select gyms with TRX-certified trainers.
SPOT-check! The TRX system is perfect for small living spaces like condos or studios-but make sure that the ceiling beam you're using to anchor the straps are sturdy enough. Also, if you're a tad iffy about chafed hands, a good pair of workout gloves could give you a better grip on the rubberized handles.
Book a spot: 360 Fitness Club with branches in Ortigas and Makati offer TRX classes (check out their website); or you can also buy the TRX system with instructional DVD at Toby's.
CONTINUE READING BELOW
Recommended Videos
Yoga
You'd hardly call a centuries-old cultural tradition a trend, but it's what yoga represents that makes it a must-do this 2013. In a time when we're harassed and pressured to do it all, a one-stop mind and body workout that promotes flexibility, leaner muscles, and improved cardiovascular function thanks to the breathing technique is all you need to get multiple good results with constant practice. Yoga will guarantee you glowing skin and better posture (sometimes that's all you need to look pounds thinner!)-plus stability for your sanity/stress levels. Take it up a notch and try Bikram or hot yoga, or the latest challenge: AntiGravity Yoga. Imagine doing your asanas, but while suspended from the ceiling!
SPOT-check! Sweat plus a moist, warm workout environment makes your yoga mat a breeding ground for bacteria. Keep a matt spray in your gym bag (they work on slippers for the gym bathroom too!)
Book a spot: Urban Ashram in Pasig City ; Beyond Yoga in Quezon City.
ADVERTISEMENT - CONTINUE READING BELOW
Juice cleansing
It's a misconception that a "detox" is meant to shed excess weight. But what it does achieve is more valuable than those precious pounds: It gives your body some "breathing space" to recharge and revitalize itself via an infusion of pure vitamins and minerals. Sure, it's a challenge to drink nothing but healthy goodness when there's Spam for breakfast, but the results run the gamut from gorgeous skin to improved BM, so it's way worth the sacrifice. Also, some cleansing systems like Juice Jab are more intuitive, allowing you to pick from Mild (Jabs for breakfast, three days) to Strong (Jabs all day, three days)-so you can reset your digestive system at your own pace. It's also a great way to get used to eating fruits and veggies again-trust us, it's going to start looking like a better choice than pizza pretty soon.
SPOT-check! No sense in shocking your system. A day or two before cleansing, try to sub more fruits and veggies in your diet. Do away with salty, oily, and processed food, too. You don't need a juice cleanse to do that, though-you should stay away from them (or at least keep them at a minimum), period.
Book a spot: Juice Jab.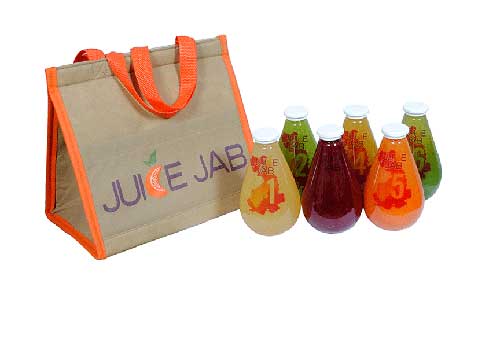 ADVERTISEMENT - CONTINUE READING BELOW
Kettlebells
They look pretty funny, but you'll start feeling pretty strong the more you use them. Employing the power of momentum rather than pure lifting power, think of the swinging kettlebell as the cooler cousin of your boring old dumbbell. Swinging and lifting the bell engages your core (and it's easier than doing crunches). You also get toned arms and a tighter bum via exercises that have you controlling the timing and momentum of the swing-something that engages your brainpower more than randomly lifting free weights does.
SPOT-check! Kettlebell exercises are all interconnected, meaning the basics are the foundations of the more challenging moves. Spend as much time as you need perfecting the one-handed and two-handed swings, as these are moves you'll be using throughout your KB circuit.
Book a spot: L3F Kettlebell Gym in Paranaque or you can also purchase your own kettlebells at Toby's.

Paleo diet
Calling it caveman eating surely contributed to it being one of the more controversial diets to come out of 2012, with more expected to join the tribe this year. The "hunter-gatherer" diet consists of meat, fish, nuts and vegetables, and excludes processed food, grains, and dairy products-basically eating what our primitive ancestors ate, believing that it's a "cleaner" means of sustenance. It's a high-protein diet favored by athletes, but it's also been criticized as being too extreme and unbalanced. As with all diets, it works for some people-and there's nothing dangerous at all about giving up refined sugar, so if your doctor says go, why not give it a shot?
SPOT-check! Experts agree it's hard to duplicate a true paleo diet today-we don't live in that era anymore, obviously. Try going for organically grown and caught produce to be sure you're not getting any pesky preservatives or growth hormones that surely didn't exist in our forefather's time.
Book a spot: The Paleo diet is still quite new in the city, with CrossfitMNL being its number-one supporter. You can also read more about it in this Time magazine article.
ADVERTISEMENT - CONTINUE READING BELOW
Crossfit
The reason people are hooked on this boot camp-style workout is the unique balance of the social and personal aspects. You've got groups of people cheering you on and motivating you to finish just one more rep, but at the end of the day, you've only yourself to rely on to really push yourself to finish. A lot of people have criticized Crossfit for being too competitive, but from what we've seen, it's a great atmosphere to get inspired by the super-committed people who train tirelessly. Major plus: your time in the box is measured and never idle, meaning you get a quality workout-no dilly-dallying between sets, and that's the secret to success.
SPOT-check! Crossfit is known for its intensity, but that's never an excuse to sacrifice form at the risk of injury. Crossfit offers classes on the basic forms of the exercises that are building blocks of the routines-don't skip them.
Books a spot: Crossfit MNL has two boxes, in Libis and Makati. And there's also Crossfit Insurrecto.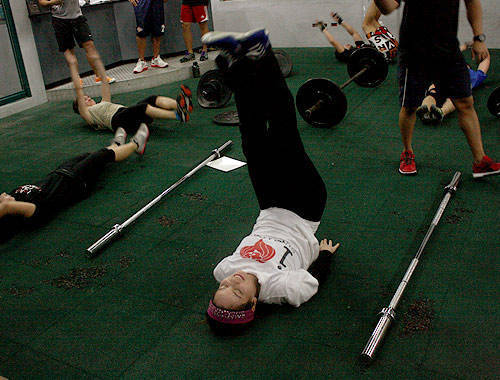 ADVERTISEMENT - CONTINUE READING BELOW
No-brainer nutrition
Dieting is never easy-especially when you're surrounded by all the sinful treats set to make a home around your tummy and hips. Healthier food choices and dining options are obviously the way to go, but not everyone has the time (or the talent) to cook every day. The Sexy Chef addresses your need to have fresh, clean, healthy meals delivered to you-you can even choose from special plans that coincide with your fitness goals, like the Pounds Away or the South Beach Diet. Now that nutrition is taken care of by the pros, you'll have more energy to work out and do the part that no one else can do for you.
SPOT-check! Take the time to calculate the amount of calories your body is to consume daily. The trick to weight loss is eating 500 calories less than that number to lose significantly. Sexy Chef's Dine Lite meals are about 350 calories each-a good amount for any calorie limit.
Book a spot:  Check out The Sexy Chef


There's an app for that
We might as well put our smartphone/iPhone obsession to good use. A glimpse of the sheer amount of runners at BGC still clutching their phones while huffing and puffing makes us believe that they could be nifty fitness tools. Apps like Nike Training Club help record your runs, while My Fitness Pal is a food diary that can compute the calories your consume right in your phone. Plus, you can download a customizable interval timer into your phone to help you with your circuit training. We can't escape technology, but we can use it to our advantage.
SPOT-check! If you're a frequent outdoor runner or gym visitor, invest in a phone case with a pocket or slot. That could come in handy to hold a key, credit card, or some folded cash.
Book a spot: Download the Nike Training Club app from the App store; Or try www.myfitnesspal.com
ADVERTISEMENT - CONTINUE READING BELOW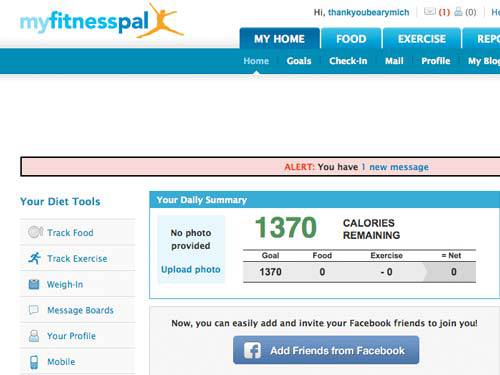 Foam rolling
It looks like the pool noodles your nephews play with, but it's actually a tool physical therapists swear by when treating sore muscles or rehabilitating minor muscular injuries. Thanks to Internet tutorials, more and more weekend warriors are learning how to use these rollers on themselves. The technical term behind it is "self-myofascial release": overactive muscles are relaxed by the stimulation the rolling motion produces, and it's great for larger (and more often stressed) muscle groups like the back and legs. Every fitness buff worth her salt knows that it's just as much about recovery as it is about hard work, and these foam rollers have that area covered.
SPOT-check! Make sure you have persistent muscle pains checked by a doctor before trying this technique. There are a lot of knee and back injuries that may all feel the same, but should have different treatment plans and methods.
Book a spot: Up Pilates Studio offers special classes with foam rolling-read about it here. Or you can get your own from Toby's or Chris Sports.





ADVERTISEMENT - CONTINUE READING BELOW
Share this story with your friends!
---
Help us make Spot.ph better!
Take the short survey
Load More Stories