Operation De-Clutter: Practical Tips and Places for Unloading Things You No Longer Need
Both new years have passed and your room is as cluttered as 2011. Newsflash: It's not going clean itself. Do it, do it now, and do it good.
(SPOT.ph) Decluttering is, perhaps, the holy grail of most nesters. But because it is such a daunting task filled with anxiety, many abandon hope and wallow in their very own sea of junk. But take heart. We've broken down the quest to a clutter-free existence into these manageable steps.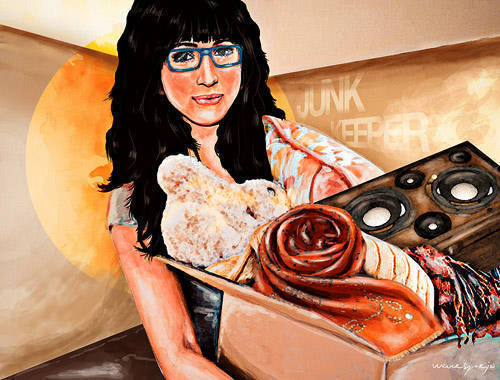 The first eight things to consider:
1. Have a goal. What do you want to achieve? Do you want more closet space? Are you redecorating your bedroom? Are you moving out and into a new house? Know what you want so you can plan accordingly.
2. Make your own rules. There are a lot of articles about decluttering, like this one, but while they try their best to help you achieve what you want, they might not be applicable to you. Rules are there to help you attain your goal so it's best that you write your own. Do you plan to wear more dresses this year? Trim your shirts down to only 20 pieces. If you want an all-white bedroom, then everything with color has to go.
ADVERTISEMENT - CONTINUE READING BELOW
3. Survey the space, make a battle plan. Look at the space you have to deal with. Make a list of the areas you need to declutter and start with the easiest one. Also take note of the things you're going to need. It's going to be an all-out war against junk and you need to come prepared.

4. Tackle one area at a time. Start with the area that is easiest to clear. Then move on accordingly.

5. Get it on. We mean the music. Every great battle scene in a movie is played out to a dramatic scoring. Your fight against junk deserves its own soundtrack. Music makes drudgery a bit more bearable, after all.

CONTINUE READING BELOW
Recommended Videos
6. Take breaks. You may want to get it done in one swift go but purging isn't an easy task. In fact, it is full of stress and separation anxiety. Give your hands and heart a rest once in a while.

7. Give yourself some time. It took months or even years to accumulate all that stuff. It's going to take a while before you get to sort through everything. Carry on and be patient.

8. Organize and appreciate. Find a place for everything and label them properly. Be specific what items go to which drawer to prevent future mess.

Don't know if it's a toss or a keep? Here are a few things to keep in mind:

It is junk if:
1. It's broken and you can't fix it.
2. You dislike it each time you lay your eyes on it.
3. It's an unwanted present.
4. It's outmoded and doesn't fit you anymore.

It's a keeper if:
1. You look at it and you still feel warm and gooey inside.
2. You can still use it and still really enjoy using it!
3. It can be used for work.
ADVERTISEMENT - CONTINUE READING BELOW
Now, the most important part: Unloading.
1. Invite family and friends to poach on your discards. There's bound to be someone who's been dying for a skirt, bag, or a pair of your shoes.
2. Hold a private sale for your more valuable items-vintage clothes, first-edition books, or any luxury item.
3. Donate children's clothes and toys to orphanages.
4. Call Segunda Mana of Caritas Manila and have them pick up your donations. Their number is (632) 564-0205 to 560-0020 to 25. Shoot them an email at segundamana@caritasmanila.org.ph and cm@caritasmanila.org.ph
5. Drop them off at The Salvation Army. They are located at 1843 Leon Guinto Sr. St., Ermita, Manila. Contact their PR Department at (632)536 3068 or at prdepartment@phl.salvationarmy.org if you have further questions.
6. For your old glass lenses, scrabble and domino chips, wine bottles, clean plastic bags, hardbound books, and playing cards, you may leave them at any Papemelroti branch. The package should be addressed to Tina, labelled "FOR RECYCLING." Donated items will be used to help provide livelihood opportunities.
7. Donate your scrap cloths and sewing materials to manikako and help give children free art workshops.
8. For proper disposal and recycling of used lead car and motorcycle batteries, contact the Philippine Business for Social Progress (PBSP) at 527-7741 to 48 local 108 or RAMCAR at 415-1621 for details. Together with Motolite, the PBSP started the Balik Baterya Program in 2006 where much of the proceeds are donated to Project LEAD. For more information, visit: http://omcpbspbalikbaterya.blogspot.com
ADVERTISEMENT - CONTINUE READING BELOW
9. Earn some change by selling your recyclables to your local junkshop. Below are some of the prevailing rates at junk shops around Pasig City, the self-proclaimed Recycling Capital of the Philippines.


Karton (as corrugated cardboard) P5/ kilo
Used white paper, P8/ Kilo
If you feel like making a road trip out of your do-gooding, drive by Evangelista St., Brgy. Santolan, Pasig City or Col. Licsi St., Brgy Coniogan, Pasig City. You'll find are several good junkshops there where you can sell your rubbish.
Share this story with your friends!
---
Help us make Spot.ph better!
Take the short survey
Load More Stories