Top 10 Yoga Studios in Manila (2014 Edition)
The best ones in the city, with a range of different classes you can try.
(SPOT.ph) We all have different reasons for getting into yoga: de-stressing after a tough day at work (or a tough life, in general), copping Jennifer Aniston's abs, scoring Adam Levine's sex cuts, hoping to see someone in class with Jen's abs and Adam's sex cuts. Whatever your intention is, what's certain is you want to practice with the best. While all equal in terms of instruction and varying in yoga expertise, we've chosen this year's Top 10 Yoga Studios in Manila based on their accessibility, ambiance, affordability, and amenities.
Let your relaxation begin! (Jennifer and Adam look-alike sightings, unfortunately not guaranteed.)
ALSO READ:
10 Yoga Classes to Try
10 Best Yoga Studios in Manila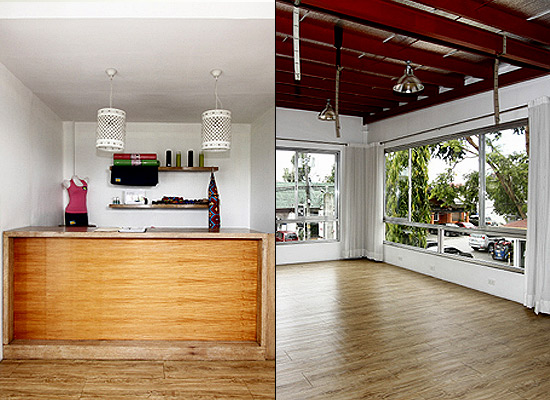 10. Yoga Philippines
Address: 38 Aguirre Avenue, BF Homes, Parañaque City
Contact: 0917-500-9642
Anyone who lives in the country's biggest subdivision will love the no-frills convenience of Yoga Philippines. Try their Beginner's Led Ashtanga class, where an instructor guides you through the Ashtanga Yoga poses, while providing adjustments and modifications for newcomers. The sequence never changes, so once you have it in your head and understand the principles of proper alignment and breathing, you can start practicing on your own. Need a breather? Simpler poses are taught in their Gentle Yoga class.
ADVERTISEMENT - CONTINUE READING BELOW
Rates: Walk-in: P250 (first-timer) and P500; Five Class Card (valid for one month): P1,000 (first-timer) and P2,000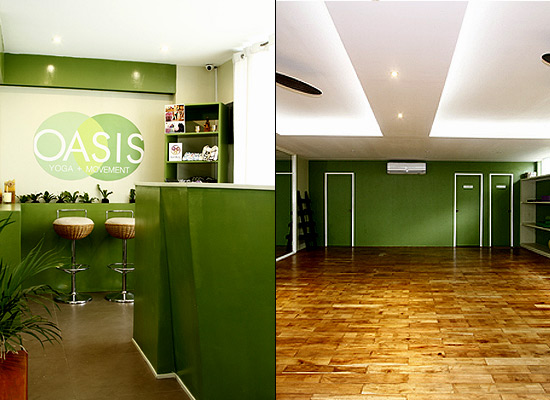 9. Oasis Yoga + Movement Studio
Address: 2/F 88 Capitol Hills Drive, Old Balara, Quezon City (beside Celebrity Sports Plaza)
Contact: 0917-934-8333
True to its name, Oasis Yoga's studio exudes a cozy, relaxing vibe. First-timers should give their Hatha Yoga class a shot-it moves at a slower pace, giving students the chance to adjust their poses accordingly. Regular practitioners can go for a Vinyasa Flow class, where students are asked to fluidly transition from one pose to the next. No two Vinyasa Flow classes are ever alike, because the series of poses depend on the instructor and the focus of the class.
Rates: Walk-in: P500; One Week Unlimited: P1,200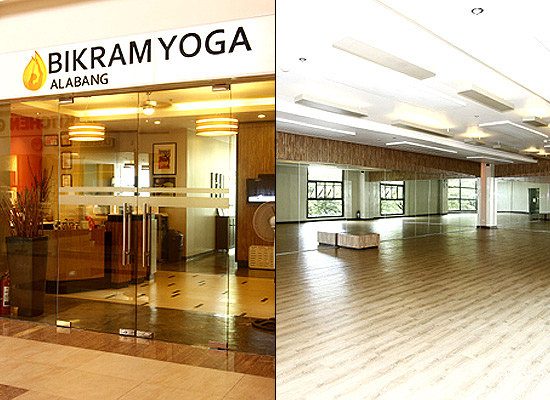 CONTINUE READING BELOW
Recommended Videos
8. Bikram Yoga Alabang
Address: 2/F Commerce Center, Commerce Avenue, Filinvest, Muntinlupa City
Contact: 846-5496; 0927-916-9909
It's hard not to feel intimidated by having to do Bikram Yoga in a room that's set to a toasty 37°C to 40°C. To remedy, ahem, cold feet, Bikram Yoga Alabang conducts a program called Hot Start during the last week of each month (10:30 a.m. on Mondays, Wednesdays, and Fridays; 7:00 a.m. on Saturdays). A Hot Start class is like a traditional 90-minute Bikram Yoga class, but the instructor does more demos, so students hold postures for a shorter time. The length of time the postures need to be held increases as you advance through the program, as does the temperature the room is set to. After finishing five classes in the program, you should feel confident enough to "survive" a full-on Bikram Yoga class.
Rates: Walk-in: P800; Unlimited Intro Special: P1,000 (valid for 10 consecutive days); Weekend Pass: P1,200; One Week Unlimited: P1,800; Five Class Card: P3,000 (valid for one month)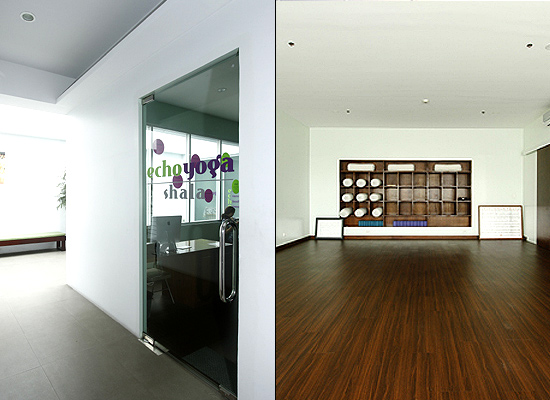 ADVERTISEMENT - CONTINUE READING BELOW
7. ECHOyoga Shala
Address: 3/F Steps Dance Academy Buildling, ?8465 Kalayaan Avenue, Brgy. Poblacion, Makati City
Contact: 956-7119; ?0906-506-3958
Step into ECHOyoga Shala, and you get a sense of being transported to Bali or India-chalk that up to the studio's earth-toned interiors or the perpetual smell of incense. First timers can benefit most from a Gentle Yoga class, where you'll be taught how to breathe properly and get started on basic poses. Intermediate to advanced practitioners should not miss a Led Ashtanga class with instructor Julie Alagde-Carretas-this challenging, teacher-led class strictly follows the Ashtanga yoga sequence. You don't even have to come in for a class at all-ECHOyoga also welcomes those who just need space to practice on their own.
Rates: Self practice (6:30 a.m. to 9:30 a.m. daily): P100 (walk-in), P1,900 (monthly); Walk-in: P500; One Week Unlimited: P1,000 (first timer)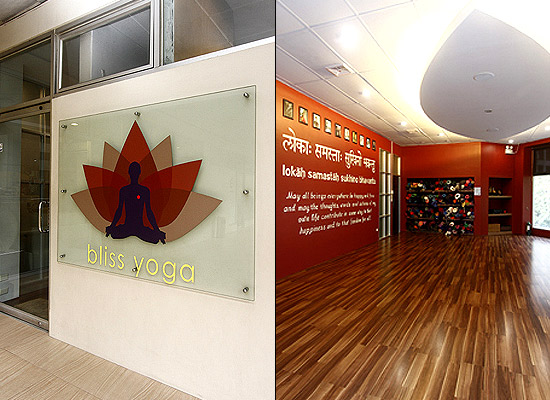 6. Bliss Yoga
Addresses: Unit 203 Plaza One Hundred, VA Rufino Street corner Dela Rosa Street, Legazpi Village, Makati City (in photos); Unit 304 Sekai Center, Ortigas Avenue corner Madison Street, Greenhills, San Juan
Contact: 551-1485; 0917-841-9642; 0926-711-7462 (Makati); 754-9915; 0917-594-2915 (Greenhills)
ADVERTISEMENT - CONTINUE READING BELOW
Yoga with music? Yes, please. Bliss Yoga's Jivamukti Yoga and Bhakti Urban Flow classes harness the physical aspect of yoga by letting students do a series of poses, but they also allow you to lock in on yoga's mental and spiritual side by way of meditation and the presence of music during class. If you have zero yoga experience (or if you're a regular practitioner who needs a refresher on alignment), the Yoga Fundamentals class is your best bet-common yoga poses are broken down, helping you build a solid foundation as you improve your practice.
Rates: Walk-in: P500; One Week Unlimited: P1,500 or P1,000 (first timer)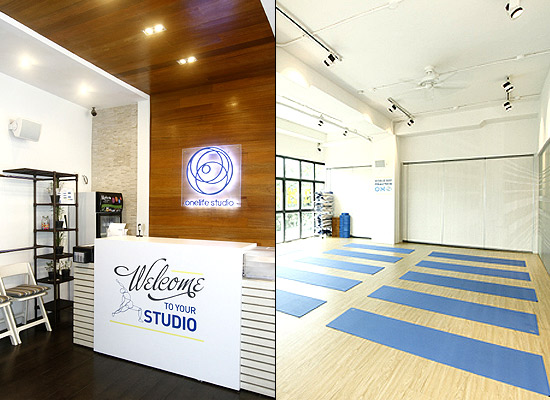 5. Onelife Studio
Addresses: 2/F BCS Prime Building, 2297 Chino Roces Avenue, Makati City (in photos); 2/F Citiplace Building, 8001 Jose Abad Santos Street corner J. Abad Santos and Calderon Streets, Little Baguio, San Juan
Contact: 729-2676; 0917-851-3297 (Makati); 671-5433; 0917-895-1762 (Greenhills)
The interiors of Onelife Studio look like something straight out of a Pinterest board-lots of soft scripts, clean whites, and soothing blues to get you right in the mood. Try their Pilates-Infused Yoga class-it's an offering you won't find in other yoga spots. As the name suggests, you're taught to emphasize on the Pilates principles of spine alignment and core strength in your practice. The added advantage? A Pilates-Infused Yoga class helps you develop stability within your body, so you're able to build on your practice better. It's beneficial for both beginners and advanced practitioners.
ADVERTISEMENT - CONTINUE READING BELOW
Rates: Walk-in: P450; 10 Class Pass: P4,000 (valid for three months); Monthly Unlimited: P4,500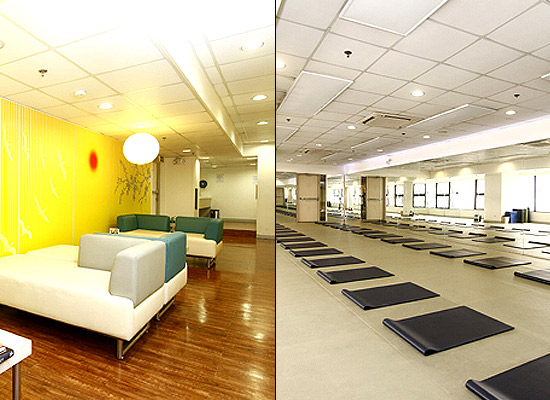 4. Yoga+
Address: 22/F Strata 100 Building, F. Ortigas Jr. Avenue, Ortigas Center, Pasig City
Contact: 631-0073; 0917-823-8567
For a list of other branches, click here.
Yoga+ is known for their hot yoga classes, which take on two forms: Hot A and Hot C. Hot A draws inspiration from Bikram Yoga and Ashtanga Yoga-expect to do 50 poses from these challenging yoga styles during the class. Hot C is a class specially developed by Yoga+ that zeroes in on your core. All Yoga+ classes are open to beginners and advanced yogis and yoginis; instructors offer different options for every pose, so you can practice at your level. Bonus: All their branches are located in business districts, so you can pop in for a class before or after work.
Rates: Walk-in: P700; One Week Unlimited: P1,000 (first timer) or P1,500
ADVERTISEMENT - CONTINUE READING BELOW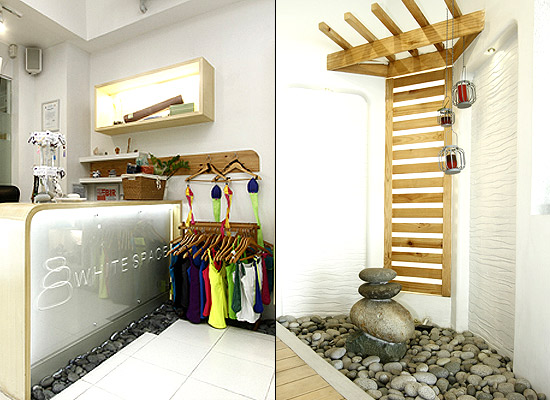 3. White Space Mind and Body Wellness Studio
Address: 6/F Regis Center, 327 Katipunan Avenue, Loyola Heights, Quezon City
Contact: 577-0345; 0917-577-0345
Who knew a space so sprawling and serene could thrive in an extremely busy commercial and university area? White Space, with its well-kept, minimalist interiors, is exactly the kind of place where you can imagine getting your Zen on. The slow-paced Yoga Basics, Hatha Yoga, and Yin Yoga are the classes you want to sign up for if you're a beginner. Need to de-stress or get a workout going, without shaving off time from your busy schedule? Try a 60-minute Vinyasa Express class-but note that these are more for regular yogis and yoginis. White Space maximizes their location by giving a 30% discount to students, and a 10% discount to school faculty and staff members.
Rates: Two classes for P900 (valid for two weeks); Four classes for P1,800 (valid for four weeks); Eight classes for P3,500 (valid for eight weeks)
ADVERTISEMENT - CONTINUE READING BELOW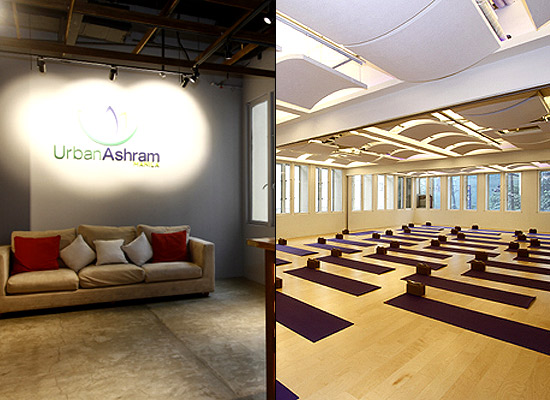 2. Urban Ashram Manila
Address: 2/F 6780 Ayala Avenue, Makati City
Contact: 818-6780; 818-9642;? 0917-866-9642
For a list of other branches, click here.
Urban Ashram Manila emphasizes on making yoga accessible to everyone. You're welcome in any one of their modern-looking ashrams (read: the studios in their Makati branch come equipped with multicolored LED lights), whether your intention for practicing is weight loss, cross training, or stress management. True to their principle, Urban Ashram developed a signature class called Flexibility-Not-Required (FNR), which focuses on the yoga foundations of alignment and breathing. This 75-minute class makes a great introduction to yoga, though regular practitioners might still find it challenging.
Rates: Walk-in: P750; 15-Day Unlimited: P1,500; Monthly Unlimited: P5,200 to P6,200 (depending on the branch)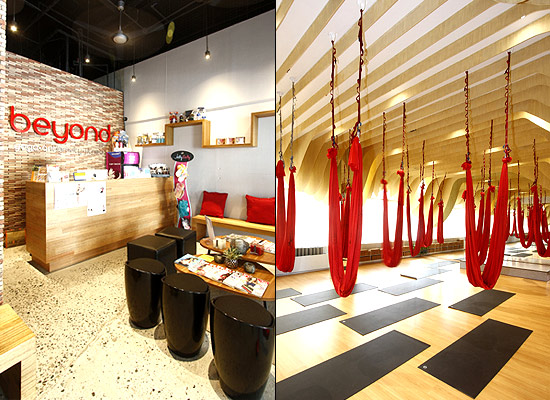 ADVERTISEMENT - CONTINUE READING BELOW
1. Beyond Yoga
Address: 2/F Metropointe Center, P. Guevarra corner N. Averilla Streets, San Juan
Contact: 966-4494; 0917-814-3886
For a list of other branches, click here.
Beyond Yoga promises accessibility (they're one of the few yoga studios that have managed to pitch a tent both north and south of Metro Manila) and out-of-the box class offerings. Their signature classes, Beyond Fitness and Beyond Sculpt, incorporate weights and music in a fast-paced yoga session-both are great options if you're looking for a kick of cardio. Then there's Anti-Gravity Yoga-a class that uses a prop called the Anti-Gravity Hammock, which helps you get into poses (inversions included!). Go for Universal Yoga if you're after a break from routine-this class focuses on the mobility of your joints and your use of space (for instance, cross-shaped mats are used to give students a break from the usual front-to-back orientation of other yoga styles).
Rates: Walk-in: P550 or P1,000 (Anti-Gravity Yoga); One Week Unlimited: P1,400; 10 classes for P4,600 (valid for 45 days)
ALSO READ:
10 Yoga Classes to Try
10 Best Yoga Studios in Manila
Share this story with your friends!
---
Help us make Spot.ph better!
Take the short survey
Load More Stories