Top 10 Pilates Studios in Manila (2014 Edition)
The best places where you can score the strong, long, lean body of your dreams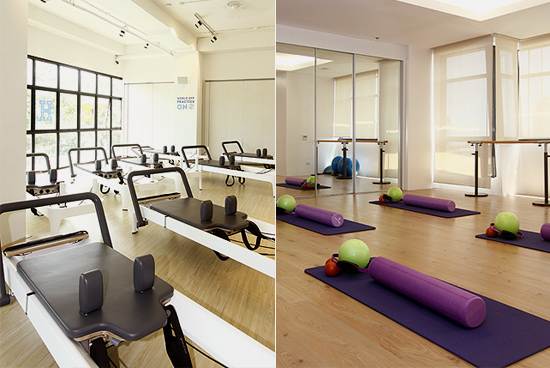 (SPOT.ph) Whether you want to sculpt rock-hard abs (like Gwyneth Paltrow's), gain an ultra-toned physique (think Kate Hudson's), or cross-train and target muscles that typical workouts don't hit (à la Kobe Bryant and LeBron James), Pilates can transform your body. The reason: It will strengthen your core-that midsection that involves your deep abdominal muscles and the muscles closest to your spine. The results: Strong arms and legs (yup, because they're connected to your trunk), good posture, efficient mobility, and better body awareness.
Ready to reap the body-mind benefits of this workout? Reserve a mat (or a reformer) in one of this year's Top 10 Pilates Studios in Manila. While all equal in offering expert teaching in varying styles, we've chosen them based on accessibility, ambiance, affordability, and amenities.
Also read:
10 Pilates Places in Manila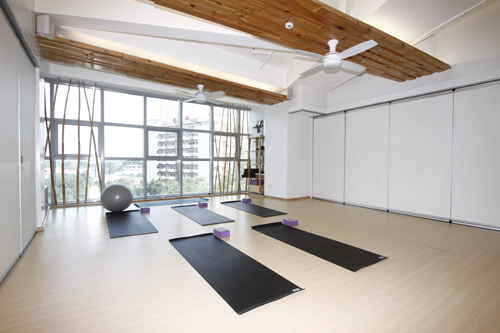 ADVERTISEMENT - CONTINUE READING BELOW
10. White Space Mind and Body Wellness Studio
Address: 6/F Regis Center, 327 Katipunan Avenue, Loyola Heights, Quezon City
Contact: 577-0345; 0917-577-0345
Stepping inside White Space feels like discovering a secret Zen garden-thanks to the studio's use of natural materials like wood, stones, and plants for its interiors, and the generous amount of sunlight that streams in through the large windows. But just because it's a serene spot doesn't mean you won't get a good workout. The group mat Pilates class, offered twice a week, is the perfect complement to the studio's yoga, dance, and martial arts classes. It'll teach you to use your core efficiently while developing your strength and flexibility-something you can apply to other workouts, and to your everyday off-the-mat tasks (yes, bending down to tie your shoe laces or reaching for a book from the top shelf involves your center). It's open to both beginners and experienced students as each exercise uses your own body weight for resistance, and may be modified with the use of props.
Rates: Two sessions for P900 (valid for two weeks); four sessions for P1,800 (valid for four weeks); eight sessions for P3,500 (valid for eight weeks); 30% discount for students and 10% discount for school staff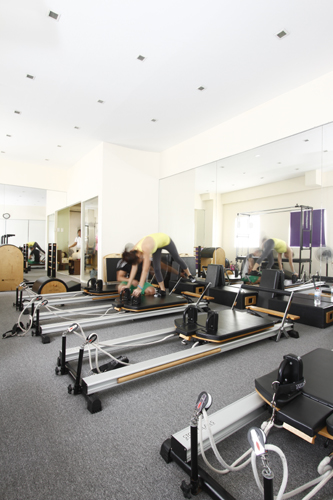 ADVERTISEMENT - CONTINUE READING BELOW
9. Pilates Manila
Address: 3/F BMW Autozentrum Building, Molito Complex, Madrigal Business Park, Commerce Avenue, Alabang, Muntinlupa City
Contact: 850-3588
This studio in the South has gained popularity and a growing clientele almost exclusively through word of mouth. Pilates Manila's key to success: their roster of instructors-all certified in either Stott Pilates or the rehabilitation-based Polestar method. If you're recovering from an injury or surgery or if you have existing concerns, you'll greatly benefit from a gentle session with the studio's physical therapist or trainer. More familiar with yoga asanas but still want to try Pilates? Book an appointment for a private Vinyasa on the reformer class. Teachers are able and willing to make programs that will work well with your current fitness routine or therapy regimen.
Rates:
Private classes: Trial session for P800 (first-timers); one session for P1,500; four sessions for P5,200; eight sessions for P9,600
Group classes (mat and reformer combo): Trial session for P400 (first-timers); one session for P800; four sessions for P2,900; eight sessions for P5,200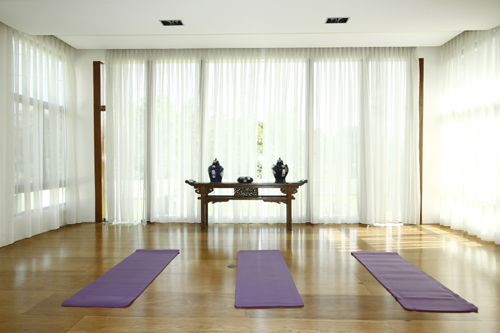 ADVERTISEMENT - CONTINUE READING BELOW
8. Powerhouse Pilates
Address: 15 Gaddang Street, La Vista Subdivision, Loyola Heights, Quezon City
Contact: 0906-238-9194
This home studio is ideal for would-be Pilates devotees who want to start their practice in a cozy, private setting. Powerhouse offers purely mat classes with programs that can be tailor-made to meet a student's fitness level and goals. Beginners will benefit from the Mat Class A, which focuses on the basics of Classical Pilates, setting a good foundation on how to work and strengthen the core (a.k.a. "the body's powerhouse"). Want to get your sweat on? Sign up for the Open Mat Class, which combines both beginner and advanced exercises, or arrange for private lessons in your own home for a more personalized approach. Studio owner Kay Sy also conducts all-male classes to encourage men to get into a regular practice.
Rates:
Group mat class: One session for P450 (student rate) or P600; ten classes for P5,800 (valid for four weeks)
Private home group session: P3,5000 (minimum of four participants)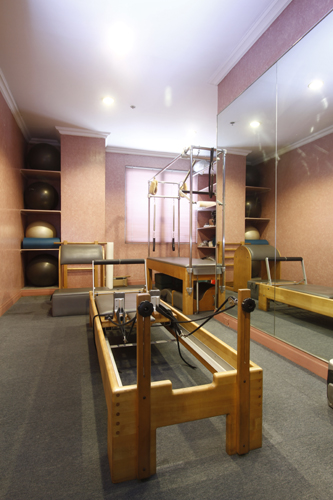 ADVERTISEMENT - CONTINUE READING BELOW
7. Balanced Body Studio
Address: 7/F Tower F, Renaissance Towers 1000, Meralco Avenue, Pasig City
Contact: 633-4574; 0917-522-6395
First-timers will appreciate studio director Carolyn Lim's teaching style. She uses imagery to describe the proper breathing technique ("Inhale, smell the coffee. Exhale, blow through a straw") and core engagement ("Keep your corset down") throughout class. Another beginner-friendly strategy: New students are asked to attend at least two group mat classes per week for a month before joining group machine classes to get familiar with and understand the basics.
Rates:
Group mat class: One session for P700; eight sessions for P3,500
Group reformer class: One session for P750
Private reformer class: One session for P2,000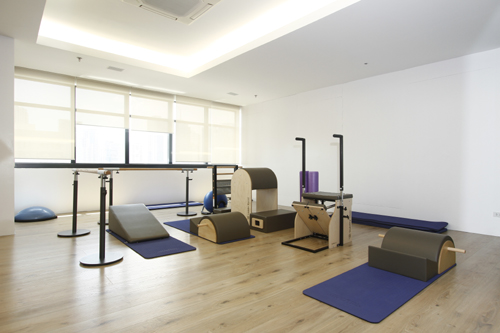 6. Vivian Zapanta Pilates Studio
Address: 15/F Ecotower Building, 32nd Street corner 9th Avenue, Bonifacio Global City
Contact: 815-0045; 0917-867-6787
Vivian Zapanta has been in the Philippine fitness industry (first, as a personal trainer, then eventually as a Pilates instructor trainer) since the late 1970s. The studios, which bear her name, are known for their expertise in the Stott Pilates system-touted as the contemporary approach to the original Joseph Pilates method, and draws from the principles of physical therapy, sports medicine, and fitness instruction. Students of all fitness levels can choose from a wide range of classes. Pick the Group Reformer Orientation or Essential Mat Class if you're new to Pilates; or try an Abs and Back Group Reformer session if you're looking to further train and tone your bod.
ADVERTISEMENT - CONTINUE READING BELOW
Rates:
Private classes: One session for P1,500; four sessions for P6,400; eight sessions for P12,400
Group reformer classes: One session for P850; four sessions for P3,200; eight sessions for P6,200
Group mat classes: One session for P600; four sessions for P2,200; eight sessions for P4,200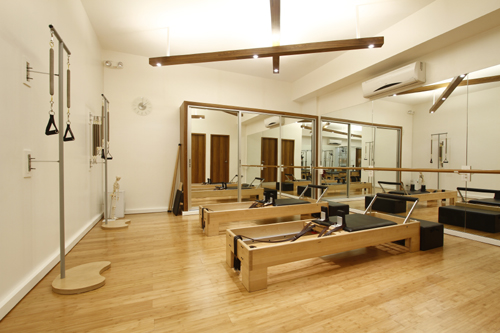 5. Up Pilates Studio
Address: Unit R-11, 3/F Allegro Center, 2284 Pasong Tamo Extension, Makati City
Contact: 551-7002; 0915-489-5589
Two words perfectly describe the experience you'll get in Up Pilates Studio: me-time. Sign up for one-on-one sessions to get a movement program that's specifically designed for your needs. No two 60-minute sessions are ever exactly the same, helping you develop both a better understanding of your body and sharper mental focus. Up is also the only studio in Manila that teaches the Fletcher Pilates method (a system that combines traditional Pilates techniques with first-generation Pilates teacher Ron Fletcher's background in dance and choreography), and practicing here guarantees you'll get to take classes (like Fletcher Towelwork and Floorwork-machine-less applications of the Pilates principles) that aren't offered anywhere else.
ADVERTISEMENT - CONTINUE READING BELOW
Rates:
Private classes: Trial session for P1,350 (first-timer); one session for P2,700; five sessions for P13,000
Duet classes: Trial session for P725 (first-timer); one session for P1,450; five sessions for P7,000
Quartet classes: Trial session for P550 (first-timer); one session for P1,100; five sessions for P5,000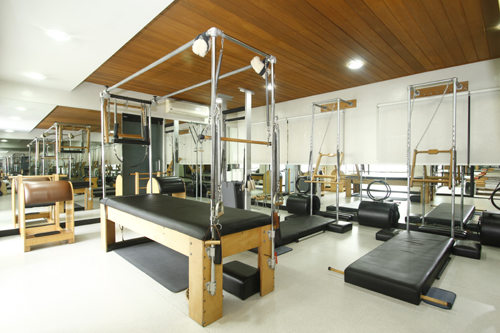 4. Integrated Body Arts (IBA)
Address: 227 Nicanor Garcia Street, Bel-Air Village 2, Makati City
Contact: 890-1286; 0917-531-1125
Get ready to whip out your smart phone. Locating Integrated Body Arts may require the use of Waze or Google Maps, since the studio doesn't have a sign outside. But the search will be worth it. Your reward: a high quality, personalized session in a private setting. IBA, which opened with only two machines in 1996, is considered a pioneer in the country. It has since become both a studio for enthusiasts, and a center that trains and certifies teachers. Purists, history geeks, and fitness buffs will enjoy taking a class here since the studio directly traces its roots to Romana Kryzanowska-Joseph Pilates' renowned protégé, with whom IBA owner Cecilia Sicancgo Ibarrola directly apprenticed under. Try a one-on-one with Ibarrola or book a Group Mat/Tower Class with your friends to experience what the studio calls the "true Pilates method."
ADVERTISEMENT - CONTINUE READING BELOW
Rates:
Private classes: One session for P1,600 (with studio owner); P1,500 (with senior instructors); P1,400 (with junior instructors); P500 (with apprentices)
Semi-private class: One session for P1,000
Package: Ten sessions for P14,000 (choice of any instructor)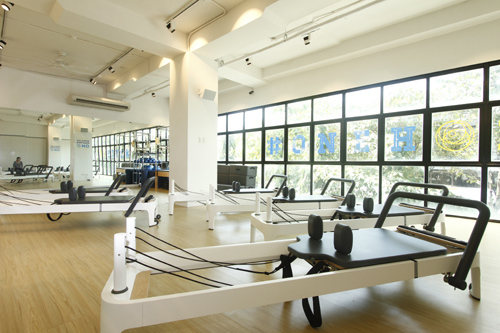 3. Onelife Studio
Addresses: 2/F BCS Prime Building, 2297 Chino Roces Avenue, Makati City; 2F Citiplace Building, 8001 Jose Abad Santos Street corner J. Abad Santos and Calderon Streets, Little Baguio, San Juan
Contact: 729-2676, 0917-851-3297 (Makati); 671-5433, 0917-895-1762 (San Juan)
Onelife Studio successfully balances being credible and professional without losing that welcoming, homey vibe. Try a group reformer session, and you'll experience these qualities first hand. While classes can accommodate up to eight participants, you'll still get ample attention and personal instruction from your teacher. Cues for each move, including modifications based on your needs, are clearly given. Translation: If you're a newbie, you won't feel lost in class; if you're an intermediate or advanced student, you'll get a good challenge; if you're recovering from an injury or dealing with a bad back, you can strengthen your body through a safe practice. Private sessions may also be arranged. Cool bonus: You'll get to use the Allegro 2-sleek, new machines dubbed as the "Rolls-Royce of reformers"-which Onelife brought in to the country just this year.
ADVERTISEMENT - CONTINUE READING BELOW
Rates:
Group classes: One session for P600; ten sessions for P6,000; one month unlimited for P6,500
Private classes: Walk-in for P1,800; eight sessions for P8,000; ten sessions for P14,000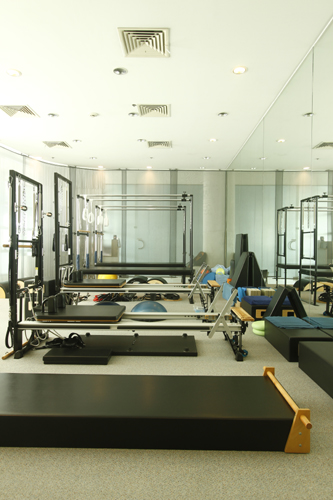 2. b+b Studio
Address: G/F Bonifacio Technology Center, 31st Street corner 2nd Avenue, Bonifacio Global City
Contact: 815-1009; 0917-899-2639
Tucked behind forested doors with no signs, entering b+b Studio feels like stepping inside an exclusive spa or an inviting wellness center. The clean lines and muted colors immediately put you in a calm, relaxed mood. And just like being in a spa, you get a very personal and hands-on experience. Your first session will start with a body analysis-a 15-minute process where your Stott Pilates-certified instructor will take note of any injuries, strength imbalances, or anatomical issues. This will then be the basis for the program the studio creates for you. The advantage: You'll reap maximum benefits (and won't get bored!) from each session because exercises are tailored to your needs and lifestyle. Student-teacher ratio is kept to a maximum of three per appointment, ensuring effective instruction. Try their Red Cord Suspension Training, Heat Cardio + Core, or Piloxing group classes to switch up your Pilates routine.
ADVERTISEMENT - CONTINUE READING BELOW
Rates:
Private classes: One session for P1,950; eight sessions for P14,000 (valid for one month)
Trio classes: One session for P1,100; eight sessions for P8,400 (valid for one month)
Group class: One session for P850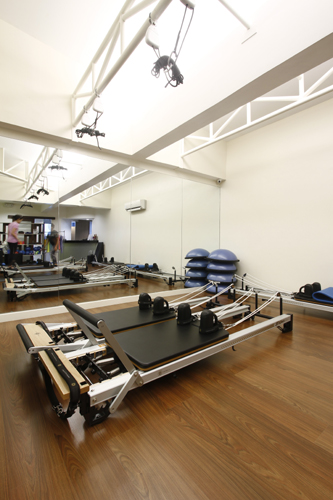 1. Options Studio
Addresses: 3/F Missouri Square Building, 101 Connecticut Street corner Missouri Street, Greenhills, San Juan; 4/F The Podium Mall, 12 ADB Avenue, Ortigas Center, Mandaluyong City
Contact: 623-8449, 0917-890-3229 (Greenhills); 695-3263, 0917-529-3307 (Podium)
True to its name, Options Studio gives you a variety of choices for your practice-from where to book a session (the studio has four branches in the metro, and is part of an international chain of Pilates and movement centers) to what class to sign up for (take your pick from mat, reformer, suspension, circuit, barre, rehabilitation, pre and post-natal). Want to tone your muscles, cop a solid core, and torch serious calories all in one go? The Cardiolates class, exclusively offered in Options, is your best bet. It combines high-intensity cardio work with Pilates core moves, all done on a trampoline. Need to correct your back alignment or relieve stiffness? Visit the Greenhills branch, which offers rehab and chiropractic services, supervised by a licensed doctor.
ADVERTISEMENT - CONTINUE READING BELOW
Rates:
Private classes: One session for P1,700; ten sessions for P16,000 (valid for two months)
Trio classes: One session for P1,100; ten sessions for P11,000 (valid for two months)
Group equipment classes: One session for P750; ten sessions for P7,000 (valid for two months)
Load More Stories