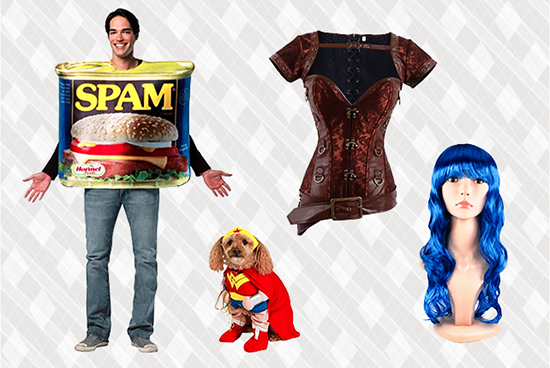 (SPOT.ph) Halloween is just around the corner and if you're scrambling to find a place that will help you impress your friends, partner, or officemates, you're in luck. We did the scrambling for you and found everything you need-wigs, sexy outfits, gowns, swords-to hide everything about you. Don't take it personally. It's nice to be somebody else for a change. We all dreamed of being a sexy pirate at one point.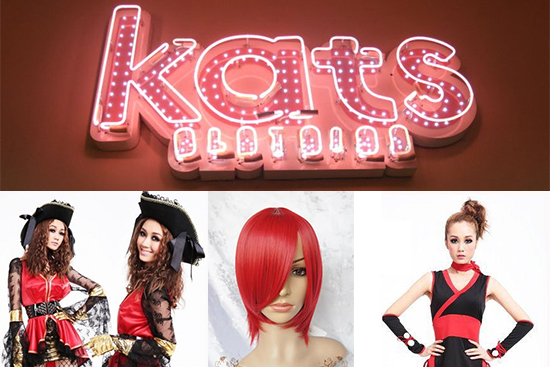 1. Kats
Stall 3S-09, 3/F 168 Shopping Mall, Binondo, Manila
www.kats.ph
It's less a store, more a stall, but don't judge this little nook by its overwhelming amount of swimsuits on display. Underneath all the bikini, Kats houses an amusing collection of French maid costumes and various sexy versions of odd jobs (if you consider "pirate" and "ninja" as professions). They also have wigs-red or teal, spiky or curly.
Good for: Sexy outfits. And did we mention wigs?
ADVERTISEMENT - CONTINUE READING BELOW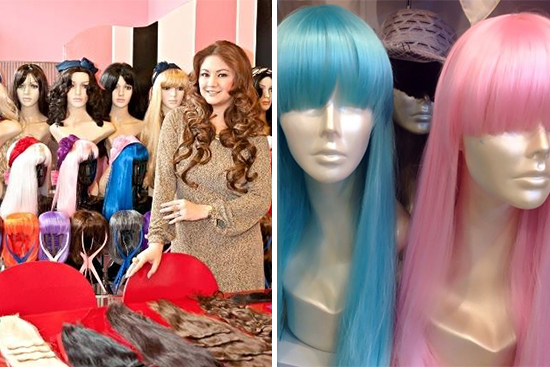 2. Lynelle Hair Fashion
2/F Dela Rosa Square, Dela Rosa Street corner Don Chino Roces Avenue, Makati City
2/F Unit 209 B, V-Mall Greenhills Shopping Center, San Juan
G/F LS 02 Tutuban Primeblock Mall, C.M. Recto Avenue, Tondo, Manila
Wellworth, Fairview Terraces
www.hairextensionsphilippines.com
Wigs make or break your costume. If, for some reason, you decide to go as Ariana Grande-how would people know you if you're not sporting the right kind of ponytail? What is Sailor Venus without the long, bright yellow hair? Who is Zooey Deschanel without the bangs? Surprisingly, Lynelle Hair Fashion can fill those needs-from hair extensions to clip-on fringes. Make-up transformation royalty Paolo Ballesteros frequently uses Lynelle to achieve the right look and even Preview girls Dominique Cojuangco and Heart Evangelista rely on Lynelle for a fuller mane.
Good for: Wigs and other (synthetic) hair needs.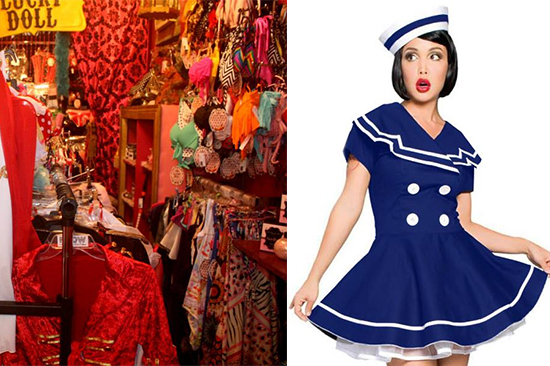 ADVERTISEMENT - CONTINUE READING BELOW
Recommended Videos
3. The Lair (Lucky Doll Store)
Oroquieta Street, Sta. Cruz Manila, between Malabon and Tayuman Street
www.luckydollstore.com
Superhero? Sexy Disney Princess? Flight attendant Britney Spears from the "Toxic" music video? Girls seem to have a monopoly on fun, but c'est la vie. The store is a go-to place for kinkery, but Halloween is different kind of delight. There are nearly 80 costumes to choose from and while you're there, you can take a peek at the collection of fun items for the bedroom.
Good for: Naughty versions of classic characters. Fetish products are also available for your perusal.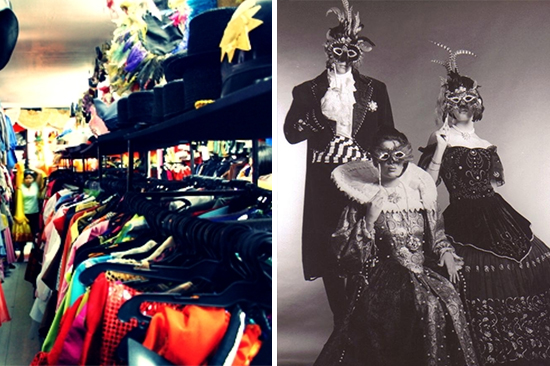 4. Camp Suki
786 Aurora Boulevard, Quezon City, Philippines
www.campsuki.com
Not really into scary or sexy outfits? Check out Camp Suki, a shop that specializes in Maria Clara garb. They're also well-stocked with all sorts of hats and shiny sequined outfits. A noteworthy feature? The shop also caters to ultra-dapper costumes for men! Pay the shop a visit and you'll surely bag the Most Ruffled Couple award.
ADVERTISEMENT - CONTINUE READING BELOW
Good for: Costumes with an Old World charm, ready for rental.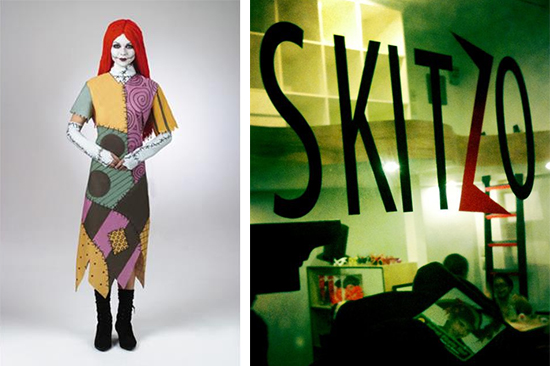 5. Skitzo
7274 Malugay Street, San Antonio Village, Makati City
skitzomanila.com
Have you ever wanted to be PBJ (with your partner or a friend) for Halloween? Dreams come true with the help of Skitzo. You can even be a Magic 8 Ball. They have additional accessories like masks, wigs, and outrageous glasses. If you're in luck, you might even chance upon costumes for your pet pal. Stocks are limited, so plan ahead.
Good for: Goofy and/or geeky costumes.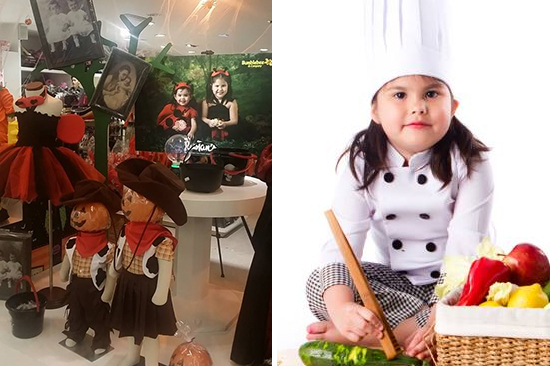 ADVERTISEMENT - CONTINUE READING BELOW
6. Bumble Bee
Unit 201 B, 2/F Three Brixton Building, Brixton Street, Kapitolyo, Pasig City
www.bumblebee.ph
Before the grown ups took over Halloween (and made it sexy), it was about spooking children and then giving them candy. So if you're planning on taking the kids out trick-or-treating, Bumble Bee is the place to visit. They have little spaceman, little racer, little fireman, little construction worker (yes), and whatever animal you're thinking of, they probably have it. If they don't, they're open to costumizing costumes. Sweet deal, right?
Good for: Children's costumes.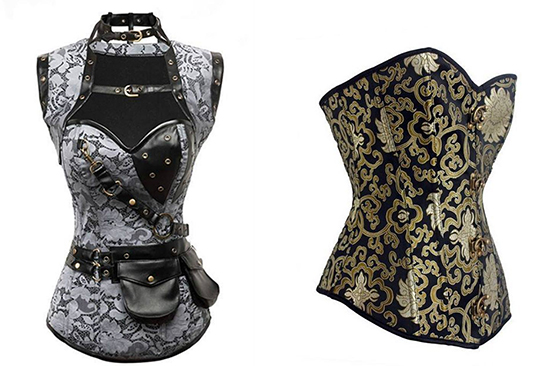 7. Lacey Leatherie Corset Shop (Online Shop)
Desperate to find the perfect steel-boned corset for your steampunk or Victorian look this Halloween? Lacey Leatherie has it. From modest waist-trainers to hot leatherwear for the kinks, the shop offers every possible style of corset you can imagine. Yes, even raunchy underbust corsets for a private show with your partner.
ADVERTISEMENT - CONTINUE READING BELOW
Available for pre-order only.
Good for: Cinched waists.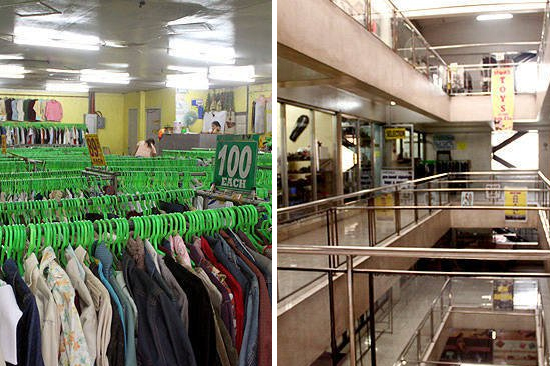 8. Anonas (Ukay) Mall
Beside Anonas LRT Station
It's three floors of shops, filled with everything you need to sport that retro look. It's also the place to find clothes you wouldn't mind modifying (i.e. splattering with blood, ripping, et cetera) and if you're wondering why we're picking this out of all the ukay spots in the city-three floors of shops.
Good for: A truly one-of-a-kind creation. "Vintage" looks.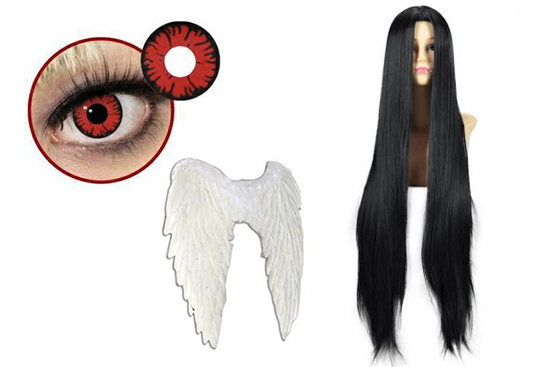 ADVERTISEMENT - CONTINUE READING BELOW
9. Mame's Cosplay Shop (Online Shop)
Mayden Ong's hobby-turned-business has been featured in TV5's Good Morning Club and other shows, providing a modest following for her online shop. She offers wigs for rent and sale, plus a few odd costumes (mostly anime-related). In-stock for rental is a freakishly long wig, perfect for the vengeful lady ghost...attire. Other accessories like guns and wings are also available. The store also sells creepy contact lenses-in red, white, or Sauron.
Good for: Getting a wig without committing to it.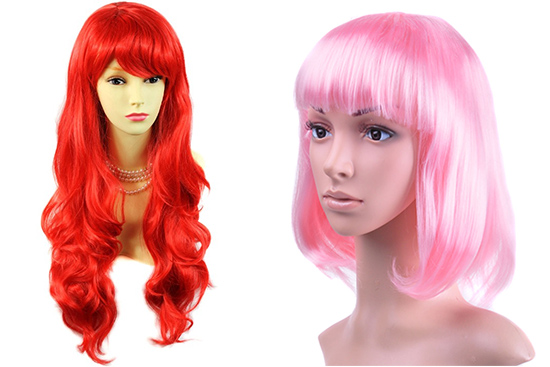 10. Sathura Wigs
SM Department Stores
Running out of ideas? Purchase a red wig and choose between: Scully from the X-Files, Willow from Buffy the Vampire Slayer, a hip version of Merida from Brave, Mary Jane Watson from Spiderman, human Ariel from The Little Mermaid, Mystique from X-Men, Zsazsa Zaturnnah...or, uh, Ronald McDonald. No? A pink wig will give you the following options: Alice from Closer, Charlotte from Lost in Translation, Bainsley from Zero Theorem...and Nicki Minaj from 2010.
ADVERTISEMENT - CONTINUE READING BELOW
Good for: Desperate times...or just finally giving in to the pleasure of wearing fake hair.
Photos from official pages, except for Anonas Mall. Additional photo for Camp Suki from TripleEspressoShots (Blogspot).
Share this story with your friends!
---
Help us make Spot.ph better!
Take the short survey
Load More Stories