Top 10 Nail Salons in Manila (2015 Edition)
Attention mani-pedi addicts! This is a must-read!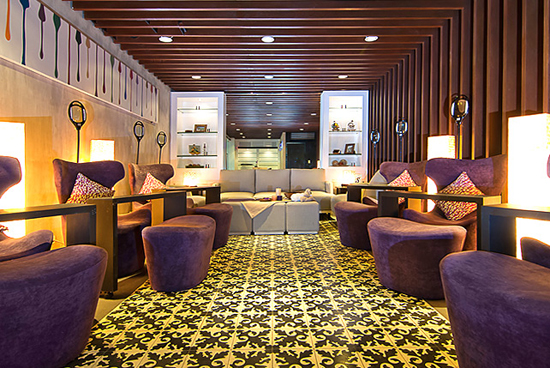 (SPOT.ph) Gone are the days when your manikurista would leave a tell-tale sign of merthiolate on your digits. Nails salons nowadays boast pre-packaged sanitized tools, luxe polish, and relaxing treatments that will lull you to a blissful sleep (for 15 to 30 minutes, anyway). Whatever your nail fancy may be-whether you want a quickie mani-pedi sesh, gel nails, an indulgent nail spa package, or nail art-we've got you covered. Happy pampering!
Editor's note: For salons with several branches, only those indicated in the article were reviewed.
Also read: 5 Nail Salons That Nail the Art On Your Digits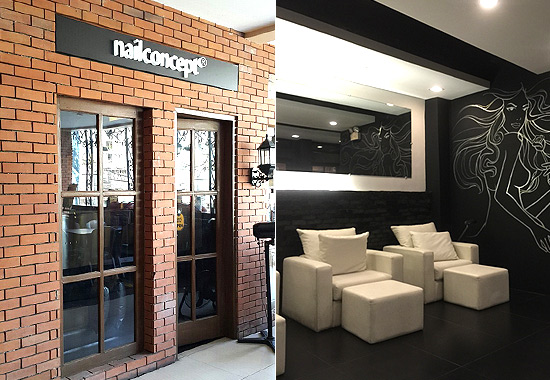 ADVERTISEMENT - CONTINUE READING BELOW
10. Nail Concept
Contact: 351-1395, 234-0498
Address: 2/F POS Building, Scout Madriñan corner Tomas Morato, Quezon City
WiFi: Available

Nail Polish Brands: Orly, OPI, Zoya, Misa, Cuccio, and Jennifer Lyn Gel Polish
How Much To Shell Out: Regular manicure and pedicure start at P250 and P300 respectively, additional P300 for gel polish application
What To Try: Nail Concept is the best and easiest place to have a sparty! A small group of five can book the entire place on weekdays from 4 p.m. onwards. You can even pick up some finger food (there are many interesting restaurants in the same building, like Wabi Sabi and Tomato Kick)-they won't charge corkage! Gather your guy and gal pals for a QT pamper sesh, since the ambiance is quiet and decorated with comfortable white leather couches against an all-black palette.
Two Thumbs Up For: Nail Concept takes cleanliness to the next level, so you'll see newly opened packages of nail care tools and fresh white towels. Their very experienced nail technicians are extra gentle, making sure you're comfortable every step of the way. Bonus points for their generous polish application-you can swipe on up to four coats to get the exact shade you want. If you're really in need of some R&R, try their Ginger Herb Deep Sea Salt Hand and Foot Therapy (P900). Pre-polish, this two-hour treatment starts with a few minutes of soaking, followed by an aromatic scrub to improve circulation and a rejuvenating massage.
ADVERTISEMENT - CONTINUE READING BELOW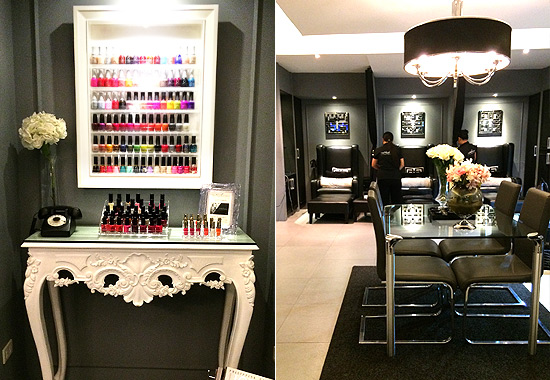 Contact: 0915-805-3696
Address: 3/F Makati Golf Club Lasema Plaza, 7232 Malugay Street, Bel Air, Makati City
WiFi: Available
Nail Polish Brands: Orly, Revlon, OPI, Chanel, Seche Vite
How Much To Shell Out: Classic treatments for regular manicures start at P240 and signature packages at P700
ADVERTISEMENT - CONTINUE READING BELOW
What to Try: For a quick fix, go for one of their classic treatments. Their mani-pedi includes a relaxing foot soak and hand massage, plus some buffing and scrubbing that will leave your tips and toes feeling oh-so fresh and clean. If you're feeling a bit more luxurious, try out the Socialite. It's one of their signature packages that combine a spa manicure and pedicure.
Two Thumbs Up For: The glam vibe that gives you value-for-money satisfaction. You might just feel like you've stepped into someone's living room, only that person likes a lot of black and silver pieces, and happens to have a shelf of nail polish instead of artwork. You can snuggle up with a cozy blanket as you sink deeper into one of the salon's large wingback chairs, sipping a complimentary drink (your choice of coffee, tea, or iced tea). Their nail technicians happily attended to our needs like pros-and because the place is dark, they work on your nails under unobtrusive lamp lights, so you're sure that everything is polished to perfection.
ADVERTISEMENT - CONTINUE READING BELOW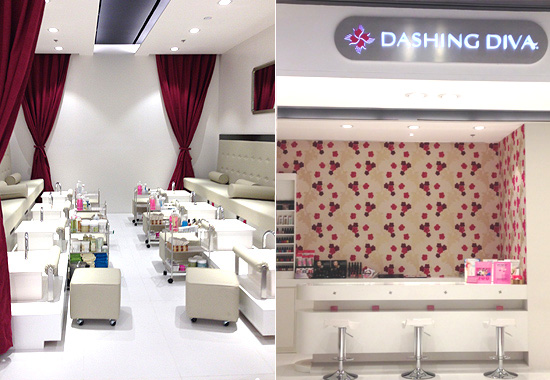 8. Dashing Diva
Contact: 958-5347, 0917-808-1504
Address: 3/F Central Square, Bonifacio Global City
WiFi: Available
Nail Polish Brands: Dashing Diva, CND, Patricia
How Much To Shell Out: Spoiled Diva Manicure is priced at P450; Spoiled Diva Pedicure at P700; and Virtual Nails at P800
What To Try: If regular mani-pedis aren't doing it for you, try the Spoiled Diva Manicure and Pedicure treatment. After a thorough soaking, your limbs are given a quick micro-dermabrasion treatment to smooth away rough spots and dry skin. Polish addicts will also enjoy the endless creams and oils that are massaged over dry and battered nails to help restore lost moisture. Can't grow your nails? Try Virtual Nails, which is their version of nail extensions. The patent-pending, full-cover nails are custom fit and you can polish 'em with any color you want.
ADVERTISEMENT - CONTINUE READING BELOW
Two Thumbs Up For: The comfy set-up at Dashing Diva lets you soak your feet in comfort. If you hate waiting for your polish to dry, they have a dry bar that can help speed up the process and a flatscreen TV that shows top blockbusters to keep you distracted. Bring your niece or daughter here if you want to squeeze in some bonding time-they'll feel like a little princess with the Little Diva Manicure (P200) and Pedicure (P275).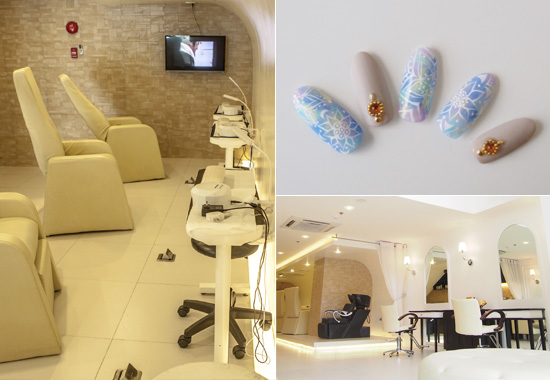 ADVERTISEMENT - CONTINUE READING BELOW
7. Kiyosa Japanese Total Beauty
Contact: 805-8888, 0939-915-8888
Address: G/F F1 Hotel, 32nd Street corner Lane Q, Bonifacio Global City
WiFi: Available
Nail Polish Brands: Ace Gel
How Much To Shell Out: Gel nail manicures start at P2,100
What To Try: Kiyosa is the first gel nail salon in the Philippines and all their products are from Japan. They use Ace Gel, a special brand of gel polish which is applied with imported brushes. Their manicurists go through three months of training before they can touch the hands of clients to ensure quality service. They file each nail and compare each of them so that they're all the same shape and length. Your tips are treated as a blank canvas, painted on by technicians like true artists. If nail art is your thing and you hate getting chipped nails, then this nail salon will be worth your money-especially if you want one-of-a-kind designs.
ADVERTISEMENT - CONTINUE READING BELOW
Two Thumbs Up For: Their precision and technique. Kiyosa's staff is composed of both Japanese and Filipino technicians who are trained and licensed to do nail and eyelash extension, which definitely sets a high standard when it comes to the quality of their services. They also create the very kawaii nail art designs themselves. Its all-white interiors, accented with colorful Japanese fans and high ceilings give a very elegant and sophisticated vibe.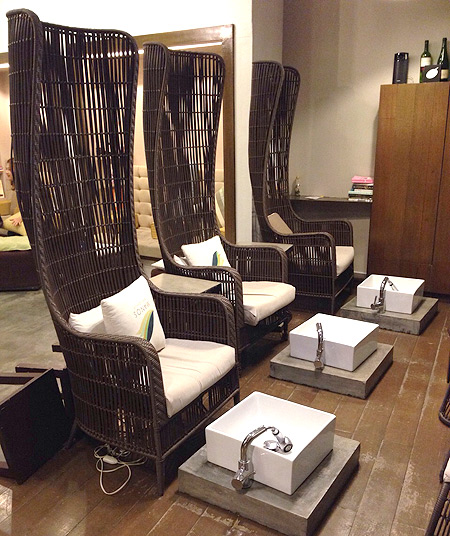 ADVERTISEMENT - CONTINUE READING BELOW
Contact: 478-4057, 0917-317-6627
Address: Unit 2-I Crescent Park Residences, 30th Street corner 2nd Avenue, Bonifacio Global City
WiFi: Available
Nail Polish Brands: OPI, Orly, Essie, Zoya, Chanel, and many more
How Much To Shell Out: Classic manicures cost P220 and pedicures are P280; the Manos Signature Spa Treatment for Hands & Feet costs P850
What To Try: Between the organic-looking interiors, the shelves full of books, and the warm smiles of the technicians, it's hard not to feel right at home in Manos. Try their best-seller-the Manos Signature Spa Treatment. It's their version of a foot spa with a local and natural exfoliating cream made of green tea and lemon grass. The massage is über relaxing and their technicians have very light hands, perfect for those with brittle nails and thin cuticles. We recommend trying their add-on service for nail strengthening for an additional P90!
Two Thumbs Up For: What's awesome about Manos is that they also cater to a bigger cause by being huge supporters of everything local and natural. As soon as you step into their salon, you will see several local products on their display shelves, which are the same homegrown items used for their services.
ADVERTISEMENT - CONTINUE READING BELOW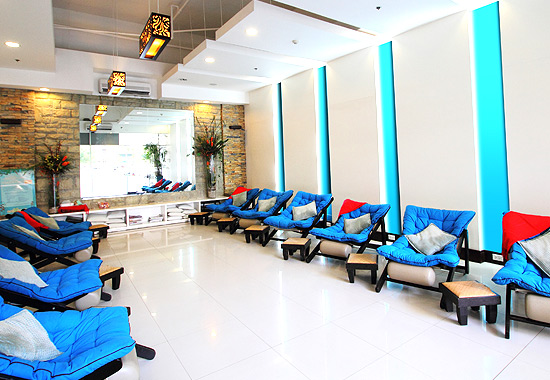 5. Nail Tropics
Contact: 0917-624-0106, 0918-941-9439, 916-0052, 211-8489
Address: One Orchard Road, Eastwood Avenue, Eastwood City (near the church)
WiFi: Available
Nail Polish Brands: OPI, Orly, Bandi, Jessica (it's the only salon that offers this US-based brand locally)
How Much To Shell Out: Manicures are P185 and pedicures are P215; the mani-pedi combo package is P375; hand spas are P300 and foot spas are P500; the hand-and-foot spa combo is P780
ADVERTISEMENT - CONTINUE READING BELOW
What To Try: Their organic hand and foot spas, which are safe for moms-to-be. The ingredients of their creams and scrubs are all sourced from local farmers and you can actually see bits of real fruit mixed in. If you're here for a good ol' mani-pedi, their TESDA-accredited nail artisans are very thorough and gentle throughout the procedure, which includes a hand and foot soak, scrub, wrap, massage, and nail treatment. Have extra cash? Their waxing services (P500 for half legs) are quite impressive. It's practically pain-free and they're able to grab even the shortest strands from the root.
Two Thumbs Up For: The spa-like ambiance and comfy lounge chairs. Their wide and relaxing space will make you feel like you're on a retreat away from the city. You can even request a private room (priced at P50 per head) if you want a little more seclusion. They also have a range of nail and massage treatments designed just for men.
ADVERTISEMENT - CONTINUE READING BELOW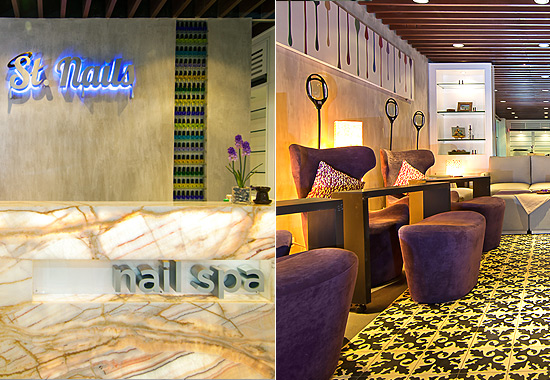 4. St. Nails
Contact: 586-0985, 0917-866-2457
Address: G/F NFB Building (Petron Gas Station/UCC Cafe), EDSA corner Arnaiz Avenue, Barangay Dasmariñas, Makati City
WiFi: Available
Nail Polish Brands: Butter London, Ruby Wing, Sparitual
How Much To Shell Out: The Mani-Pedi package is P400; Gel Manicures are P600; and Gel Pedicures are P750
ADVERTISEMENT - CONTINUE READING BELOW
What To Try: If you're a fan of gel polishes, you will definitely appreciate that they use non-UV lights (LED) to cure the color, so you don't need to worry about UV damage on your digits. The Pamper Me Now package (P800) will start you off with a scrub, then they'll brush on a minty, moisturizing mask. This will set for the next 10 minutes, and after it works its magic, your arms and legs will be oh-so-smooth. After it's rinsed off, your mani and pedi will start. If you want to try something different, select any of the Ruby Wing polishes-it'll be a treat seeing your nail color change under the sun.
Thumbs Up For: Upon sitting down on your comfy chair, they'll put on a heated herbal compress pack on your shoulders, so you feel soothed and relaxed even before your treatment starts. St. Nails only uses sanitized tools in pouches which are opened right in front of you. For every service availed in St. Nails, a portion of sales goes to a Gawad Kalinga community in Caloocan. Yay for guilt-free pampering!
ADVERTISEMENT - CONTINUE READING BELOW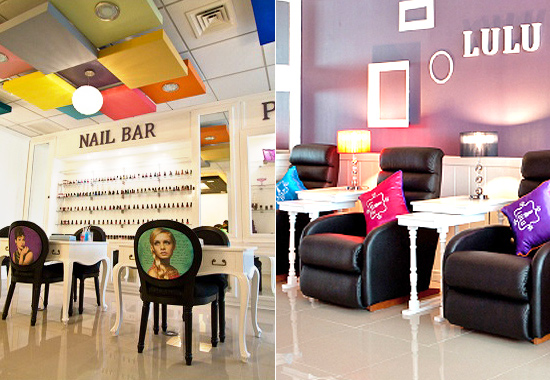 Contact: 0917-957-9683, 942-1311
Address: 5/F BTTC Centre, 288 Ortigas Avenue corner Roosevelt Street, San Juan
WiFi: Available
Nail Polish Brands: A wall's worth of Orly and OPI offers a wide range of shades, and polish addicts will love Seche's appearance in Lulu's arsenal of polish offerings. Luxe brands like YSL, Chanel, and Dior are on offer for an extra fee.
ADVERTISEMENT - CONTINUE READING BELOW
How Much To Shell Out: Treatments are P680; basic a mani-pedi begins at P200 to P250
What to try: Lulu Nails does basic waxing and hair coloring too, but their nail services are undoubtedly what keep clients coming back. Lounge on comfy recliners while enjoying their best-selling Sun-Kissed Beach Spa foot treatment (it's a sea salt scrub and mask plus a mandarin oil massage thorough enough to put you to sleep) and their expert manicures. Bring the boyfriend along; he'll love the energizing Tropical Mint foot spa that'll soothe tired legs and slough away rough skin.
Two Thumbs Up For: Top-notch nail care by an expert, but discreet staff. No hard sells or noisy gossiping technicians-everyone is polite and knowledgeable. The tucked-away location, white interiors, and super-comfy loungers make Lulu Nails the perfect Sunday pit stop before facing a toxic work week ahead. Don't be surprised if you're lulled to sleep halfway through your treatment and wake up to perfectly polished nails.
ADVERTISEMENT - CONTINUE READING BELOW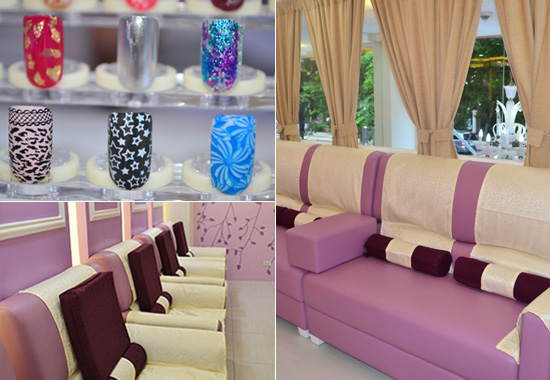 2. I Do Nails
Contact: 0917-531-5365, 234-5756
Address: G/F Building 1, Tuscany at McKinley Hill, Upper McKinley Road, McKinley Hill, Bonifacio Global City
WiFi: Available
Nail Polish Brands: Orly, Deborah Lippmann, Ruby Wing, Zoya, Chanel, MAC, Christian Louboutin, OPI, Bandi
How Much To Shell Out: P200 for a mani, P250 for a pedi, or P400 for both. Nail stamping is P25 per nail, nail charms start at P5, and nail foils are P35 per nail.
ADVERTISEMENT - CONTINUE READING BELOW
What To Try: If you're in a hurry and just want your digits painted without the fuss, this full-service nail and waxing salon specializes in quickie mani-pedis for on-the-go gals. We're most impressed by the way their technicians lock in the polish-their technique is practically perfect and can extend the life of your mani for up to a week without chipping. Want to have more fun with your nails? Try Nail Stamping. You can choose from over 100 stencils and the technicians easily transfer the design to your nails using a stamp and a special Korean nail polish called Konad.
Two Thumbs Up For: Their endless nail art options can help you personalize your tips and stay up-to-date on the latest trends. Aside from nail stamping, they also have nail charms, nail foils, special nail glitter and sequins, and even 3-D Glow In The Dark Nails. You can also show the nail technicians a design you want them to copy and they can do it for you.
ADVERTISEMENT - CONTINUE READING BELOW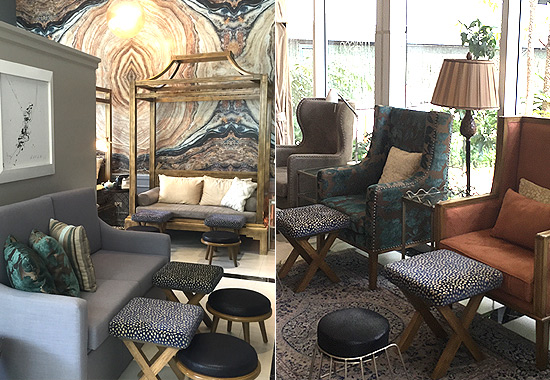 Contact: 893-2823
Address: G/F Edades Tower & Garden Villas, Rockwell Center, Makati City
WiFi: Available
Nail Polish Brands: Marc Jacobs, Obsessive Compulsive Cosmetics, Formula X for Sephora, Christian Louboutin, OPI, Essie, Debroah Lippmann, Illamasqua, Dior, YSL
How Much To Shell Out: Prêt-à-Porter Hands (their basic mani) is P300; Prêt-à-Porter Feet is P400; Paraffin Intense Hands is P1,150; and Paraffin Intense Feet is P1,600
ADVERTISEMENT - CONTINUE READING BELOW
What To Try: Had a stressful week? Indulge in the Paraffin Intense Hands (75 minutes) and Feet Treatment (105 minutes). After starting with a quick aromatherapy session that signals your body to relax, it's followed by an Epsom salt soak, scrub, a soothing massage that's guaranteed to unknot the tightest muscles, and deluxe polish. Worried that your hands and feet are starting to reveal their age? They also have anti-aging treatments that use products that are spiked with argan, coconut, and sweet almond oils to help make your skin look more youthful.
Two Thumbs Up For: Being the most stylish urban nail retreat in town! The luxe interiors will make you feel as if you're away on a posh, private vacay and every corner boasts an Instagram-worthy spot. Maîson offers traditional nail services with technicians that are trained to cater to your every need and make you feel like a queen. Enjoy their complimentary drinks (Sola Iced Tea, UCC brewed coffee, Stellina's Lemonade, or your choice of teas) and you can also order from the restos around Rockwell if you want a quick snack while getting pampered.
ADVERTISEMENT - CONTINUE READING BELOW
Also read: 5 Nail Salons That Nail the Art On Your Digits
Photos courtesy of the establishments and by Bea Perdigon for realliving.com.ph (I Do Nails). Visit Nicole on beautyandsparkle.com and follow her on Instagram and Twitter.
CONTINUE READING BELOW
Recommended Videos
Share this story with your friends!
---
Help us make Spot.ph better!
Take the short survey
Load More Stories