10 of the Most Reliable Sunscreens Right Now
Never, ever skip the sunscreen.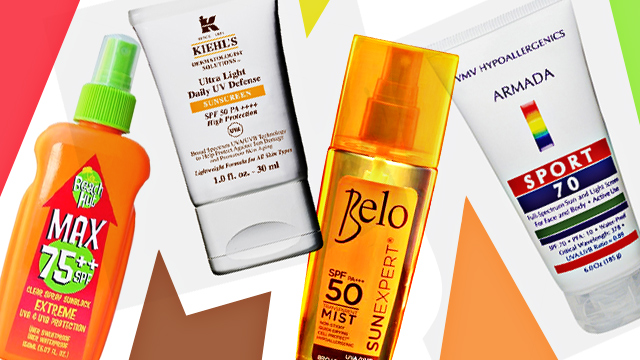 (SPOT.ph) Let's set the record straight: Summer isn't the only time you should be slathering on the sunscreen. Rain or shine, indoors or outdoors, the sun's harmful rays are like that clingy ex-girlfriend who always finds a way to reach you no matter what. Not-so-fun fact: That computer, laptop, or mobile phone you're using right now can also damage your skin! The horror! So never, ever skip the sunscreen if you don't want your skin to age quickly or (knocks on wood three times) get skin cancer.
ADVERTISEMENT - CONTINUE READING BELOW
Allow us to school you a little bit about the sun's evil UV rays and how important it is to stay protected. The sun emits three kinds of UV rays: UVA, UVB, and UVC. UVA causes skin-aging and can penetrate through windows. UVB causes the skin to burn but cannot penetrate glass. This is why you get sunburnt when you go to the beach! UVC rays are the deadliest and most damaging type of radiation but it doesn't reach the earth's surface thanks to the ozone layer, which is now unfortunately getting depleted.
Sun Protection Factor or SPF shields the skin from UVB (burning). Broad spectrum, on the other hand, means the sunscreen protects against both UVA and UVB rays. PA+ indicates the protection grade against the UVA rays, meaning the more + signs you see, the higher protection you get from skin-aging.
We're not done here yet. Sunscreen is seriously non-negotiable. If you haven't found the perfect one, we list the 10 most reliable sunscreens you can shop right now. 
ADVERTISEMENT - CONTINUE READING BELOW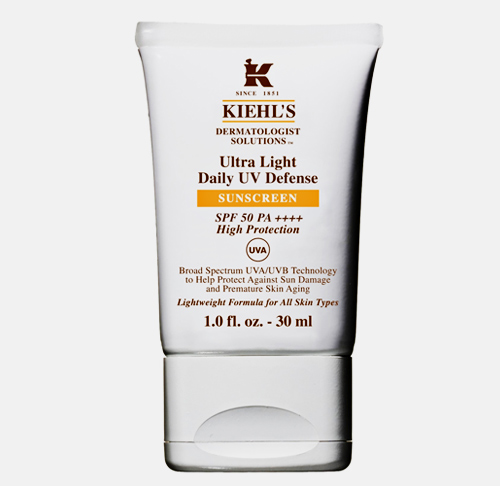 Ultra Light Daily UV Defense Sunscreen SPF 50 PA ++++ (P1,995) from Kiehl's
Looking for a sunscreen that sits well under your makeup? The Ultra Light Daily UV Defense Sunscreen SPF 50 PA++++ can do exactly that! This lightweight sunscreen is easily absorbed by skin and doesn't leave an annoying white cast. It's also packed with Rosa Gallica which helps calm and soothe irritated skin. Pro-tip: Layer it over your moisturizer for optimal sun protection—this will help prevent skin-aging, too!
ADVERTISEMENT - CONTINUE READING BELOW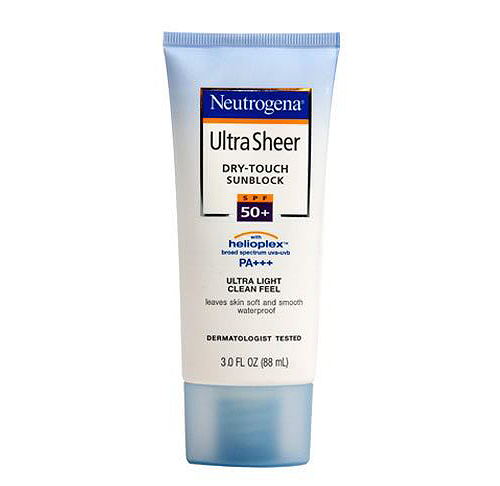 Ultra Sheer Dry Touch Sunblock SPF50+ PA+++ with Helioplex (P525) from Neutrogena
Don't let its thick and creamy texture fool you. Thanks to its Dry Touch technology, it's easily absorbed once applied and feels light on the skin with a non-shiny finish—an important factor for those who hate the thick and sticky feeling of some sunblocks. It makes use of Helioplex which gives balanced broad-spectrum protection against skin-aging and burning.
ADVERTISEMENT - CONTINUE READING BELOW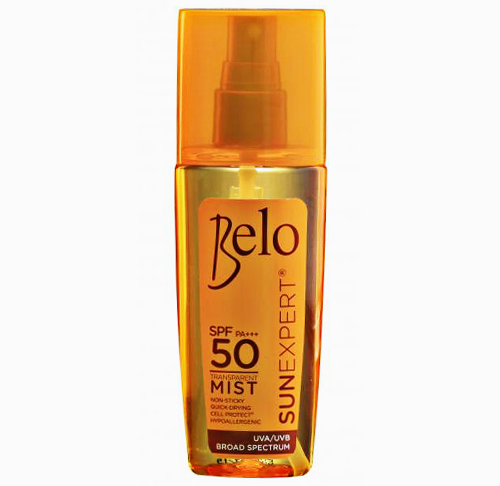 SunExpert SPF 50 Transparent Mist (P449.75) from Belo Essentials
This transparent mist provides broad-spectrum protection against UV rays. It has a non-sticky and water-resistant formula that has a fresh, cooling effect that you will love. It claims to have immediate effectivity so you can be out and about after spraying it on! It also features Cell Protect Technology which strengthens the skin's defense system, helping it fight premature skin-aging.
ADVERTISEMENT - CONTINUE READING BELOW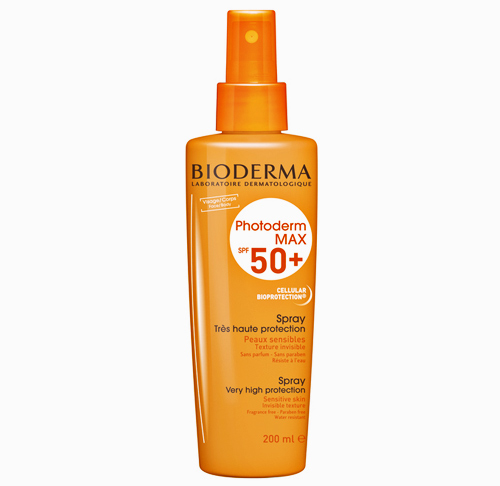 Photoderm MAX SPF50+ Aquafluid (P1,678) from Bioderma
If you have combination to oily skin, this sunscreen has a mixture of three powders that gives you a mattifying and a dry-touch finish while keeping your skin protected from the sun. It boasts a fluid texture that's as light as water, making application a breeze. It's hypoallergenic so it's perfect for those with sensitive skin, too!
ADVERTISEMENT - CONTINUE READING BELOW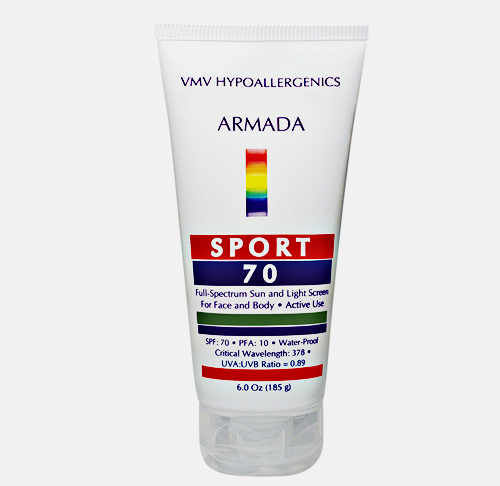 Armada Sport 70 (P2,565) from VMV Hypoallergenics
This sunscreen isn't their best-selling product from all over the world for no reason. Higher SPF means thicker formula that usually leaves a white cast, but not this sunscreen. It's popular for its ultra-lightweight feel and its ability to protect your skin from the sun whether you're in or out of water.
ADVERTISEMENT - CONTINUE READING BELOW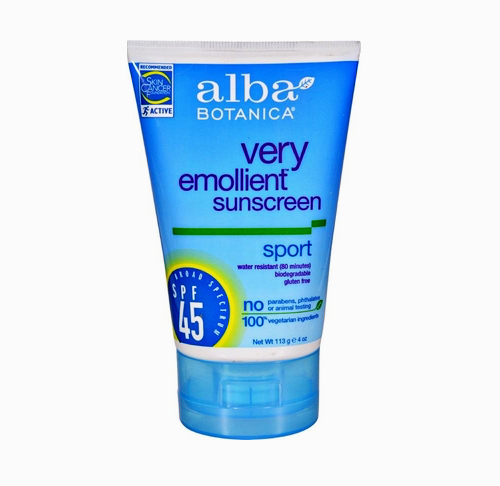 Alba Botanica Very Emollient Sunscreen Natural Protection Sport SPF 45 (P425 to P495) from Healthy Options
This natural and organic sunscreen provides broad-spectrum protection. It's formulated to be durable enough to use in the water or while exercising and perspiring. Just make sure to reapply after 80 minutes of swimming or sweating and at least every two hours afterwards, just like any other sunscreen. It's packed with green tea, gingko biloba, and vitamin E which provide rich antioxidant protection. It even has ginseng which keeps skin healthy-looking and energized!
ADVERTISEMENT - CONTINUE READING BELOW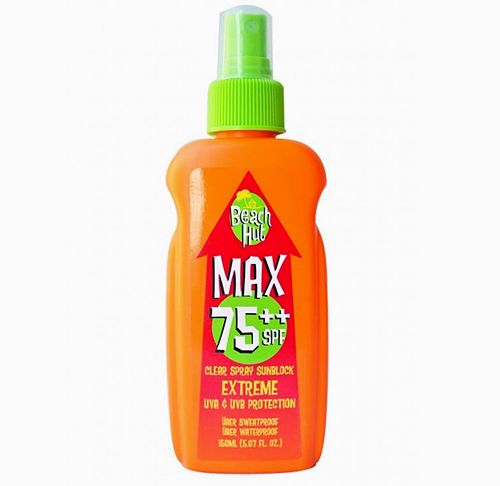 Max 75++ Clear Spray Sunblock Extreme with UVA and UVB Protection (P329.40) from Beach Hut
Hate how messy and hard it is to apply some sunscreen lotions? This spray is the answer to all your prayers. It provides maximum sun protection without the sticky and oily feel while allowing you to easily apply on hard-to-reach areas. It's sweat-proof and waterproof, plus it gives your skin a gorgeous glow that you will absolutely love!
ADVERTISEMENT - CONTINUE READING BELOW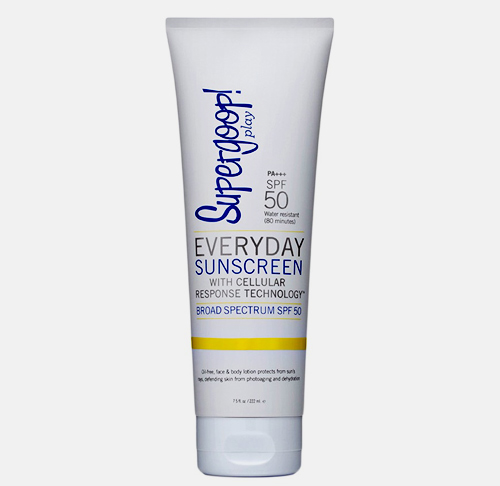 Supergoop! Everyday Sunscreen SPF 50 with Cellular Response Technology (P1,988) from Sephora
Ideal for all skin types, this high-performance sunscreen provides broad-spectrum protection that's water-resistant and keeps skin healthy and moisturized. It has Cellular Response Technology which is rich in antioxidants and beta-glucan which helps skin combat the dehydrating effects of sun exposure. It also has a lovely scent, thanks to lemon, orange, basil, and bois de rose in the formula!
ADVERTISEMENT - CONTINUE READING BELOW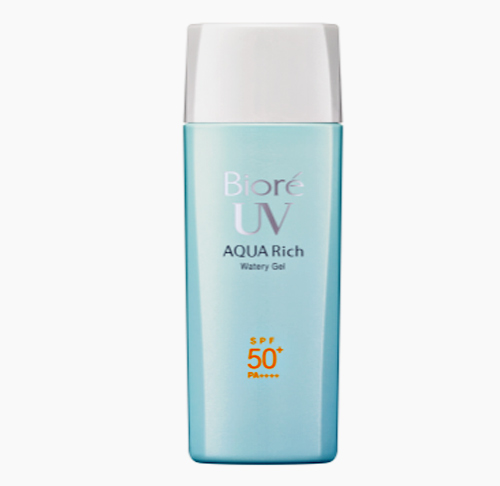 Biore UV Aqua Rich Watery Gel SPF 50 PA++++ (P450) from Watsons
If you absolutely hate the sticky feeling that most sunblocks with high SPF leave behind, you'll be glad you discovered Biore's Aqua Rich Watery Gel SPF 50 PA++++. It's formulated to be rich but feels like nothing on your skin! It also has an Aqua Rich technology which provides moisture for a cool and refreshing finish. Besides, its got both SPF 50 and PA++++—the only thing better would probably be a roof over your head.
ADVERTISEMENT - CONTINUE READING BELOW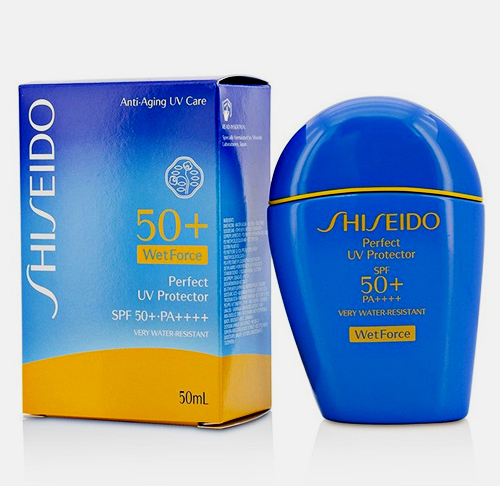 Perfect UV Protector WetForce Broad Spectrum SPF 50 (P2,100) from Shiseido
Believe it or not, this sunscreen becomes even more effective when exposed to water! That's because it makes use of an exclusive SuperVeil-UV 360 and WetForce technology which is activated when you're swimming or doing other water sports. It also keeps skin moisturized without being greasy. Its gentle formula is perfect for all skin types!


ADVERTISEMENT - CONTINUE READING BELOW
Load More Stories