Robin Tomas launches made-to-order line in Manila
Robin Tomas, who grew up around mother Tessie Tomas's costumes for her zany characters from Meldita to Barbara Tengco, launches a fashion line in Manila after six years in New York as a fashion designer.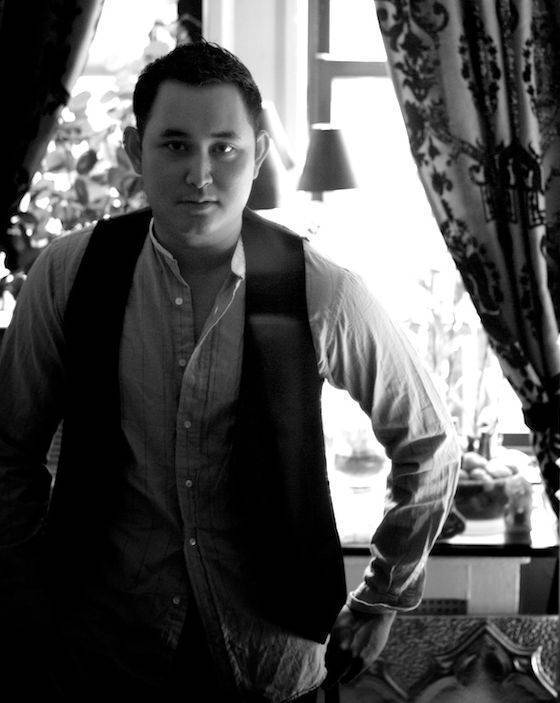 After six years in New York designing menswear for Tommy Hilfiger, J.Crew, Old Navy, Gap and interning for Anna Sui and Valentino, Robin Tomas, 32, recently launched his couture label Tomas. Tomas, a graphic design major at UP, was an art director at Saatchi & Saatchi before leaving the country in 2001 to study fashion design at Parsons in New York. Spot.ph chatted with him about art, fashion, New York, Manila, and inevitably, life with his famous mother, actress/comedienne Tessie Tomas, whose idea it was for him to try his hand at finally designing his own line here in Manila during New York's economic crunch.
At what moment did you know you wanted to be a fashion designer? I started as an artist. I painted, but I caught the fashion bug when I was 19, when I would get transfixed watching fashion shows on TV.
Were you artistically inclined as a child? I started drawing when I was four. My father likes to recount how I'd spend hours in church drawing saints and their vestments. But yes, art has always been my core craft: drawing, painting...[Says Tessie Tomas, "When he was young, Robin liked going backstage during my shows to examine the construction of the costumes for my characters like Meldita, Amanda Pineda, Boni Buendia, Lea Salongganisa, etc."]
ADVERTISEMENT - CONTINUE READING BELOW
How has being raised by a funny, famous single mother helped mold your character? It was all for the better most definitely. Our home was filled with laughter. But I never let her stature affect my behavior. She tried to raise me with as little fuss as possible.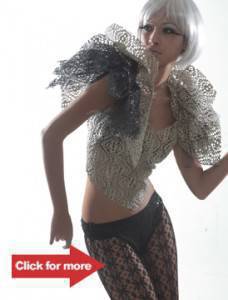 CONTINUE READING BELOW
Recommended Videos
How has your upbringing helped you reach for your goals? My mother is a Type A+++ personality who encourages and supports me all the way. It was very easy to reach my goals with her parenting style. Whether in Manila growing up, or in New York schlepping it, she was there with her placard and bullhorn to cheer me on. For instance, when I told her about the openings for internships on the Parsons bulletin board for Anna Sui and Valentino, she who egged me on, saying "Huwag kang masisindak! Just try. Take advantage of opporrunities. Go for the experience!" She herself tried to make it in Hollywood in 1990, when I was 14.
ADVERTISEMENT - CONTINUE READING BELOW
Name five important things you learned from working for Valentino and Anna Sui. 1.Professionalism that comes with punctuality, and not taking things personally. 2. Having good interpersonal relationships Behind every established fashion name are teams of designers who are on different creative wavelengths, who have to work together to make a cohesive look every season. That takes teamwork, ego checks, and sound, creative self-esteem. 3. To give more than what is expected from you, and I think this is where we Pinoys excel. It sets us apart. 4. To observe and absorb everything you experience, whether it be a good or a bad episode, because believe me you will be able to use these learnings down the road. 5. In terms of being creative, don't give doubt a priority, if you feel it in your gut that there's something there, keep working on it, and don't stop. I always go back to an anecdote about a guy who went into a salon in New York. When the hairdresser asked him what he wanted he simply exclaimed, "Just have fun with it!"
Why have you shifted to women's wear from menswear? From RTW to couture? Menswear gave me an opportunity to explore the category, and maybe there was a personal pull since I could identify with the styles. I plan to do both eventually, but this time I want to go back to my passion and training which is womenswear, with the freedom to do my own thing as opposed to a team setup in New York. As for shifting to couture, again I wanted to go back to my passion. Couture is a big blank canvas for fashion design.
ADVERTISEMENT - CONTINUE READING BELOW
What have you learned from making menswear that makes you a better designer of women's wear? Generally, menswear has a cleaner look, therefore good fit and strong detailing are key. I guess the closet comparison to menswear is doing a no-makeup look in makeup, you think there's nothing there, but there's so much work involved. The most important thing I learned is how to strengthen a garment, create great fit, use amazing fabric, and create impeccable detail and trim.
What have you learned from living in NYC that can help you succeed here? Self-sufficiency, being task-oriented, not taking things personally, being open to global trends and being in tune with the rest of the world.
What kind of clothes do you make? I'm a classicist to the core. I love to involve my artistic heart in creating clothes. I start with a classic silhouette and let the artist in me [develop] and alter the style. I like using rich, sophisticated materials. I want people to look at my clients and notice not just what they're wearing but the total effect on their persona.
Who do you design for? A woman who's sophisticated, well-travelled, and unapologetic about being unaffectedly chic. She is elegant and not afraid to wear clothes that enhance her character. She wears clothes not to cover up, but to come out.
As a former advertising art director, how are you packaging/selling your women's line? I just aim for a clean, sophisticated look to support the clothes. Eventually I want to start the trend of advertising in fashion magazines the way they do in the West. Most of the ads in magazines here are for ready-to-wear and broad-market brands.
ADVERTISEMENT - CONTINUE READING BELOW
What do you want to achieve here? I want to first of all introduce myself, my design aesthetic, and the men and women I design for. I think it's the artist in me, but I still have to evolve and develop as a designer, but the launch of Tomas is a culmination of all my experiences in New York. It is a dream come true, to do this in your home country. But I am not back for good. In fact, I'm bringing some of my Philippine-made designs back to New York in June to test the waters there. I'm keeping my options open.
What niche do you think you can fill that's not already in the Philippine market? That of the "Sex and the City ' women of Manila who have been waiting to glam up their wardrobes. Women who are always on the hunt for that one-piece wonder or that "oomph" jacket.
Where do you go in Manila to get inspiration? If I can't go out of town, I visit the lush gardens of Greenbelt, the American Cemetery at the Fort, or watch the sunset at Sofitel.
We'd love to know what you think. Please post your comments below:
�
Share this story with your friends!
---
Help us make Spot.ph better!
Take the short survey
Load More Stories