On the Spot: Rhett Eala
After 20 years in fashion, the "Father of Fashionalism" tries his hand at painting the Philippine map he made iconic. He tells Spot.ph the story.
Rhett Eala at the opening reception of his "Divides" exhibit. Click for more photos.
Here's a love affair that spans 7,107 islands. Rhett Eala, fashion designer and the genius who coined the term "fashionalism," the fusion of fashion and nationalism, is working on the Philippine map yet again, this time with a different medium and on a different platform. The designer-artist responsible for the fashionalistic collared/non-collared shirts with Philippine map designs, which sky-rocketed when it launched in 2006 under the Collezione C2 brand where he is Creative Director, has one more item to add to his list of feats--painting.

His ongoing art exhibit titled Divides at the Silverlens Gallery in Makati features 11 monochromatic acrylic paintings on his signature design, the Philippine map. Divides jumpstarts the celebration of his 20th year anniversary in the fashion industry next month (for which he is mounting a fashion show on October 5 at White Space). "As I celebrate my 20 years in fashion, I want to showcase the many facets of the Filipino artist, and in the process, explore another medium for my creative expression," says Eala. The exhibit will be on view until September 25.

The idea of using the Philippine map as a fashion statement goes back to 2006 when one night, while treading the streets of Pasig on his way home from the office, Eala had an "Aha!" moment in his car while under an overpass. He quickly returned to his office to, er, map out his germ of an idea. He took his brainchild to Joey Qua,   second generation stalwart of the veteran shirt maker Collezione   The rest is fashion phenomenon history. His map design, also known as the My Pilipinas series, has been a best-seller of Collezione C2 and a favorite "pasalubong" of our kababayans in the U.S. since then. And who could forget the campaign uniform of President Noynoy Aquino? The yellow and black Collezione ensemble, with an added Ninoy-Cory pin, was his staple campaign wardrobe. Other members of the Liberal Party, presidential sister Kris Aquino, and Valenzuela 2nd District Representative Shalani Soledad also donned the shirts during the campaign period. Oh and yes, Congressman Manny Pacquiao wanted dibs (and got them) on the My Pilipinas shirts, too.

Fashionalism has ignited what could be a modern show of Pinoy pride or a mere fashion trend, depending on your take. But whether or not the map is here to stay, it seems like the designer-creation bond is unbreakable. According to Eala, he has never reached the saturation period. Note to ourselves: Watch out for his upcoming takes on the map.

In an exclusive SPOT.ph interview Rhett Eala spills the beans about his latest exhibit, his shift from fashion to the arts, and how his love affair with the iconic Philippine map is unlikely to end.
ADVERTISEMENT - CONTINUE READING BELOW
You had an exhibit before called My Pilipinas Series. How different is Divides from My Pilipinas Series?
This is my first serious one. Yes , I did have one before, but this is my first gallery exhibit.

How did the idea of Divides develop in your mind?
The execution [didn't take too] long. It was the thinking of the concept that took such a long time because I wanted to do maps nga, but the last time I did maps, they were very, very colorful. I wanted to do something quieter and more mature. Parang I wanted it to be where I was at din as a person. Eight years ago I was kind of wild, but now it's so different na. Parang this reflects who I am now.

How different, would you say, are you now?
I am more at peace. I'm more grown up, I guess. And I'm older, that's why.

How did you work on the paintings for Divides?
I used a palette knife. It's (painting) not so accurate naman. Actually there was this one painting that's all white on white and everybody loved that. And I really like it also. It got sold; it was the only thing that sold. And then I said, "I want to do a series of it now." I first did some of these paintings in color, pero 'yung in color didn't have the same effect. I actually had an assistant to help me out. I couldn't do it without him. I did it on the floor. I've always painted like that--flat. It's always hard for me, especially with bigger canvasses. I had to paint on a big table.

How long did you work on the paintings?
Maybe around a couple of months. But conceptualizing it was longer. At first, this was going to be a sculpture show. But I can't do it by myself. I would have to give instructions to the guy who would do the sculpture. When it came out, of course it didn't turn out the way I wanted it. I guess if you're an artist, it's better to build with your own hands.

What were your thoughts and emotions while creating your paintings?
I felt insecure, because when Isa (Lorenzo) told me she wanted me to paint, she told me: "Ganyan, ganyan, I want you to paint the Philippine map, but it better be good." I was like, "Shit!" Those were her last words. Actually, I think I talked to her earlier this year, siguro January or February. She told me to go to the Hong Kong art fair just to get immersed into art again--and it was actually really nice. Parang if your world is just fashion, art can really make your mind broader 'di ba? It was nice because I've always loved art. I mean, I started with art.

What do you mean by you "started with art"?
I was in fine arts, and my mom was a painter so she encouraged us to paint, too. Actually, just recently, she showed me my early works. Nakakatawa. Nakakaaliw. Merong mga illustrations. I did a lot of portraits before. I had a portrait of myself.

What was Isa's feedback?
Oh she liked it. Actually, I kept delaying things kasi takot ako that she would say, "Oh it's not good enough to be shown at Silverlens." (Laughs) And I would have said, "Okay." She liked it naman. Actually at first she only saw the smaller canvases. The bigger canvases, which I think are better came after, and they are my best work. With the smaller canvases, I was still experimenting, and then when I was more comfortable, I moved to the bigger canvases.

CONTINUE READING BELOW
Recommended Videos
ADVERTISEMENT - CONTINUE READING BELOW
What's the difference between working with a canvas and working with fabric?
Painting is emotionally draining. Parang you are so involved. I mean even if that's (points at a painting) white, you don't know how many coatings of white there is in it. It's different.

Did you reject some of your paintings for this exhibit? Why or why not?
Yes. Actually, two. 'Di ko type. They didn't turn out well.
Ever reached a point where you got really frustrated while working on the exhibit?
Actually no, the great thing about it was when the map started cracking. I was like, "Oh this is my plan." I was thinking, how I can make the maps crack. So 'yun parang na-excite na 'ko nun.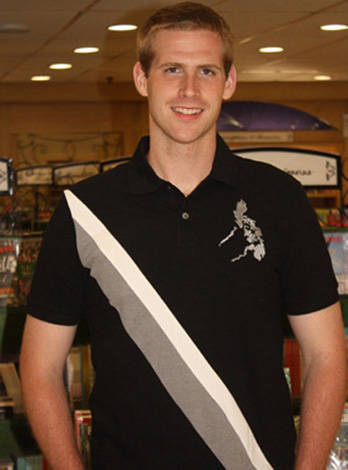 Tagalog-speaking author Rafe Bartholomew wearing Collezione C2.

What reaction from the public are you hoping for? Are you nervous?
No, I'm not. Baka sabihin, "Mapa na naman?!"

Do people often say that? What do you tell them?
Oo. Wala. Ngingiti na lang ako. Eh map, eh. (Laughs.)

If people commission you to make more paintings, would you do it?
Yeah. Why not?

When you were young, did you want to become a painter?
I wanted to be an artist, actually. Of course, when you're young, you want to be a lot of things. Of course, my first love was always designing, but painting was always an option for me. When we were younger, when we would go travel abroad--you know usually most parents take their kids to Disneyland--but our mom would take us to museums. And of course, when you're young you're like, "Oh museums, museums, museums..." Parang,"Why do we have to do this?" But eventually, we got into it as we got older.
ADVERTISEMENT - CONTINUE READING BELOW

Are you going to use your paintings as designs for a fashion line?
Ito (points at one of his paintings), oo, black on black.
Why did you choose the Philippine map as your signature design?
Actually, there were some artists who kept telling me, "You know, that's your idea. That's your art." I never thought about it that way. I suggested to sculptors I talked to, "Why don't you make a map sculpture?" They said, "Hindi 'yun sa'kin eh. Sa'yo 'yun eh." I never realized na it's mine pala. Parang it's my idea and they respect that idea. So I guess I wanted it, I guess this is my signature, 'di ba? If you see a map, sometimes or more often that not, it's associated with me. In the beginning it was aesthetic. I was kind of fascinated by the shape of it kasi, you know, 7,000 islands but it still forms some sort of logo, 'di ba?

Where were you and what were were you doing when the idea came to you?
I was on my way home from the office. I was in my car under an overpass in Pasig. It was like an "Aha!" moment. I went back to the office quickly and told my staff, "Can you do this?" One of my first t-shirts [featured] those four maps actually (points to one of his paintings). And then when I showed it to Collezione, they kind of freaked out, they were like, "Why?" They found it too trendy. They said, "Oh my god what's that?"

Why did you choose to work with Collezione?
Because they own their own factories and they manufacture in the Philippines, which is very important for designers because most of manufacturing now is done abroad. Somehow it gets diluted; your vision gets diluted if it's manufactured there. Different eh. Here, the factory is right behind my office.

How did you convince Collezione to produce your designs?
One day, Joey Qua, the owner of Collezione and my boss, wore a shirt with a map that I made to a party. People wouldn't stop going up to him. Then after that, it was his validation; he said, "Sige, make it full blast na."

Are you happier working with others rather than working by yourself?
With others, because I'm not a business person. There are some things that you're good at; I'm not good at business.

When the map design and fashionalism phenomenon came into your life, where were you in your life and career?
I was okay naman. I was steady. I was calm na. It came at the right time.

How did your map design for t-shirts turn out during the early stage of production?
Alam mo, actually, oo 'yung unang print nung map, very abbreviated. I said, "I want it to be exact," kasi 'di ba I want all the islands to be represented? So I did it and then they said, "Can you do it in embro (embroidery)?" So I did, and okay naman. It wasn't hard.

How do you know if a Collezione map t-shirt is fake?
You can tell, 'di ba? The quality. Mali 'yung shape. Usually the map is too big. When we make a big one, it's really big but it's always in proportion. For the ladies' shirts you can tell because I never make big maps for the ladies, just small ones. Even the color combinations, they copy it. Even the price, eksakto. We sell it for P629; they also sell it for P629.

Which shirt style with the map design are you most proud of?
I guess the first one. I think it was navy with a metallic gold print.

How about for the ladies' styles, which piece are you most proud of?
Madami. There's no particular piece. There's a lot.

Did you really coin the term "fashionalism?"
Yeah. (laughs)

Did you ever think that fashionalism and your map design would be a big hit?
I knew it was going to be successful, but I never really dreamed of how big it would become, like it has now.

How do you feel about the imitations of your work sold in tiangges?
That's a good measure of your success, 'di ba, if you're being copied? Somebody said that you're not a successful designer if you're not copied. Siyempre in the beginning I was kind of furious about it, but after a while I think it gives my designs--our line--more value or more premium kasi we're the original. Parang the original buko pie. (Laughs.)
ADVERTISEMENT - CONTINUE READING BELOW
How do you feel about your competitors who also use the idea of fashionalism?
In the beginning, I was kind of not happy about it. But after a while I thought, if it's going to make us more proud of our country, if it's going to give more jobs to the Filipinos, okay, I'm fine with it.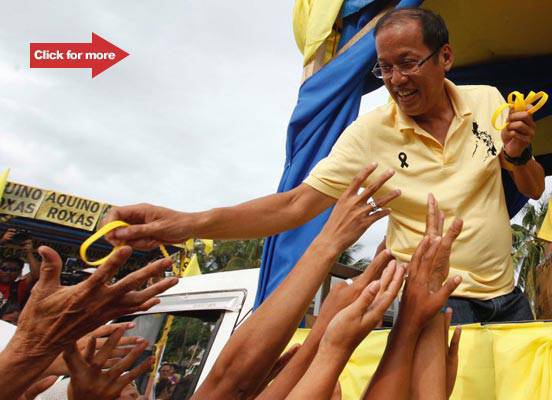 President Noynoy Aquino wearing Collezione C2. Click for more photos.
Has anyone claimed the map on a shirt wasn't your original idea?
Oo, 'yung mga t-shirts that have been sold in department stores ever since. Meron silang shirts na may mga map, 'di ba? Okay, they did it first pero 'di ba si God ang nauna? (Laughs.)

What's your take on people who say that fashionalism is overrated and is just branded nationalism?
I hear a lot of those things. But how else will you show it? I mean, it's the easiest way to show it, 'di ba? It may not be as intelligent, but not a lot of people are very intellectual.
ADVERTISEMENT - CONTINUE READING BELOW
For you, is fashionalism the best way to show nationalism?
It's a good way. People who say that fashionalism is overrat ed are snobby. I mean, why can't I show nationalism when I wear a t-shirt?

Do you think the younger people who support the brand really understand fashionalism?
Well, when I think about young people, I think about the kids' line. And a lot of kids, when they walk into our store, they want to wear that shirt kasi 'di ba they see their parents wearing it. It makes you feel good because they're loving their country at a young age. I never felt that when I was younger. It's like "Wow!" 'di ba? Then these kids are going to say, "Oh I wore Collezione when I was young." And then there's two generations above them that says that same thing--"We wore Collezione when we were young"--their dads, even their grandparents. I guess that would have been the legacy of the brand. It's been with more generations of Filipinos.

What do you think of people who don the style for trend's sake?
Ewan ko sa kanila. When you wear naman something, you don't know naman why people buy it, 'di ba? I hope people buy it because it's nice.

Do you think that fashionalism and the map design are just trends that can die down anytime?
Of course, all trends naman, it's fashion and it changes. But I think eventually, it will become a classic.

How do you sustain fashionalism? What efforts do you put to achieve the "classic" status?
You also have to be persistent with it. You can't just say, "I have to stop it na, because it's already finished." Maybe you have to change how the shirt is cut. Maybe you have to improve your quality. Maybe you should use better material. You know, make it more premium. Like, you know, the Polo pony is a fad, but it's still there. But you know what they do, they do it up.   When you see the designs for my show in October, you'll see where I'm taking the line. It's gonna be like, 'Collezione is a fashion line.'

Do you ever feel that you've exhausted all possible ideas already?
You know, the funny thing is in the middle of this year, we planned to do less of the map and focus more on the classic Collezione key emblem, the other original logo. Actually, our merchan dise is probably half-and-half (map and key). When you ask the people in the store which is more mabenta, the map pa rin. I guess you have to evolve the design. People are not buying anymore the plain shirt with the map but the one with the more complicated combinations.

Are you afraid that you'll get stuck with the same idea?
Hindi naman. I think it will always be there. Actually that's why Isa wanted me to do the maps, because the people wanted to see the maps.

Any pressure to veer away from the map design?
There's none. I mean, I know where it's at. People go to ou r store because of that, so you can't just say no to maps. Sometimes I ask, "Ano? Gusto pa nila ng mapa?" (laughs) In our Rockwell store, I have clothes there that don't have maps and are really nice, palalagyan nila ng map. It's funny, 'di ba? So they're really expecting to see it.

What was the most fulfilling or touching praise you ever got for starting fashionalism and the map design?
ADVERTISEMENT - CONTINUE READING BELOW
There's been a lot. Well, si Noynoy. Kris called me up; she wanted me to make a shirt for Noynoy. It was her and Liz Uy's idea. So we made his shirt without thinking of his father Nino y. We did his shirt with the piping and everything. And turns out it was exactly the same shirt that Ninoy wore in Camp Crame. We have a picture of it eh. He was wearing this Collezione shirt and by coincidence we did the same exact shirt, kind of updated it to today. And then it became Noynoy's favorite shirt during the campaign, the one with the piping. When I saw Noynoy wearing it I was like, wow that's really serendipitous. Parang wow, 'di ba? And I don't think he knew that. It just came from my mind: wouldn't it be nice if I update that shirt to today? And he wore that a lot during the campaign. I think he eventually found out.

How many Collezione shirts does President Noynoy Aquino have?
Madami. Some we give for free, some he buys. I mean, he doesn't buy, but Liz Uy goes to the store and purchases shirts.

Has P-Noy worn a Collezione shirt since he became president?
Yeah. He wore a shirt we made for him. It's more subtle. It was woven. It had to be more presidential na, no. It can't be just a t-shirt so it was woven. He wore it when they went to the cemetery on August 21. It was yellow with a white map.

Is there a Collezione C2 barong line?
No that was only a few. For Efren, we just made a special one for Efren. There's no Noynoy barong yet.

How did you react when prominent people started to wear your designs?
Well there were some that I didn't like, like Ping Lacson. When he wore it, I was like, "Oh no that's the end of it." (laughs) You can't help it, 'di ba? Si Pacquiao, natuwa ako doon. Chino Trinidad kept wearing it all the time and Manny kept telling Chino, "Gusto ko rin niyan, gusto ko rin niyan." So Chino arranged a meeting with Pacquiao and us. We talked to him and we just gave it to him.

Who do you want to see wearing your designs?
Paris Hilton. (laughs)

How about Carla Bruni?
That would be great.

Charice?
'Di na ganoon. Ayokong masyadong showbiz. Somebody na parang inspiring like Nelson Mandela, but why would he? Or maybe great Pinoys, great Filipinos.
ADVERTISEMENT - CONTINUE READING BELOW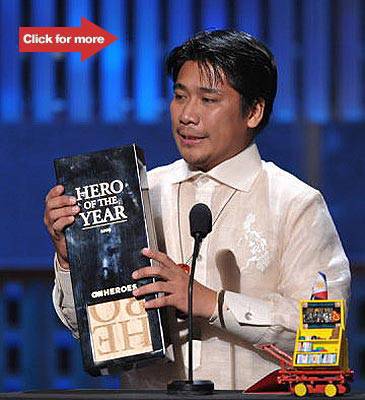 2009 CNN Hero of the Year Efren Peñaflorida in a specially designed Collezione C2 barong. Click for more photos.


How does it feel to have been in the fashion industry for 20 years?
Parang feeling ko ang tagal-tagal ko na. No, it's okay naman.

How different is it to be working on art this time and not fashion?
My life is not all about fashion. I want it to be more broad. [With art,] I think I rediscovered life. Actually, I'm more comfortable moving around people who are artists than people who are in fashion.

Since when?
I guess ever since, because I've always been surrounded by artists. My mom's friends are all artists; I have a lot of friends in art school.
What do you least like about the fashion scene?
I'm at that point of my life na--I mean there was a point in my life  na that's what I do--I guess it's just a change of scene already. I mean, fashion is more fast-paced, it is more, not superficial, but more socializing. And art is more individual, it's more introspective,  'di ba? In fashion you have to be a bit of an extrovert--I'm not.  

Which is easier, designing or painting?
Siyempre with designing I do the designing but I don't do the sewing. I only give instructions, 'di ba? With this one, it's my hands. It's different. If  you're making a dress, you're only doing the first part. I can just show them how to do it.

Which is more challenging for you?
It's more challenging to manage people. (laughs)

What's the most frustrating thing about designing?
Dami. There's a lot of frustrating things about being a designer, but that's also the thing that you know, sometimes it can work one way or the other.

Do you feel that you're a better artist now?
Never ko nafi-feel 'yun kasi I'm always insecure about every thing. But it's that insecurity that drives you to work more.

When is insecurity a bad thing?
It's not a bad thing especially when you're doing something creative. You can be happy with your work but you'll always know that you can do better work. If you're so confident about your work, baka you're thinking na that's the best work you've ever done. And maybe you can do better work pa, 'di ba? I kind of like it. But I also know I can be better.

When you visit your store, do the customers get starstruck?
Some. Some make pa-picture specially the ones from the States.

Any funny stories about your customers?
Someone made me sign his shirt. I said, "'Huwag na lang. Sayang naman your shirt." I have a lot of fans in the States. They friend me on Facebook. I even had a fan, who was my Facebook friend, he posted that he was selling these two iPads. I asked him if I could buy one for my sister. He said okay, and I said I'll just send him the money. It was the time when the iPad was so hard to get. He said, "No, don't send me money. I have a friend coming there, can you just pay me shirts?" Tapos kulang. All the shirts he wanted was kulang pa rin (to cover the cost of the iPad). I said, "Can I just pay you with money for the difference?" He said, "No, I really like the shirts. Just choose na lang for me." That was just last month. Cute, 'di ba?

When you go abroad and see people wearing your shirts, how do you feel?
Sometimes kasi there are some people who know me so they smile. What's funny is when I see foreigners wearing them. Actually 'di ba we're so global already? I mean, a lot of foreigners know a Pinoy. It's not as if we're in an isolated island nation. There are ten million Filipinos abroad. Those ten million Filipinos have touched these people.

How do you feel about your shirt being touted as the "National Pasalubong?"
It's a good thing. It's nice. Funny, my ninang, who lives in the Queens in New York said, "When I go nga to the Filipino store, I see so many of these shirts with the map in the sari-sari store." Of course, I'm sure they're fake. My mom said, "Alam mo ba na ang inaanak mo ang nag-design niyan?" Tuwang-tuwa naman siya. Nakakatuwa, 'di ba?

What do you find really inspiring about Metro Manila?
Siyempre my family [is here]. Manila not so fast-paced; it's very relaxing. There are some things that could be better here but I like the pace in Manila. When you're abroad you plan everything, like, "O, let's go here." Dito pwedeng magtawagan lang kayo--"O mag-ikot tayo sa Rockwell ha." Ganun lang 'yun, 'di ba? Tsaka kung iindiyanin mo sila or magfe-French exit ka, okay lang sa kanila. They won't take it against you. Filipinos are really easy.  

Where do you go for dinner in Metro Manila?
Lu.

What do you order?
Bangus Belly.

Where else?
Hot Pot in Rockwell. (laughs) Ang corny ko talaga.

Where's the last bar you went to?
I went to Republiq, but I didn't drink. I can't believe I stayed and didn't drink at all.

Where else do you go?
Starbucks. Wala na. It's not that I don't. Kasi it's different na eh. It's not like I don't like going out. Basta, I'm a different person.

What's your message to aspiring designers who are starting out?
If they have an idea and if they believe in it, stick to it. If it's good, stick to it and develop it. You shouldn't test it through how the public will react, but how you react to it. And if you believe in it so much, it will work. I think.
ADVERTISEMENT - CONTINUE READING BELOW

Catch Rhett Eala's artist talk on September 15, 6 p.m. at the Silverlens Gallery, 2320 Pasong Tamo Extension, Makati City. Entrance is free. To RSVP, call 816-0044 or email manage@silverlensphoto.com.
Share this story with your friends!
---
Help us make Spot.ph better!
Take the short survey
Load More Stories