Manny Villar's wife Cynthia is 2009's richest House rep, 4 Arroyos in top 30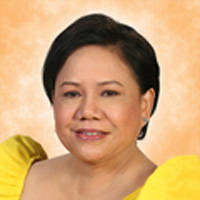 Cynthia Villar
Though her assets decreased by about P98 million, Las Piñas Rep. Cynthia Villar was still the richest of all the House representatives in 2009, reports GMANews.tv. The wife of defeated presidentiable Manny Villar had a declared net worth of P947.883 million as of December 31.
The Arroyos had four representatives in the top 30 wealthiest of 2009: Negros Occidental Rep. Ignacio "Iggy" Arroyo at 15th, Pampanga Rep. Juan Miguel "Mikey" Arroyo at 22nd, Camarines Sur Rep. Diosdado "Dato" Arroyo at 27th, and PL-Kasangga party list Rep. Ma. Lourdes Arroyo at 29th.
The top 10 list released by House Sec. Gen. Marilyn B. Yap, as published by GMANews.tv:
1. Las Piñas Rep. Cynthia Villar - P947.883 million (down from P1.046 billion in 2008)
2. Leyte Rep. Ferdinand Martin G. Romualdez - P477.26 million (same as last year)
3. Negros Occidental Rep. Julio Ledesma - P447.53 million (same as last year)
4. Ilocos Norte Rep. Ferdinand "Bongbong" Marcos Jr. - P315.55 million (up from P179.98 million in 2008)
5. Iloilo Rep. Judy Syjuco - P288.51 million
6. Tarlac Rep. Monica Prieto-Teodoro - P231.25 million
7. Iloilo Rep. Ferjenel Biron - P192.07 million
8. Dinagat Island Rep. Glenda B. Ecleo - P166.4 million
9. Pampanga Rep. Aurelio Gonzales Jr., - P158.49 million
10. Zambales Rep Antonio Diaz - P153.72 million
Out of 268 representatives, only eight were non-millionaires. Anakpawis party list Rep. Rafael Mariano was still the poorest with P42,219.11, down from P55,501.72 in 2008.
Photo from the official website of the House of Representatives.
Load More Stories