CNN interview: Imelda Marcos prays that Noynoy Aquino eradicates corruption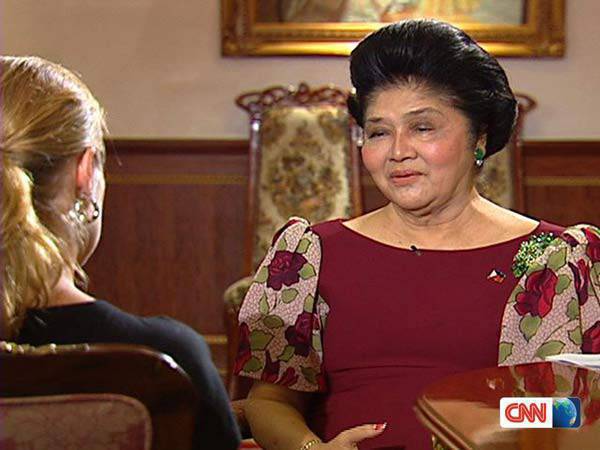 Imelda Marcos on CNN Talk Asia. Photo courtesy of CNN Talk Asia.
On the heels of CNN's interview with President-elect Noynoy Aquino comes a feature on Former First Lady Imelda Marcos, who fled with her husband Ferdinand after the 1986 People Power Revolution following Aquino's father Ninoy's assassination.
ADVERTISEMENT - CONTINUE READING BELOW
Imelda said: "I pray that [Aquino] succeeds. For the sake of the Filipino people, I really pray that he succeeds. Because you need somebody in the office of the president with a lot of public experience in service. I hope and pray that he succeeds in eradicating corruption. Because if that is so, then the truth and the Marcoses' truth will prevail."
The newly elected representative of the second district of Ilocos Norte said, "My dream and vision, even before I ran for office, is if we can recycle all the waste and garbage man has produced, we can make a beautiful world."
She finds inspiration from her late husband former president Ferdinand E. Marcos. "Every time I make a decision, I would always ask myself 'If Ferdinand were here, what would he say? And if Ferdinand were here, if I were going somewhere else, would he let me go or not? What would be his advice?' Now he is with me more than ever before."
ADVERTISEMENT - CONTINUE READING BELOW
She denied corruption allegations and pointed to her husband's investment belief as the source of their family wealth. "He always believed in gold. He said diamond is no good, because when you put in fire, it is carbon. Gold is better. The more you put in fire, the purer it is, and the more beautiful and more expensive it is."
As a former first lady, she said she has a dual role. "My role was to be a star and a slave. I had to be a star to light the dark of the night, to set the standard. And at the same time, be a slave. Enslave myself. So as First Lady, I had a double role. So I was misunderstood."
Catch the interview on June 23 (8:30 p.m.), June 24 (11:30 a.m.), June 26 (7 p.m.), June 27 (3:30 a.m. and 4:30 p.m.) and June 28 (9 a.m.) on CNN. The interview will also be available online after the first airing. Photo courtesy of CNN Talk Asia.
ADVERTISEMENT - CONTINUE READING BELOW
Recommended Videos
Load More Stories