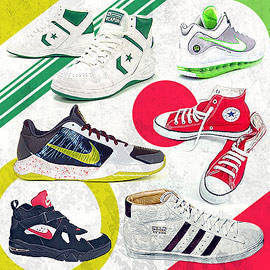 Fashion accessories for men pale in comparison to those made for women. For a basketball-crazy country such as the Philippines then, basketball shoes that you wear on and off the court can tell a lot about you. SPOT.ph lists the ten essential basketball shoes every guy should own based on factors like design, technology used, colors, and "historical importance."
1. AIR JORDAN XI
This is the "Holy Grail" of basketball shoes. Designer Tinker Hatfield had a vision to create rubber shoes with patent leather, and the shiny material has been a sneaker staple ever since. This was also the first pair of basketball shoes with a full-length Air Sole unit and full length carbon fiber plate that has become synonymous with foot stability. Whether it be the white/black combination, the black/gold Defining Moments variant, the famous black/red or Bred color, they all take a backseat to the colorway known as "the Space Jams." Michael Jordan had just come out of his baseball misadventure in 1997 and proceeded to lead the Chicago Bulls to a league-record 72-10 win-loss record and a fourth National Basketball Association (NBA) championship. MJ then shot the film Space Jam with Bugs Bunny and the rest of the Looney Tunes gang. Whenever any variant of Jordan XIs are re-released, they often don't last in store shelves more than a few hours.
ADVERTISEMENT - CONTINUE READING BELOW
2. NIKE ZOOM KOBE V
Fresh off his fifth NBA championship, Kobe Bryant of the Los Angeles Lakers is still relishing defeating the Boston Celtics in Game 7 of the NBA Finals. For this past season, he wore different colors of the Nike Zoom Kobe V. This was his second low top shoe (more details in the next number) and it was even lighter than his previous model. The best colorways were inspired by characters that Bryant idolized like the yellow/black Bruce Lees and the graphite/royal Dark Knights. The white/purple/black Inlines were also hot. Still, we can't wait to get the model sporting the two colors he wore during the Finals. Called the "Big Stage," the home and road variants both had laser etchings of some of Bryant's accomplishments from this season, including beating Jerry West's all-time scoring record for the Lakers.
3. NIKE ZOOOM KOBE IV
Entering the 2008-2009 NBA season, Kobe Bryant and the Lakers were smarting from the 39-point Game 6 NBA Finals beatdown handed by the Celtics. Kobe though had just led the US men's basketball team to Olympic gold in Beijing. Kobe then sat down with designer Eric Avar and the Nike people to design a shoe more similar to soccer boots than basketball high tops. Kobe argued that football shoes were designed with no ankle protection yet international football players still thrived in them. So Nike took the challenge and designed these nifty low tops.
4. AIR JORDAN III
ADVERTISEMENT - CONTINUE READING BELOW
Recommended Videos
In 1987, Jordan was actually considering leaving Nike. He had revolutionized the game while the brand had risen to the top of athletics shoes but MJ's contract just ended. Enter Tinker Hatfield. These were the first pair of shoes that Hatfield designed and would start a partnership with Jordan that revolutionized the athletic shoe market. Michael supposedly took one look at the IIIs and the elephant print design and instantly re-signed with the Swoosh. The Air Jordan III also marked the first time the now famous Jumpman logo was seen on a shoe and first to have a visible air sole. To this day, they are acknowledged as the basketball icon's favorite out of all the Jordan designs.
5. ADIDAS SUPERSTAR
Before Bryant, Jordan, Magic Johnson, Larry Bird, or LeBron James designed their own shoes, Adidas ruled the hardcourt. No basketball shoe signified the dominance of the Three Stripes more than the Superstar. Released in 1969, this was the first low top basketball shoe to feature an all-leather top. But the major hook for the Superstars has always been that shell toe. Within the first few years of its introduction, the Superstar was being worn by most NBA players. So popular was the design that it has crossed over into popular culture, particularly when Run-D.M.C. rapped the song "My Adidas" while wearing Superstars with no laces. So popular have the Superstars been that on the 35th anniversary of the shoe's release, Adidas collaborated with icons in music, fashion, and the arts to create a special Adidas Superstar 35th Anniversary Collection.
ADVERTISEMENT - CONTINUE READING BELOW
6. NIKE AIR FORCE MAX
Charles Barkley had long lived in Jordan's shadow. Not as dynamic as Jordan or as media-friendly, Barkley relished being the anti-thesis of the saintly MJ. When Barkley got traded to the Phoenix Suns in 1992, Nike saw fit to finally equip him with some serious kicks. The Air Force Max, particularly the black variant, were "bad" to the core. It was only fitting that Barkley won his only MVP award during his only NBA Finals appearance wearing these bad boys.
7. CONVERSE WEAPON
The rivalry between Magic Johnson and Larry Bird carried over from the 1979 National Collegiate Athletic Association championship game and straight to the NBA. Bird played for the Boston Celtics and started winning MVPs early in his career, but it was Johnson's Los Angeles Lakers who were winning the titles. In 1985, at the height of their basketball careers, Converse outfitted Bird and Johnson in their new Weapons in colors reflecting their teams. Forced to choose sides, each color sold well for Converse and helped take the superstars' rivalry to the shoe store. Other NBA players and teams also had Weapons in their colors, but none were as memorable as those that Bird and Johnson wore.
8. AIR JORDAN XII
How do you improve on perfection? That was the challenge faced by Nike the year after the highly successful Air Jordan XI blew up. Rather than try to top the shoe's earlier model, Tinker Hatfield and MJ scrapped everything completely. Taking inspiration from 19th century women's shoes and the Japanese war-time "Rising Sun" flag, the Air Jordan XII was created. These were the first Jordans to have Zoom Air in the sole and, more importantly, the black/red variants was what Jordan wore in Utah for Game 5 of the 1997 NBA Finals during the famous "Flu Game" when Michael, suffering the effects of food poisoning, willed the Bulls to a 90-88 win with 38 points, seven rebounds, five assists, three steals and a block.
ADVERTISEMENT - CONTINUE READING BELOW
9. CONVERSE CHUCK TAYLOR ALL-STARS
Aside from Jordan, perhaps no one man has been more associated with basketball shoes than Chuck Taylor. The Converse Chuck Taylor All-Stars are going to celebrate their centennial in a few years as they were first produced in 1917. Taylor himself helped design the shoe that now bears his name and signature. Popular in both canvas and leather, the Chucks have long since transcended the hardwood and has become a popular choice for rockers like The Ramones, Nirvana, and even our own Eraserheads. Since Nike bought Converse in 2003, a stunning number of colors and varieties of the Chucks have popped up in both mid and low varieties. Heck, there have even been Chuck Taylor boots and Chucks with heels. Still, nothing beats the simplicity of the classic Chuck Taylor All-Stars.
10. NIKE MAX LEBRON VII
Let's forget for a moment how LeBron James disgraced himself by leaving Cleveland for Miami with an hour-long TV special. James' shoes have been a hot topic of conversation since he was drafted and before he even played a single NBA game. At no time did everything come together more than in last season's low variant of his signature Nike Max LeBron VII. From the lighter Air Zoom sole, this was James' first shoe using the thicker Air Max covering the entire midsole while also being the second with Flywire. These kicks actually combined the thickness you've come to expect from LeBron's muscled frame that is reflected in his shoes with the lightness and low cut we've recently seen from the Kobe line. It's just a shame that we won't be seeing them in Cavalier colors from now on.
ADVERTISEMENT - CONTINUE READING BELOW
Art by Warren Espejo.
Share this story with your friends!
---
Help us make Spot.ph better!
Take the short survey
Load More Stories