Top 10 Pinoy TV Morning Show Staples
Why have these 10 things become ubiquitous in local morning shows?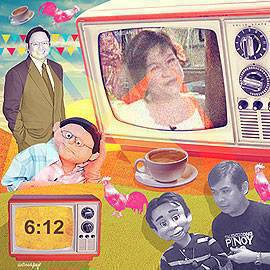 Just like telenovelas, Pinoy TV morning shows follow a formula. Whether it's the lack of imagination, tried-and-tested requisite factors or just gaya-gaya blues is subject to debate. Meanwhile, SPOT.ph lists 10 requisite things that all the current local morning shows seem to have. Please note that this article is not meant to be taken seriously. God knows we'd protest violently if any of these morning show elements were missing.
1. The Living Room Set
Morning shows almost always feature a sofa, some supplementary seating arrangements, and a coffee table in their sets. ABS-CBN's Umagang Kay Ganda even features some live plants and Christmas decoration to add to the living room feel. We get that these are conscious efforts to make the viewers comfortable with the show's hosts, but how about a change of scene once in a while?
2. The Clock
Morning shows in the Philippines will not be complete without the quintessential clock flashed on their screens. GMA 7's morning show, Unang Hirit, even uses a clock in its logo. The catch: each morning show features its own time not synchronized with the others, giving the viewers more confusion in determining whether or not they are late for school, work, or whatever it is they do.
3. The Exercise Portion
Almost all Filipino morning shows prompt their audience to get physical in the morning with daily exercise portions. These segments feature fitness experts who demonstrate various exercises--from calisthenics to yoga to kickboxing. We often wonder, though, if the viewers, mostly people preparing for work or school, really have time to follow the crazy yoga contortions or do the "Locomotion" with Ogie Diaz.
ADVERTISEMENT - CONTINUE READING BELOW
4. The Hyperactive Field Reporter
The typical Filipino morning show's cast of characters almost always includes an overly energetic field reporter on location. ABS-CBN's Winnie Cordero, GMA 7's Love Anover, and TV 5's Makata Tawanan aim is to inject the sleepy viewes with early morning enthusiasm. They're also the ones who do traffic updates. Sometimes though, their loud antics are enough to make some people turn off the TV. No, not everyone is a morning person.
5. The Market Tours
Because we all love to see slabs of meat and raw fish in markets first thing in the morning, palengke tours are also a staple in Filipino morning shows. These tours also come with a rundown of prices of almost all commodities in a particular market. It's like a financial wake-up call for the viewers.
CONTINUE READING BELOW
Recommended Videos
6. The Fiesta Factor
Whether you have Ati-Atihan or Oktoberfest in your barangay, expect hosts from morning shows in your area if it's time for fiesta. Our local morning television programs seem to love the festive mood in these celebrations, so much so that even the lowliest barangays in the country get some fiesta coverage. The Department of Tourism must be really pleased.
7. The Cooking Demonstrations
One can never have enough cooking lessons in this lifetime. Morning shows subject us to obligatory cooking demonstrations, just because they think viewers have time to don cute aprons and whip out some kitchen wonders before going to school or work. To most people, doing perfect sunny-side-ups is akin to rocket science.
ADVERTISEMENT - CONTINUE READING BELOW
8. The Newspaper Headlines Review
You don't need to go to the nearest newsstand early in the morning to know what's printed on the front pages of your favorite newspapers. All you need to do is tune in to a Filipino morning show, because for sure, it has a portion where the hosts recap all the banner headlines for the day. We wonder though: Why do they prefer broadsheets? Can't we have news from online websites or those titillating tabloid headlines while having coffee in the morning too? Well, at least TV-5's Erwin Tulfo reads the horoscope.

9. News of the Crimes the Day Before

News of crimes the day before always greet us when we tune in to early morning newscasts. Name it, they have it: trucks doing somersaults along EDSA, drunkards stabbing each other in Tondo, and even crazies extorting money from nightshift taxi drivers. If you're especially lucky, you get the mugshot of the prime suspects of the Ampatuan massacre. Bad news for breakfast? Yummy!
10. The Puppets
Blame it on television host Arnold Clavio's popular puppet look-alike Arn-Arn. Newer TV morning shows, like TV-5's Sapul, have chosen to follow suit and include puppets in their cast of characters once in a while. Unline Arn-Arn who functions as a separate entity (since you don't see the hand that makes him move), the Sapul puppets are controlled by a ventriloquist. As to why we need to see fake human beings made of cotton (or other materials) upon waking up, we are as clueless as you are.
ADVERTISEMENT - CONTINUE READING BELOW
Share this story with your friends!
---
Help us make Spot.ph better!
Take the short survey
Load More Stories