Tweets of the Week: Charice, Anne Curtis + more
Charice's stellar <em>Glee</em> performance impresses Lea Salonga, Anne Curtis's boyfriend Erwan Eussaff thinks she makes a better-looking man than he is, and more.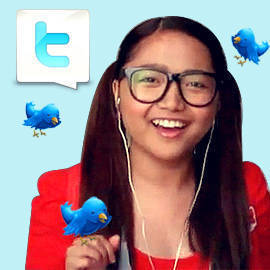 Charice a.k.a. Glee's Sunshine Corazon
Charice, international singer and Sunshine Corazon of Glee:
- Thank you to all my kababayan! Mahal ko po kayong lahat. Chasters!! Thank you so much for everything. Thank you lovely people. I love y'all.
- Sunshine Corazon's Hello Kitty backpack. hahaha. http://twitpic.com/2qz7ed
- @sw33te nope. :) i am not going to be on the 2nd ep.. but i'm not gonna say when am i going back! hahaha. :)
- yey! no.4 baby! :) Billboard's Top Stars Under 21 Years Old! http://www.billboard.com/features/21-under-21-charice-1004116399.story?sms_ss=facebook#/features/21-under-21-1004116452.story
- 10 Best Celeb Quotes This Week. [People] I'm on no.5 :) http://www.people.com/people/gallery/0,,20428621_20852211,00.html#20852211
Lea Salonga, international singer, theater actress, and one of Town & Country's Wonder Women:
- I wonder if Charice's character, Sunshine Corazon, was named after Cory Aquino. Wasn't she the lady that wore the color of sunshine?
- I finally saw the season premiere of Glee. Oh, the drama, the drama! And @officialcharice ROCKED! Congrats!
- @ShowbizManila Sad, but true. Oh, great for OPM that we're getting our due. But just so u know, in other countries, local music prevails. Dapat ganoon. I mean, we're better than the Biebers and Keshas of the world! Puwede ba!
ADVERTISEMENT - CONTINUE READING BELOW
Anne Curtis, actress, on posing as a man for Philippine Star Supreme section's third anniversary issue and remembering Typhoon Ondoy:
- Had a great and very different shoot! I don't think I've ever been shot like this throughout my whole career till this day!! I'm excited to see the chosen pics!!! @DavidMilan @xanderangeles @iamtimyap @robbiepinera @pamquinones @santiagoraymond :)
- RT @PhilStarSUPREME: Grab yourself a copy of @PhilStarSUPREME's 3rd anniv issue feat. @ANNECURTISSMITH! Out TODAY (9/25)! http://twitpic.com/2rpvnh
- A year ago today Ondoy hit Manila... Homes were destroyed, families were separated, lives were lost... I remember how so many donated what they could, helped and volunteered.. Our nation came together to help those who were in need... So now, let's all take a moment to pray for the courageous people who did everything they could to help, for those who lost their lives and for the families that were left behind.. We will forever remember when Ondoy hit Manila..
CONTINUE READING BELOW
Recommended Videos
Erwan Heussaff, model, chef, and entrepreneur, on Anne Curtis' Philippine Star Supreme cover and remembering Typhoon Ondoy:
- Saw the supreme column & @annecurtissmith is a man!Even as a dude shes more gwapo than me.Im tempted to see if Id b a prettier girl than her
- 1 year later, if Ondoy were to happen again, I don't think that government has taken any measures to make sure we'd be more prepared.
Bianca Gonzalez, TV host:
- now it can be said, congratulations and best wishes mr. and mrs. robin and mariel padilla! <3
- i really wonder why in manila, people give you strange looks when you eat out alone. its nice and peaceful to eat alone sometimes. :)
ADVERTISEMENT - CONTINUE READING BELOW
Heart Evangelista, actress, spends quality time with her boyfriend Daniel Matsunaga:
- Dermas so fun when you have someone with you!:)kwento and cleaning with daniel:)
Jasmine Villegas, Fil-Am singer who was reportedly spotted making out with teen star Justin Bieber:
- There are two rules for living in harmony. #1) Don't sweat the small stuff and #2) It's all small stuff.
Cheche Lazaro, TV journalist:
- Today I heard someone say "media" is the plural of mediocrity.
Pepe Diokno, filmmaker:
- Tuning out now. I dont understand how some Pinoys hv temerity to ask for an intl school, whn we badly need schools right here at home.
- Treating family 2a trip abroad; jst realized: A Filipino has 2 pay P2,370 in taxes & fees jst 2 leave RP. We tax EVERYTHING but jueteng!
- Why does the Philippine govt make it so hard for law-abiding, tax-paying citizens to be law-abiding, tax-paying citizens? #IDontGetIt
Atom Araullo, TV reporter, on meeting Ulimate Fighting Championship (UFC) Welterweight Title Holder Georges "Rush" St. Pierre (GSP):
- Yehey, nakaharap ko si GSP. Yun lang. Di man lang ako nakapagsalita, baka I choke slam ako. Ay, si undertaker pala yun.
Artwork by Warren Espejo. Screenshot from Glee Season 2, Episode 1.
Share this story with your friends!
---
Help us make Spot.ph better!
Take the short survey
Load More Stories