P-Noy's "secret" gift to Shalani, Gov. Chavit Singson slams Sen. Miriam Santiago + more lowlights
P-Noy's mysterious <em>pasalubong</em> for Shalani, Chavit refuses debate with Miriam, and more lowlights.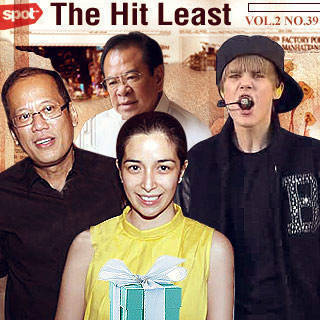 1. ROBIN PADILLA SAYS HE'LL DEDICATE HIS NEXT TATTOO TO BRAND NEW WIFE MARIEL RODRIGUEZ. As the late American jounalist H.L. Mencken said, "To be in love is merely to be in a state of perceptual anesthesia."

 

2. POLICE CHIEF OF NUEVA ECIJA TOWN SACKED DUE TO PNP'S ONE-STRIKE RULE IN ANTI-JUETENG DRIVE. But how come big fish never fry?

 

3. POPULAR MANILA TOUR GUIDE AND RH BILL ADVOCATE CARLOS CELDRAN ARRESTED FOR TELLING THE CHURCH EXACTLY HOW HE FEELS. Mr. Celdran is guilty of having things that the Church hates: balls and brains.

 

4. BISHOP NERIO ODCHIMAR, CBCP PRESIDENT, THEORIZES THAT PRESIDENT NOYNOY AQUINO COULD BE EXCOMMUNICATED IF THE GOVERNMENT CONTINUES TO HAND OUT CONTRACEPTIVES. If he's excommunicated, would he be forced to hang out with pedophile priests?

ADVERTISEMENT - CONTINUE READING BELOW

 

5. ILOCOS SUR GOVERNOR SNUBS SENATOR MIRIAM SANTIAGO'S CHALLENGE TO A DEBATE ON JUETENG. Because, let's face it, his vocabulary isn't that great. (Or maybe his whip has gone missing.)

6. FRESH FROM HIS US TRIP, P-NOY SAYS HE BROUGHT "SECRET" GIFT FOR GIRLFRIEND SHALANI SOLEDAD. For all we know, they've already been married in India, too.

 

7. INFORMAL SETTLERS RUSH TO NHA OFFICE AND LIE ON THE STREET TO PROTEST DEMOLITION OF THEIR MAKESHIFT HOMES. They're like homing pigeons--you can drive them away but they'll always fly back to their illegal nests.

 

8. ACTION STAR-TURNED-SENATOR LITO LAPID WANTS TO SAVE KIDS FROM OVERLOADED SCHOOL BAGS. When Lito Lapid is in the news, it always feels like a rerun of Punk'd--except Ashton Kutcher never shows up.

 

9. JUSTIN BIEBER SINGING DOLLS WILL BE AVAILABLE IN US STORES IN DECEMBER. Some say this is one of the signs of the Apocalypse.

 

<> <>10. COMELEC COMMISSIONER GREGORIO LARRAZABAL AND HIS WIFE RECEIVE DEATH THREATS. If you're a serious public servant, being a government employee can be dangerous to your health. <>  <>Art by Warren Espejo.
Load More Stories