Activist and performance artist Carlos Celdran jailed for "offending feelings of the faithful" after protesting during Manila Cathedral ecum

Carlos Celdran tells Saksi, "I really am sorry for the method but I hope you heard my message loud and clear. My message is unapologetic. But for interrupting the mass and ruining your day, sorry about that."
Performance artist, activist and Intramuros walking tour guide Carlos Celdran was arrested on September 30 for staging a protest during an ecumenical service at the Manila Cathedral, reports GMANews.tv. Speaking against the Catholic Church's opposition to the Reproductive Health Bill, he stood in front of the cathedral's altar and said, "Stop getting involved in politics!" Claiming to be dressed as Jose Rizal in a suit and bowler hat, he held up a sign that said, "Damaso," referring to the villainous Spanish friar in Noli Me Tangere, the report said.

Police told GMANews.tv it was Manila Mayor Alfredo Lim, who was in Manila Cathedral at the time, who had Celdran arrested at around 4:30 p.m. He was first brought to the police community precinct in front of the Lyceum of the Philippines and then transferred to the Manila Police District Station 5 in Ermita, according to Inquirer.net.

At around 8 p.m., the Catholic Bishops Conference of the Philippines filed charges against Celdran for "offending feelings of the faithful," which is prohibited according to Article 133 of the Revised Penal Code. GMANews.tv quoted the complete text of Article 133: "The penalty of arresto mayor in its maximum period to prision correccional in its minimum period shall be imposed upon anyone who, in a place devoted to religious worship or during the celebration of any religious ceremony, shall perform acts notoriously offensive to the feelings of the faithful."

Msgr. Nestor Cerbo, rector of the Manila Cathedral, said in a GMANews.tv report, "(Celdran is guilty of) disruption of worship, which is a very sacred thing that should be given utmost respect. To make a scene and call that freedom of expression? That is pagbabastos (an insult to the church)."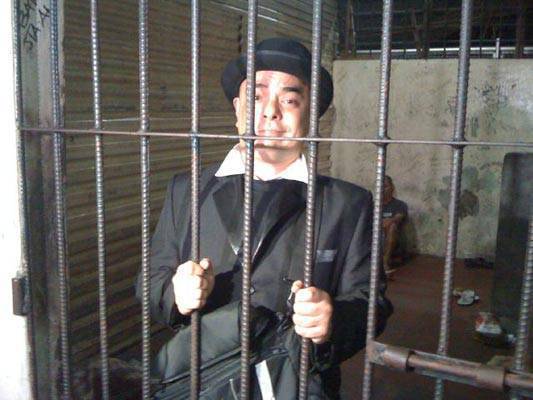 Photo taken by Mariz Umali of GMA News.
Celdran told Mariz Umali of GMA News that his protest was "an appeal to (the church) not to be the new Padre Damaso in the new millennium because they really shouldn't be getting involved in affairs of the state. They threatened civil disobedience. I said, 'Why don't I show them what civil disobedience is about and see if they like it?'" He added, "I really am sorry for the method but I hope you heard my message loud and clear. My message is unapologetic. But for interrupting the mass and ruining your day, sorry about that."

He spent the night in jail but managed to post tweets. "WOW. Im gonna be here for a while. Possibility for five years... Oh my god. The church actually filed charges... its just hitting me now. I can't believe the cbcp has the capacity and THE DESIRE to see me jailed. Who is next?"
ADVERTISEMENT - CONTINUE READING BELOW
A Facebook page named "Free Carlos Celdran" was put up hours after Celdran's arrest. As of October 1, 8 a.m., the page has garnered over 3,100 fans. Another page, "Keep Carlos Celdran in Jail," posted an article entitled "7 Good Reasons to Keep Carlos Celdran in Jail." The article reads: "The media will sensationalize his jail time. Government officials will try to do something about the issue in a bid to get more TV time." According to the article, "The longer Carlos Celdran stays in jail, the bigger of an ass it makes the Church look. The devoted flock will flock elsewhere and the Philippine church will finally get the comeuppance it deserves for keeping us a choices-deprived, religion-drunk country."

Mitch Kowalski of the Financial Post wrote an article entitled, "A Catholic Taliban rules the Philippines?" Kowalski, who has known Celdran for about four years, said, "When do we send in the troops to free Filipinos from such religious tyranny?"
For more on this story, log on to GMANews.tv and Inquirer.net.
Load More Stories