I Do: Love Isn't Enough
Enchong Dee and Erich Gonzales' endearing performances and a great supporting cast make this an entertaining enough flick, says our SPOT.PH blogger.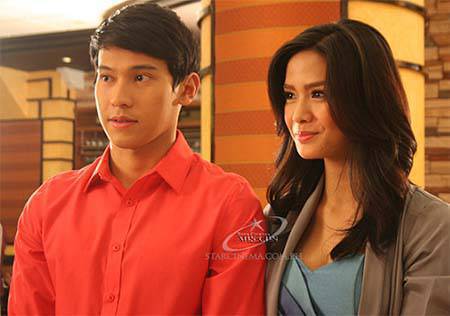 When a formula works, especially in movies, it is used over and over so that it becomes a cliché or worse, it gets boring. I Do, the new romantic comedy from Star Cinema is a perfect example. They take two young rising stars, Enchong Dee and Erich Gonzales, and write a story around them. They must fall in love but must also find themselves torn apart, but always and forever there must be a happy ending. In this case, it's about Lance (Dee, who is charming as a leading man) a young Filipino-Chinese guy who falls in love with Yumi (Gonzales, who is at her prettiest) a middle class girl who isn't Chinese and therefore doesn't know that you're supposed to wear red at birthday parties, etc. But they don't care, because Love Conquers All. Right?
ADVERTISEMENT - CONTINUE READING BELOW
CONTINUE READING BELOW
Recommended Videos

Anyway, they have unprotected sex and surprise, surprise she gets knocked up. Naturally this makes Yumi super emotional (Erich Gonzales cries beautifully, if too much) and Lance very anxious. She wants to get married but he's not ready. With admirable persistence, she gets Lance to propose and pay for the wedding of her dreams. He goes against the wishes of his conservative family who just want him to date a nice Chinese girl, sells his beloved car to pay for the wedding, and still it takes a few failed attempts to get married. They fight, and the wedding is off. They make up, and the wedding is back on. They keep changing the date on the invite and keep calling the titas over the phone to cancel. All in all, it's a pretty tedious process and somehow I would never have thought of it as the stuff of romantic comedy. The situation is not even remotely funny, it's emotionally taxing and a logistics nightmare. It's a huge hassle.

I have my usual gripes about sloppy technical work--the sound is wonky as usual, with dialogue going from clear to muffled from scene to scene, and a few awful out-of-focus shots. I'll chalk it up to rushed filmmaking, the hallmark of most mainstream movies in the Philippines. Award-winning writer/director, Veronica Velasco (who won at Cinemalaya in 2009 for her quirky comedy Last Supper No. 3), does a good job directing her actors. Newly minted love team Enchong Dee and Erich Gonzales pull off endearing performances--it's not so hard, after all, they are young, good looking, and fairly talented. And there's a really great supporting cast providing a richly textured and colorful back drop to offset the general blandness of the leads. There are genuinely funny moments, mostly generated by the great chemistry between comedienne du jour Pokwang and Dennis Padilla who play Yumi's parents. (Also, it was really nice to see Isay "He gives me dollar beeeeels" Alvarez as the conservative Filipino-Chinese mom of Lance! Then there's super cute Alwyn Uytinco who could be the next big thing if they give him bigger parts in future movies.)
ADVERTISEMENT - CONTINUE READING BELOW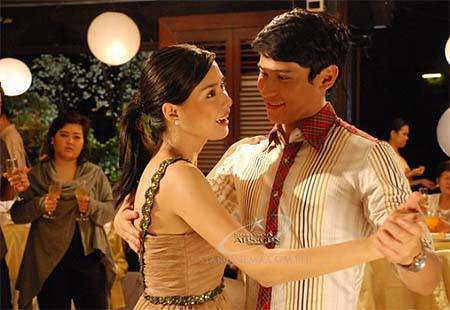 I Do doesn't really do anything for me as a movie, but that's fine--I wasn't expecting much. It ends happily enough, and I suppose a happy ending is something we all instinctively hope for. However, it makes me wonder. Is it really happily ever after when a young girl gets pregnant, has the baby, and marries the baby daddy because it's the "right thing" to do? Sure, they are in love, but as Patty Smyth sang: sometimes love just ain't enough. But who's going to write a love song about commitment, patience, and maturity?

Don't misconstrue my meaning. I'm all about loving relationships and personal happiness, and I think it's wonderful when a woman and a man are expecting a child with joy and excitement. Babies are so adorable that they deserve proper care and attention from parents who are responsible and capable of raising children. That's the ideal situation, of course. But every time I drive around the city and see children on the streets everywhere, I wonder: where are their mothers? Who takes care of these children? What about those babies abandoned in airplane bathrooms and trash bins? In 2008, there were 3.4 million pregnancies in the Philippines and it is estimated that more than half (54%) of that 3.4 million were unintended pregnancies. (Check out the facts here). That's a lot. So if you're not ready, be prepared. If you care about yourself, stay healthy. Protect yourself.
ADVERTISEMENT - CONTINUE READING BELOW
Check to see where the movie is showing.
***
Talking about wedding movies--catch the screening of Kasal o Sakal (1964) directed by Johnny Reyes at the Tanghalang Manuel Conde of the Cultural Center of the Philippines, October 9, Saturday, 2 p.m. For details, contact sofiaphils@gmail.com or (0920) 283-6393.


Photogrpahs from starcinema.multiply.com


Load More Stories