MOVIE REVIEW: Red
The acting outshines the action in this star-studded film, says SPOT.ph movie reviewer Paul Daza.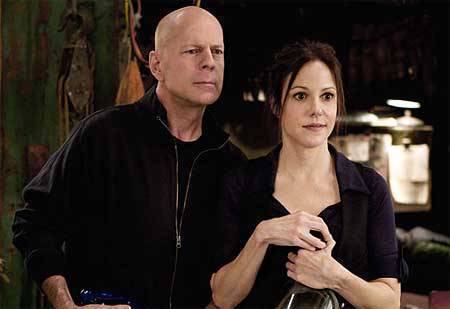 Bruce Willis and Mary-Louise Parker lead the cast of Red
The term "actor-driven" isn't normally associated with action movies, but it's precisely what sets Red apart from other explosive, bang-bang ensembles like The A-Team and The Losers. Released in Manila last October 15 with hardly any fanfare, Red is one of the best action movies I've seen this year-a disarming, enjoyable ride that makes perfect use of its geriatric cast. It's the movie that The Expendables wanted to be.

Red, an acronym for Retired, Extremely Dangerous, begins with Frank Moses (Bruce Willis) living a quaint life in a generic suburb in the USA, where his is the only house on the street that doesn't have any Christmas décor. But when dozens of men with high-powered weapons try to kill him, we learn that Frank used to be a CIA operative. After Frank flees his neighborhood, he goes to Sarah (Mary-Louise Parker), a government employee looking for some excitement in her life whom Frank is attracted to. Together, they go on a cross-country search across America to find Frank's former partners at the CIA in an effort to find out why he's been targeted for death. What they discover is a cover-up involving one of the USA's most powerful elected officials, a man who also wants Frank's friends dead as they come closer to the truth.
ADVERTISEMENT - CONTINUE READING BELOW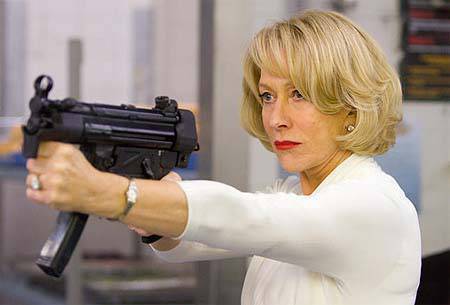 CONTINUE READING BELOW
Recommended Videos
Helen Mirren plays a semi-retired killer


Those who like action movies will see nothing new or special in Red's storyline. Though it's based on an unfamiliar DC Comics graphic novel series, it appears to be nothing more than a mere stitching together of formula elements from the action thriller genre. But what the plot can't hint at are the superb performances of the cast members who play Bruce Willis' former partners at the CIA, including Oscar winners and nominees like John Malkovich, Morgan Freeman, and Helen Mirren. The joy and fun they bring to the movie is a blast because for once, these normally super serious thespians are in a movie that doesn't take itself too seriously.

As Marvin Boggs, a former CIA operative who was given daily doses of LSD in decades past, John Malkovich is a hoot. With the paranoia he wears on his sleeve and his seemingly eccentric attachment to a pink toy pig, Malkovich as Boggs is a comedic revelation in Red who'll have you in stitches and wanting more.

As retirement home resident Joe Matheson, Morgan Freeman is again effortlessly likeable. And though he reuses some of the acting tics he made famous in Driving Miss Daisy (look out for those pursed lips!), his turn as a dirty old man in Red who's not too old to ogle the behinds of his nurses has enough new touches to make one gloss over the recycled tricks. Freeman is in fact so likeable that after just two appearances in the movie, you'll be praying that the character he plays will still be alive by the time the end credits roll.  

The biggest casting surprise of Red, however, is surely Helen Mirren as the elderly, semi-retired killer Victoria. Best known for playing the emotionally distant Queen Elizabeth II in her Oscar-winning role in The Queen, it's rib-tickling to see Mirren brandishing a huge and heavy automatic weapon while saying how much she misses killing people in her grandmotherly voice.  

It's also a treat to see Mirren figure in a cute, romantic subplot that was interrupted for decades by an occupational hazard. Her love interest? The superb Brian Cox, who prior to Red, was best known as the villainous General Stryker in X-Men 2 and was the first actor to play Hannibal Lecter in Manhunter (1986). In Red, he does a wonderful job as the unpredictable Russian CIA agent Ivan Simanov, a scary sonofab**ch who suddenly becomes a softie when Victoria is threatened.

With acting of this caliber on display, it's perhaps inevitable that at least one performer in the movie would suffer by comparison. In Red, the weak link in the chain is Mary-Louise Parker as the thirsty-for-excitement Sarah Ross. Unlike her more seasoned co-stars, Parker doesn't quite find the right balance between the more serious aspects of the story and its tongue-in-cheek elements. In many of her scenes, her acting seems more suitable  for a TV situation comedy rather than a big-screen action comedy.  

Generally, though, Red delivers the action, comedy, and spectacle spectacularly. This is that rare movie where the performances of a seasoned cast are even more compelling to watch than explosive set pieces and high-tech confrontations, which there are lots of here. For once, the acting outshines the action.  

Rating: 4 out of 5 spots....

Check where the movie is showing.
ADVERTISEMENT - CONTINUE READING BELOW
Photographs from Summit Entertainment
Share this story with your friends!
---
Help us make Spot.ph better!
Take the short survey
Load More Stories