Carlos Celdran urges Boy Abunda not to accept "Arts Ambassador" title given to him by the NCCA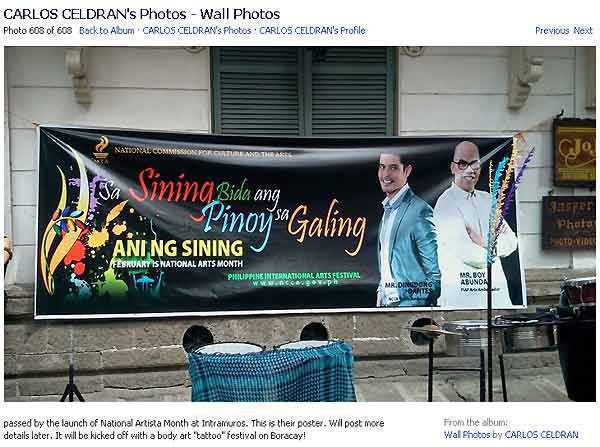 Carlos Celdran posted this photo of the NCCA's poster for the PIAF, which features Boy Abunda as the PIAF arts ambassador and actor Dingdong Dantes as the NCCA youth ambassador. Screencap from Celdran's Facebook fan page
Artist-activist Carlos Celdran cajoled Boy Abunda not to accept the title "arts ambassador" given to him by the National Commission for Culture and the Arts (NCCA) via Facebook and Twitter. The NCCA chose the TV host and manager to be the ambassador of the Philippine International Arts Festival (PIAF) for "his ability to communicate ideas (and) his advocacy in promoting Philippine arts and culture."

Celdran wrote, "Boy, please naman don't allow yourself to be called 'Ambassador of the Arts.' It's really Ambaduy (corny). I'm sure you are a great guy so have them drop the pretentious 'honorific' please. You don't need it. And I'm looking forward to February and seeing all the activities. Congrats!" He added, "Why would anyone allow themselves to be called something that they are not? How odd. I really wish he could be humble enough to just call himself a lover of the arts or supporter or patron. Ambassador means that he represents ALL artists and I'm sure that could PISS many artists off."
ADVERTISEMENT - CONTINUE READING BELOW
CONTINUE READING BELOW
Recommended Videos
When one of Celdran's Facebook page fans commented, "Well, he is an advocate of the arts after all, or so he says...It's good enough for me that he's not flaunting his new title too much, it's NCCA that's doing all the glorifying anyway," Celdran replied, "I'm an artist. I have a degree in Painting from RISD (The Rhode Island School of Design) and have taken two years of Visual Arts at UP Diliman. I have worked in the Fine Arts industry for more than 20 years here and in the US. He is NOT my ambassador. So as one of your 'people,' please drop it, Boy." Celdran did remind commenters, "Don't hurt Boy Abunda's feelings, everyone!"
Earlier, Celdran wrote in his Facebook status, "Haha, once you are over the shock of Boy Abunda being the 'Ambassador of the Arts,' the activities of February's National Arts Month sound promising. I love the idea of Boracay as a location for contemporary arts festivals."

According to the NCCA website, the 20th PIAF will have four grand openings nationwide: at Concert at the Park in Manila on January 30, at People's Park Davao on February 6, at the Bacolod Provincial Capitol on February 13, and at Burnham Park in Baguio on February 20. The festival will be held in celebration of the National Arts Month.

For more on this story, log on to Celdran's Facebook fan page and the NCCA website.
ADVERTISEMENT - CONTINUE READING BELOW
Load More Stories