MOVIE REVIEW: Never Let Me Go
Read why this film left our SPOT.ph movie reviewer a little confused.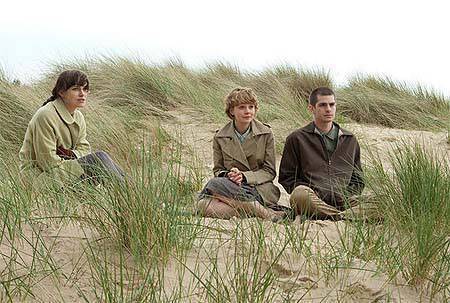 Never Let Me Go stars Keira Knightley, Carey Mulligan and Andrew Garfield
Though it's beautifully photographed and wonderfully acted by its young cast, Never Let Me Go is a letdown, the kind of film that will have most viewers scratching their heads in bewilderment rather than praising it and recommending it to their friends. Showing only in a handful of Ayala Malls cinemas, Never Let Me Go is a love story/drama with a science fiction slant that's based on the book of the same title by Kazuo Ishiguro,  published in 2005.
The film is about three children-Ruth (Ella Purnell), Kathy (Isobel Meikle-Small) and Tommy (Charlie Rowe)-who become friends at a seemingly idyllic English boarding school named Hailsham in the mid-1980s. One day though, a teacher tells them that the students of Hailsham have only one purpose, and that's to serve as organ donors for certain members of the population. Though no one in the school denies this, the teacher who made the revelation is promptly fired. Around this time, Kathy becomes romantically attracted to Tommy, who seems to reciprocate her feelings. But it is Ruth who ends up with Tommy. Years later, Tommy and Ruth (now played by Andrew Garfield and Keira Knightley, respectively) are reunited with Kathy (Carey Mulligan). Just before she gives up a major organ, however, Ruth admits to Kathy that she won't mind if Kathy and Tommy were to end up together after she dies. Ruth confesses that she never loved Tommy as much as Kathy did-she only stole him from her because she didn't want to be alone. After Ruth dies, Tommy and Kathy realize that they still love each other, and they try to find a way out of the cruel fate that awaits all those who spent their childhood in Hailsham.
ADVERTISEMENT - CONTINUE READING BELOW
Watch the trailer of Never Let Me Go
Because Never Let Me Go left me more than confused than impressed after I viewed it (I saw the film with no expectations, not even having read the novel it was based on), I turned to the Internet Movie Database (IMDb) to see if others were also puzzled by the film. As it turns out, I wasn't alone, since a comment left on the movie's IMDb page stated that many of the book's major details got lost during the story's journey from novel to film.
Spoiler alert: Click to page 3 to skip spoilers.

CONTINUE READING BELOW
Recommended Videos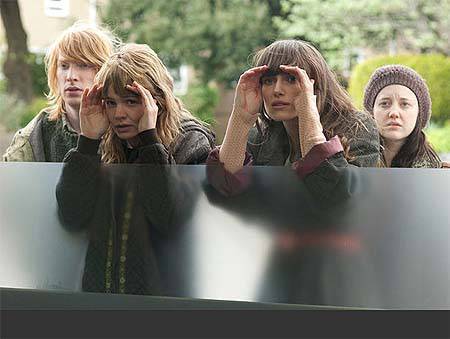 Carey Mulligan and Keira Knightley
Chief among these is the plot point that all of the children at Hailsham are actually clones, an idea that the movie wasn't explicit about. Yes, there's a scene where the teenaged Ruth, Tommy and Kathy go to a travel agency to look for those they were "modeled after," but they end up disappointed when they don't see anyone who looks like them. But this could easily have been interpreted as the mission of a typical orphan looking for his/her biological parents. If the scriptwriter (Alex Garland) and director (Mark Romanek) wanted to ensure that moviegoers got the clone concept, the scene could've shown one of the characters actually seeing the person he/she was cloned from. This would have been a splendidly creepy moment in a movie that already had a creepy storyline to begin with.
ADVERTISEMENT - CONTINUE READING BELOW
Another detail that the film isn't clear about is its setting. The IMDb synopsis says that the movie "is set in an alternate twentieth century different from our own." If this was the case, I can only wonder what the filmmakers gained by being so subtle about it. To be fair to them, they do drop hints. The movie begins by declaring that by the 1960s, life expectancy for human beings had increased to more than 100 years thanks to a medical breakthrough. That foreword, however, could easily have been interpreted as a statement of fact rather than a warning that Never Let Me Go was a foray into science fiction. It was only after I read the IMDb synopsis that I realized that certain details were off-kilter. In the early Hailsham scenes, for example, the students watch black and white movies on a movie projector. There's no sign of a television set anywhere-colored or black & white-even though it's 1985. This particular detail, however, contradicts the premise that the movie is set in an alternate 20th century England where, according to the film's production notes, "cloning has been sanctioned to service the seriously ill." Wouldn't a scientifically and medically advanced society have invented something more high-tech than a black and white movie projector for use in a private school?
After realizing what I missed because of the its director's penchant for subtlety, all I could do was wish that Never Let Me Go had been directed by someone more visually daring like Darren Aronofsky, who used just a few sci-fi images to make his psychotic drama Black Swan a coherent and searing viewing experience.
ADVERTISEMENT - CONTINUE READING BELOW
Never Let Me Go is the opposite. Though its story has science fiction elements, there are no sci-fi visuals to identify the film as such. In fact, the film looks a lot like a Merchant-Ivory production from the 1990s, complete with moody, atmospheric shots of the British countryside and the emotionally constipated folk who prefer to suppress their feelings rather than express them. (Another bit of IMDb trivia: the author of Never Let Me Go, Kazuo Ishiguro, also wrote the novel The Remains of the Day, which Merchant-Ivory turned into a multiple Oscar-nominated film in 1993.)
And this is a shame because the actors-especially Carey Mulligan-give heartfelt performances as the characters who try to find a loophole that will allow them to live and love a little longer than what the unidentified rule-makers have decreed. The scenes she and Andrew Garfield share near the end are the movie's most delicate and most satisfying. Moving and provocative, the film's last scenes also make poignant observations about art and its ability to illuminate the souls of its creators.
It's too bad though that the filmmakers didn't provide the beginning and middle of Never Let Me Go with as much clarity as they gave its conclusion. Had they done that, this disturbing love story might even have been an Academy Award contender, just like the Merchant-Ivory films which it appears to have been cloned from.
RATING: 3 ½ out of 5 Spots •••.

Check to see where the movie is showing
Photos from Fox Searchlight Pictures

ADVERTISEMENT - CONTINUE READING BELOW
Share this story with your friends!
---
Help us make Spot.ph better!
Take the short survey
Load More Stories