Who's That Girl?: What, No Blooper Reel?
Yes, it's lame. Yes, it's cheesy. Yes, it's pa-cute. But if you are a diehard Anne Curtis fan, get thee to the cinema right now, says our SPOT.ph blogger.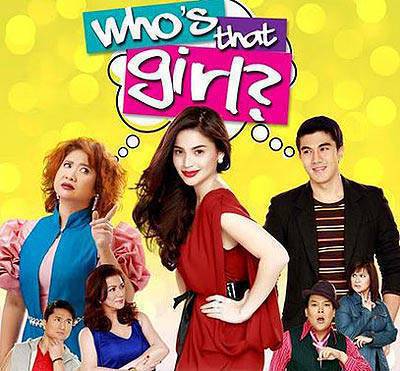 Reluctantly I went to see Who's That Girl, the new Wenn Deramas comedy produced by Viva Films and SMDC. Chock full of celebrity cameos, cheap laughs, and product placements, it's not exactly the perfect marriage of art and commerce. This one is predictably bad, much like other comedies made by the usual suspects. Essentially a romantic comedy with undertones of Cinderella, WTG revolves around Elizabeth (Anne Curtis), a geeky hot girl in love with John (Luis Manzano), the perfect and unattainable guy.
Yes, it's lame. Yes, it's cheesy. Yes, it's pa-cute.  There's a flashback sequence that's so long and sloppy you forget it's a flashback. There's an awful construction site gag that seems a little bit in bad taste, considering SMDC backed this movie. There are all sorts of chismis scenes: everywhere from yacht party, to bank, to beauty parlor. There's green jokes and partial nudity.  There's Nonoy Zuñiga singing "I'll Never Say Goodbye" at the funeral of John's father, John Senior. Mrs. Eduque, the widow, also has Marco Sison and Rico J. Puno on stand-by to sing their own ballads at the funeral.
ADVERTISEMENT - CONTINUE READING BELOW
Eugene Domingo, in over-the-top outfits, crazy matrona hair, and great lines like "Your father is a pig!" leads the procession of seasoned and reliable comedian co-stars: Candy Pangilinan as the chubby best friend Monique, John Lapus as the gay personal assistant, and Dennis Padilla as the kenkoy dad. (The real bonus is Dina Bonnevie as the mom-it's great to see that she is still sexy and funny after all this time.) Meanwhile, leading man Luis Manzano's penchant for undressing made the audience gasp.
Can I give you a spoiler alert? There's a partial butt shot. Sorry.
So, unless you're a fan of Anne Curtis or Luis Manzano-don't bother. There are better ways to spend the cost of a movie ticket.
CONTINUE READING BELOW
Recommended Videos
However, if you are a diehard Anne Curtis fan, get thee to the cinema right now. She is at an all-time cute in this movie and she manages to look perfectly lovely in every scene. Her hair is always gorgeous (thanks, no doubt, to the tireless hair gay on the set, who should be given an award), her heels are dangerously high, and her outfits are worthy of any It Girl Partying On The Town. I adore her tasteful and delicate bling, her dewy eyes, and her mestiza ingénue look. Mind you, I'm not a fan. As an actress, Anne Curtis has a lot to learn but as a celebrity, she's pretty fabulous. And her fans adore her. They say things like Idol kita, Anne and add moh koh sa facebook moh ito ung accnt and please help me my daughter is sick and how do I make my skin white like yours?
ADVERTISEMENT - CONTINUE READING BELOW
In the end, I just wanted to see the bloopers. At least I would have had the last laugh.
Share this story with your friends!
---
Help us make Spot.ph better!
Take the short survey
Load More Stories