FOOD REVIEW: Miss B's Tuckshop
This new kid in town is a fun little place with food that can be quite a killer, says our SPOT.ph food blogger.
Miss B's Tuckshop
# 20 Valdecon Building, Jupiter Street, Bel-Air, Makati City
(Beside Distillery)
Tel. 0929 795 9922
Open Mondays to Thursdays, 12 p.m. to 12 a.m.;Saturdays, 5 p.m. to 3 a.m.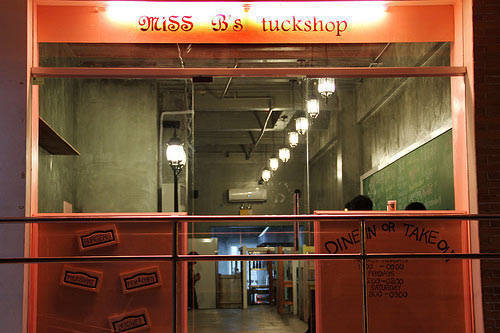 Miss B's Tuckshop is located beside The Distillery on Jupiter Street
Once in awhile, especially after cooking for other people, I look for places to eat after hours (post-restaurant time). When I was in high school, eating "after hours" (or in my case after partying) usually meant a trip to, say, Rufo's and devouring an order of tapsi/toci/longgsi/porksilog, and ordering another after that. With extra garlic rice. Oh man-those were the days indeed, when grease wasn't a concern.

Then the "golden age" (how dramatic!) of late night eats came about with North Park, Bun's Café (I truly miss this 24-hour place), Rosie's Diner, Shawarma Snack Center, Ramen-tei, Angelino's, Dean Street, et al. They weren't the best but they hit the spot, and there was variety.

Nowadays, it's a bit of a challenge. Sure, there's still choices, like the immortal North Park, but I kind of have to have a craving for that these days. JT Manukan is awesome, but again I have to crave for it. My go-to, Nihonbashitei, an izakaya that closes at 3 a.m. or so, is great and has several healthy options at that, but surely there must be other choices. Variety is, after all, fun!

Happily there's a new kid in town called Miss B's Tuck Shop. "Tuck Shop" means "a little food shop"  and is a term used by the English, the Aussies, and the Kiwis, so I'm guessing the owners are from there or spent time there. A testament to their smarts is their location-right beside a bar called The Distillery (yes, you know where that is, you lush!). Open til 3 a.m., this is the kind of food you want to chow down on when considerably soused-or not, in my case, when I entered one Saturday night.

The menu, written on a blackboard that occupies the right wall, is pretty straightforward: A few starters, some mains, all sorts of potatoes, and sweets. They also proclaim their pride for the beef that they use-all coming from grass-fed Aussie cattle. A plus in my book, because they bother to be conscientious about the food they serve. For the record, grass-fed is supposed to taste a lot more "beefier" than grain fed beef, which is what we're mostly used to, but sacrifices in the fat department.. not necessarily a bad thing.
ADVERTISEMENT - CONTINUE READING BELOW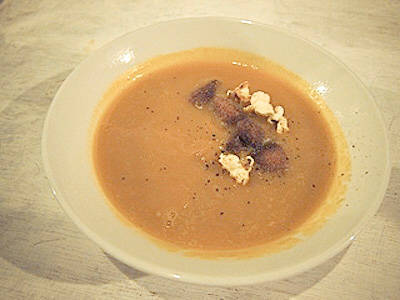 CONTINUE READING BELOW
Recommended Videos
Pumpkin soup (P120)

Me being Mr. Soup, I ordered one of the two starters: a humble bowl of pumpkin soup (P120). It came nice and hot and topped with some lardons of bacon and a few pieces of spiced popcorn. It was smooth and full of pure pumpkin goodness and sweetness, but I had to ask for the salt-something I never really do-as it was a kinda bland. Nothing a few twists of salt (I believe they put coarse sea salt in a pepper grinder) couldn't remedy to make into a satisfying starter.
C., C., and R. all had beef burgers (P185)-a smallish bun with a big, fat patty of their Aussie beef.. and nothing else but a smear of ketchup. These guys are quite ballsy that way, for as burger eaters we all have a penchant for loading up with cheese, or bacon, or what have you. Serving theirs practically buck naked shows their confidence in their meat source.
ADVERTISEMENT - CONTINUE READING BELOW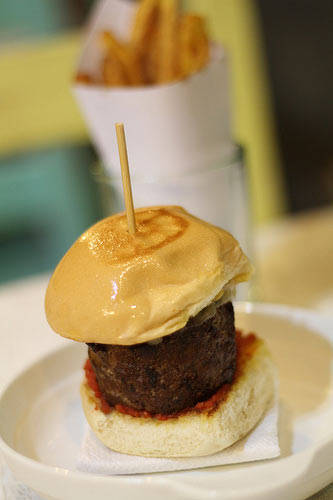 Beef burger (P185)

Despite the fact that I don't eat much red meat these days, I had to try them in the name of "research." If you can believe it, it's true that the beefy flavors of their burgers are very prevalent- such is the character of the grass-fed cow. Not bad, except for one thing: it was overcooked. I think to really enjoy a burger, especially one this thick and composed of quality beef, it should be done medium rare or medium at most (though I really wouldn't go medium). This had a tinge of pink at best.
I, of course, stuck to my pseudo pescatarian-ness and ordered fish and chips (P240). I am really a sucker for this, even if I know that most of the time I'm going to get something super greasy or soggy. Miss B's ain't bad at all! It was hot and moist inside, and crunchy on the outside-good battering techniques-and came with some slightly oily homemade potato chips, some malt vin (yes!) and a sad little saucer of house tartar sauce. Yes, it was homemade and I commend them on that, but I wish they put more "chunk" into it (pickles, some onions maybe) as this one had none at all. All in all though, not a bad rendition.

As a side, I also got some potatoes dauphines, a classic French potato preparation (man, them French people sure know their way around potatoes!) of mashed potatoes and choux pastry (think éclair pastry). Their version came out more like a denser croquetas-really tasty, though I wish there were more in an order. I think you get five pieces; They really were good, and before I could count them I ate them all.  Boo.
ADVERTISEMENT - CONTINUE READING BELOW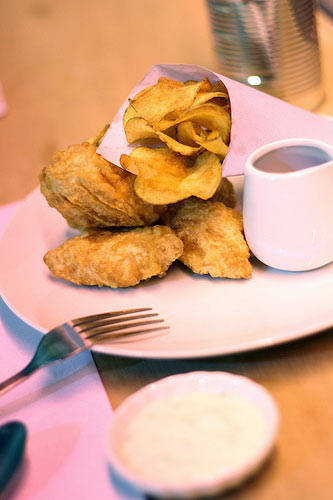 Crispy pork sandwich (P185)


The winner for the night had to be M., who got a crispy pork sandwich (P185): a generous piece of lechon kawali, with moist meat and crispy skin, on a bun. Again, I had to try it in the name of "research" (please excuse my Catholic guilt). It was quite good actually, but I feel it needs some acidity to cut through it-some mustard maybe, or some pickles or achara-if only because I personally need it when eating something this fatty. This sandwich ain't playing around, folks. But for serious pork lovers, it is piggy heaven. If you eat it before heading to Distillery, you'll probably finish two cases of beer and a bottle of rum before you even feel the effect of the alcohol. Woof.
There was another thing I had meant to try mostly because someone told me about it-a milk shake. The Roasted Marshmallow Shake (P180). So they roast some 'mallows over fire like we used to do as kids during camping, and mix this with vanilla ice cream and milk. They also put three on top for you to nibble on as you sip the concoction (it's huge, by the way, definitely for sharing!). The caramelizing that happens on top of the puff makes for interesting flavors when taken along with the rest of the shake. Pretty yummy, and I don't even like sweets all that much! I don't know what it will do to you after a few beers, though.
ADVERTISEMENT - CONTINUE READING BELOW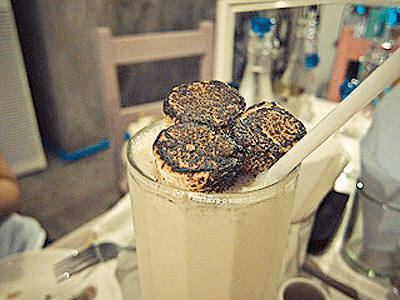 Roasted Marshmallow Milkshake (P180)


Miss B's is a fun little place-a kind of establishment that seems to be popping up in a lot of little corners all over the metro-and is in a perfect spot. Their food is at the very least decent, but with a little polishing, can be quite a killer. If you have the munchies and don't want to settle for wantons, fast food, or pork barbecue, head over here.
Welcome to the scene, Miss B!
3 out of 5 Spots •••
Photos by JJ Yulo and courtesy of Miss B's Tuckshop

Share this story with your friends!
---
Help us make Spot.ph better!
Take the short survey
Load More Stories