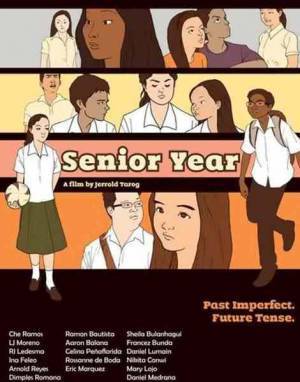 There are things I know now that I wish I knew back then.

It pays to listen.
In class, pay attention. Good things can happen when you listen. Senior Year's director Jerrold Tarog, who is understated in person and complex in his films, is a musician by training: he played the drums in a band and has a degree in musical composition. He likes to listen. To cast the film, he surveyed hundreds of high school students and asked them about their issues. That's a lot of sharing but apparently Jerrold has the patience for it and a keen ear for the nuances of language and emotion. And so he made a film out of it: he picked ten kids, put them through a workshop, and then wrote a screenplay around them. Listen carefully and you will realize that one of the true joys of Senior Year is how real it sounds. The characters are not confined to cliché because of the film's natural language. (Oh, and the soundtrack is lovely, too.)
ADVERTISEMENT - CONTINUE READING BELOW
Do not be fooled by appearance.
Everyone deserves a second look, a deeper understanding-this is how appreciation grows. So don't dismiss the nerdy, quiet guy or the not-so-smart cheerleader or the brash, popular boy: they have unique personalities and inner lives that might surprise you. Good looks do not necessarily translate into anything more than...looking good. As I sat watching this film, I was challenged to look beyond image which is sometimes difficult to do in this image-obsessed world. So Jerrold Tarog isn't the consummate visual stylist-well, not yet-but he pays attention to detail and does not lose sight of the story's essential truth. Best of all, his uncanny perception for character captures the spirit of his non-actors on camera and allows them grow increasingly interesting and beautiful as the story unfolds.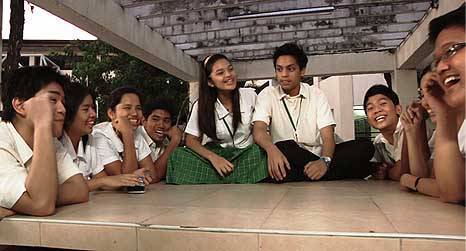 ADVERTISEMENT - CONTINUE READING BELOW
Recommended Videos
Jerrold Tarog's Senior Year gets a second run at the Ayala Cinemas from April 13 to 19.
Choose your kakonchaban, kabarkada and kakampi well.
In school we learn more than math and grammar and science-we learn social skills, too. Forced to bond with our peers, we develop our intuition for finding the right friends or the wrong ones. It's essentially like picking teams for patintero. Keep your senses peeled for the right collaborators. Jerrold likes to work with the same bunch of talented young people: cinematographer Mackie Galvez, assistant director Bianca Balbuena, production designer Ben Padero, and Franco Alido, who is their hardworking and savvy producer. He also likes working with certain actors like indie darling Che Ramos (who was brilliant in his second feature film, Mangatyanan) and the inimitable Publio Briones III (who was pitch perfect in his first feature film, Confessional). But he is also open to new collaborations with other actors, notably mainstream cutie Carla Abellana who won praise for her role in Punerarya, Jerrold's episode in last year's Shake, Rattle, & Roll XII.

Staying in is the new going out.
ADVERTISEMENT - CONTINUE READING BELOW
Time spent alone-whether for working or dreaming-is just as good as time spent in the company of others. "I have no social life," jokes Jerrold Tarog, a multi-tasker who wrote and directed and edited and scored and sound designed Senior Year. At least he has his humor intact. It's a lot of work for one person but he maintains the work is sequential and therefore manageable. "Also, ayokong magkautang," he says drily, so he would rather do the work himself. I for one am glad he stayed home for a significant amount of time to listen to old songs-Connie Francis and other divas of the same persuasion during the writing phase-to make an amazing film that's a hit with both audience and critics. Recently he won best editing for his work on Chito Roño's OFW musical Emir, although Jerrold admits that he would rather think about what's next: "I just look forward to future projects because I honestly don't feel like I've started yet."
ADVERTISEMENT - CONTINUE READING BELOW
Stick to your guns.
It takes conviction to stay true to your vision. Know what you want and know how to get it. It's easy to get swayed or distracted by money, power, or even love-but at the end of the day, You are the Captain of your ship. "It's just that I want to do something that inspires me, and with the right shooting process and mindset... I don't want to waste my time and the audience's time doing things I don't believe in or I don't enjoy," says Jerrold. He believes in the existence of an intelligent audience who deserves good content. He calls it subversion, these attempts to get back the audience who has lost interest in Filipino cinema. "It's enough that I'm making something with new standards," he says. "I would rather make a new set of mistakes than the same set of old mistakes." And now it seems that the "experiment" is successful: Senior Year stayed a full week at SM and now thanks to word-of-mouth promotion and overwhelmingly positive feedback, they are back for a second run at Ayala Cinemas.
ADVERTISEMENT - CONTINUE READING BELOW
The trailer of Senior Year
Bittersweet is better than just bitter OR just sweet.
Tracing the last days of something-disco, high school, a relationship-is bound to bring up mixed emotions, but that's fine, it is better than no emotion at all. In Senior Year, the emotions are very real, as they are in high school: confusing, intense, and pure. I didn't want to recall my own senior year in all it's foolish glory, but the film's setting (a small co-ed Catholic school in the southern suburbs) reminded me so much of my own school. I wore an ugly green plaid uniform, too and there was so much bloody drama going on over nothing particularly important. But when you're seventeen, your whole world thrives on drama full of wretched yearning and hopeful innocence. As I said, bittersweet.



***
Catch Senior Year on April 13 to 19 at Ayala Cinemas in Glorietta and Trinoma! If you're a student or a teacher, bring your school ID and get a discount on the price of your ticket.
ADVERTISEMENT - CONTINUE READING BELOW
For more information, check the Senior Year website and the movie's Facebook page.
Photos from senioryear.digitankstudios.com
Share this story with your friends!
---
Help us make Spot.ph better!
Take the short survey
Load More Stories