Top 10 Local Celebrity Meltdowns
SPOT.ph unravels the unraveling of the lives of the country's own supply of Charlies, Britneys and Alecs.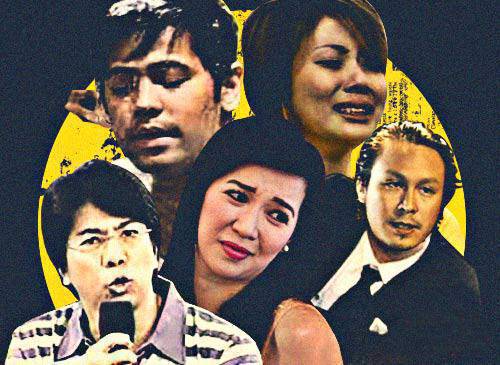 Celebrity meltdowns know no geographical bounds. As international celebs eye each other warily to see who'll be next to "pull a Charlie," our local stars could be wondering, "Who's next after Willie?" With all the stress that comes from killer schedules, "performance anxiety," and mounds and mounds of pressure to look great, sell a movie or TV show, and balance their personal and public lives, it's a wonder why not more stars are on the verge of nervous breakdowns. After all, being famous can't be easy, and when celebrities make a scene, everybody watches. SPOT.ph takes a closer look at the country's own supply of Britneys, Amys and Alecs and unravels the stories behind their very own unraveling.
Iwa Moto's hysterics captured on cam by reporter Nelson Canlas for 24 Oras.
10. Iwa Moto
The Freakout: When non-showbiz ex-boyfriend Mickey Ablan visited Iwa Moto on set on May 12, what began as quiet and jovial conversation turned into a shouting match that triggered the curiosity of bystanders in the GMA compound.
Ablan was said to have had snatched Moto's cellphone and the two began to reportedly chase each other around the premises. Sources say Ablan had been jealous of an unnamed man. Hot in pursuit, Moto supposedly tripped but continued running after her boyfriend, carrying a metal rod. Ablan got away, which directed Moto's aggression at a new target-his car. After trashing the vehicle, Moto, hands scratched and knees wounded, supposedly continued her rage out on the street. A GMA reporter had to collect the star and take her home before she could do more damage. The reporter also brought Moto to the hospital to have her injuries treated.
ADVERTISEMENT - CONTINUE READING BELOW
The Aftermath: Just three days after this episode, Moto made headlines again when she was confined in a hospital for allegedly slashing her wrists. However, Moto's roommate, Justine Ferrer of Survivor Philippines fame, clarified that the star had been sick-Moto was supposedly discovered in her room surrounded by vomit, looking pale; her lips turning blue.
In a drunken stupor, Baron Geisler sparks issues in the PBB house.
9. Baron Geisler
The Freakout: It wasn't easy for Baron Geisler to graduate from goofy, lighthearted roles but when he did, he earned the public's approval. However,  a series of personal ordeals, including a breakup, his house burning down, and his father's death supposedly led the actor to a newfound relationship with alcohol, reported a PEP.ph article. Even when he joined Celebrity Pinoy Big Brother, Geisler's reaction to alcohol had been alarmingly uninhibited-making crass comments and inappropriate gestures, touting him the name "Wild Child."
CONTINUE READING BELOW
Recommended Videos
Save for his PBB moments, Geisler's infamous drunken habits usually happened off-cam, exposed only through news of bar fights and multiple sexual harassment cases filed against him by William Martinez's and Yayo Aguila's daughter Patricia Martinez and actresses Yasmien Kurdi and Cherry Pie Picache-all of whom say the actor was "under the influence" during the incidents.
Geisler, however, denied the allegations and claimed they were effects of his character acting. "I was excited. I just came from an acting workshop and my role was a maniac. Ugali ko na (It's a habit) that I act out my new role," he said, referring to Martinez's accusations that he had invited her to have sexual intercourse.
ADVERTISEMENT - CONTINUE READING BELOW
The Aftermath: Geisler has since, at the request of Professional Artists and Managers, Inc., apologized publicly for his behavior. Last January he entered rehab but not before saying: "Okay, I will get help to become a better man, a better person. And probably, if they see the changes in me, then maybe they will allow me to work."
His facility director says that Geisler is now on his way to recovery. "I'll see you guys," the actor said in a recent interview. "I cannot be too confident. Siguro confident ako dahil I'm here in a safe place but ang tunay na laban (the real battle) is outside when I get out. It's the real world. To tell you the truth I'm very excited na magamit ko lahat ng natutunan ko dito (to use everything I learned). So far, I'm very positive naman na, with God's grace magagawa, ko 'yon (I can do it)."
SAKSI cameramen managed to get a clip of an outraged Osang in front of an off-track betting station.
8. Rosanna Roces
The Freakout: Rosanna Roces is barely a noob in the tantrum department. Public brawls with former BFFs Ai Ai delas Alas, Lolit Solis and Vicki Belo, as well as Sen. Bong Revilla and Rep. Lani Mercado are only some of the controversies on her list.
Her most uncalled-for stunt, however, may be picking on a teller at an off-track betting station. Roces, or Osang, reportedly lost out on a P20,000 win after the teller failed to register her bet.  According to a Pep.ph article, the teller explained that Roces had not given any money and simply asked the teller to place her stake-which is not allowed. Roces, a recognized bettor, was supposedly so outraged that she even lashed out at a cameraman who managed to catch her hysterics on video, which was later shown on Saksi.
ADVERTISEMENT - CONTINUE READING BELOW
The Aftermath: Moonlighting as a "karerista" (as her manager puts it) didn't quite work out for Roces, but her once-again blossoming acting career seems to be making up for that. She has just been named this year's Urian Best Supporting Actress for the indie film Presa. Roces was so shocked over her win that she even mouthed an expletive after hearing her name.
QTV's interview with a flustered and seemingly restless Hayden Kho after the "Hayden-gate" controversy.
7. Hayden Kho
The Freakout: If he could, Kho would probably profess his love for Dr. Vicki Belo in every way possible-including reportedly writing "I love you Vicks" all over his body before attempting to kill himself. Discovering Kho's sex tapes prompted Belo to break up with her younger beau and Kho did not take it very well. Witnesses said they supposedly spotted Kho moaning and crying in a pineapple field in Silang, Cavite, his face scratched from pineapple leaves and on his shoulder, a wound from what seemed like a hypodermic syringe. According to reports, Kho's phone had been ringing and he had been professing over and over his love for the beauty mogul. According to an Inquirer report, Kho's attempt and apparent emotional instability led him to "The Basement," the mental ward of Makati Medical Center where he stayed for 13 days with only papers and crayons to occupy him.
The Aftermath: A 100-million peso lawsuit courtesy of former lover Katrina Halili wasn't enough to stop this suspended doctor. While his newfound notoriety forbade him to practice medicine, he shifted his energies to fashion a perfume collection inspired by his own life. As for his personal life, it may be true love after all. The Belo-Kho relationship is back on track and appears to be going strong.
ADVERTISEMENT - CONTINUE READING BELOW
Katrina Halili still distraught in Saksi as she recounts issues with Hayden Kho
6. Katrina Halili
The Freakout: The viral video of Halili dancing "carelessly" with Dr. Vicki Belo's flame Hayden Kho was hilarious to some, but the laughter died down when another, lewder video of the pair spread like wildfire. When the Kho-Halili sex video was released publicly, an outraged Halili went to the press to defend herself, saying she was unaware that Kho had taped their intimacy. She claimed she "made a mistake of falling in love with the wrong person. She also added that "(She) is a victim, just like Dr. Belo."
Halili approached both government and non-government agencies in pursuit of help and justice. She issued a complaint to the National Bureau of Investigation and also filed a petition to revoke Kho's medical license. With the support of Sen. Bong Revilla, she sued Kho for allegedly violating the Anti-Violence Against Women and Their Children Act. Halili is asking for P100 million in moral damages for the emotional distress the scandal has caused.
The Aftermath: In several recent interviews, Halili has announced that she's at peace with herself and that she no longer thinks much about that chapter of her past, focusing instead on her family and career. Her role as victim also paved way to an alliance with women's group Gabriela where she counsels cases involving women and sexual abuse.
ADVERTISEMENT - CONTINUE READING BELOW
Marlene Aguilar's proclamation of her love for her son on 24 Oras.
5. Marlene Aguilar
The Freakout: When your son is charged with murder, you might get a little loopy too but Marlene Aguilar seems to have gotten caught in an endless freakout loop. Her supposed fainting spells and tearful outbursts made headlines during the peak of Jason Ivler's case seem to prove that Aguilar is far from being an orthodox mother.
From hiding her son from the authorities and getting arrested for it (an act she still pins on motherly love) to challenging a court judge to a fistfight- we're not exactly sure where to begin. In an interview, Aguilar also maintains that her son was framed by a British bodyguard doppelganger who did the actual killing. According to Aguilar, what appears to be fits of insanity are actually manifestations of a hidden genius. She explained: "We are genius(es), borderline insanity. My intelligence is way above most people. Does that make me insane?"
The self-professed singer, artist, model, actress and mother also claims to have written books exposing the true story behind the 9-11 tragedy and Nazi-Germany. What more, a few days before the Maguindanao Massacre, Aguilar also said that Americans abducted her friend and informed her that they (Americans) will destroy Mindanao.
The Aftermath: A few months ago, Aguilar gave another interview updating the press about her son where she also  explained her seemingly exaggerated reactions during the court proceedings. "It's real. Yes, when I'm happy, I'm really happy. When I'm loving, I'm really loving. When I'm hateful, I'm really hateful," Aguilar said.
ADVERTISEMENT - CONTINUE READING BELOW
24 Oras news report on Ethel Booba burning her condo unit.
4. Ethel Booba
The Freakout: Reports say that when the sexy starlet discovered that her Romanian boyfriend supposedly played for the other team, Booba was, to put it simply, distraught. So distraught that she reportedly "accidentally on purpose" set her condo unit on fire. After writing an expletive on the wall, Booba proceeded to light a lamp on fire. The sprinklers were activated before the flames spread.
The Aftermath: Insisting that she didn't do it on purpose, Booba was said to be thankful that the owners of her condominium unit declined to press charges. The two parties have agreed that Booba would fix the unit and pay for the damages. She was also supposedly kicked out of the condo for disturbing the other residents. However, Booba now maintains that boyfriend Marius Miria is straight and fathered her child. They even appeared in an episode of The Buzz a week later, explaining the whole situation.
In The Buzz, a relatively calm Annabelle Rama discusses issues with Lolit Solis, popping in a pointed comment here and there.
3. Annabelle Rama
The Freakout: The Cebuana matriarch of the Gutierrez clan once told The Buzz that she doesn't usually pick fights but when it comes to her family and clients, the talent manager famous for her sharp tongue will fight to the death. In 2008, she had a major falling out with the equally sprightly talent manager Lolit Solis. Apparently Rama's daughter and talent Ruffa tried to make "beso" actress (and representative) Lani Mercado, Solis' talent, at a party. When Mercado "snubbed" Ruffa, all hell broke loose-for their two managers.
ADVERTISEMENT - CONTINUE READING BELOW
Rama was allegedly so outraged that she even challenged Solis to a fistfight. "Unang-una, hindi kita uurungan, 'day! (referring to Lolit). Gusto mo mag-upakan tayo ngayon din, okay sa akin. Kaya daw maraming babaeng naili-link kay Bong kasi daw malaki daw ang 'birdie'... Huwag kang magkakamali sa akin ha. Hindi ako takot sayo Lolit Solis (First of all, I won't back down. We can fight it out right now. Many girls are being linked to Bong because he has a large 'birdie.' Don't underestimate me. I'm not afraid of you, Lolit Solis)!" Rama also extended this invitation to Ogie Diaz who interviewed Solis regarding the matter.
The Aftermath: The two made amends after some time, which was no surprise since Rama has always managed to renew civil ties with those she's had spats with. Her tough exterior belies someone who has been described as a truly affectionate and caring mother. In fact, when son Richard had a little run-in with MMDA traffic enforcers just this month, Rama readily came to the rescue to clean up the mess.
Kris' emotional good-bye during her last The Buzz hosting.
2. Kris Aquino
The Freakout: Years after a long-playing tussle with brother (now President) Noynoy Aquino over the men she dated, Kris moved on, only to have a drama-filled affair with then-married actor Joey Marquez in 2003. The romance was cut short when Marquez supposedly pointed a .9-millimeter gun to her head after a lovers' brawl. Aquino revealed every detail in a tearful interview with anchor Korina Sanchez-a clip that was played and replayed in practically every showbiz program in the country.
ADVERTISEMENT - CONTINUE READING BELOW
When everyone thought she found happily ever after in basketball star James Yap when she married him in 2005, a once again upset and very pregnant Aquino in 2007 made headlines by lashing out against her hubby's alleged mistress, Belo Medical Clinic employee Hope Centeno, on national TV. After Aquino nearly miscarried due to this stressful situation, the couple made amends, only to split up in 2010. An uncharacteristically silent Aquino revealed then that she had given up on the relationship. "It's not a spur of the moment decision. Hindi ito nangyari na nagising lang ako isang araw at sinabi kong ayoko na (I didn't wake up one day and told myself that I no longer wanted this). James and I both tried to really make this work," said Aquino in June 27, 2010 episode of The Buzz.
The Aftermath: Aquino has mellowed since her brother became President. She gave up hosting showbiz programs like The Buzz and Showbiz News Ngayon to spend more time with her family and to proclaim support as First Sister. Aquino is anything if not resilient.
Willie Revillame tells a crying 6-year-old to gyrate a la macho dancer in now defunct show Willing Willie.
1. Willie Revillame
The Freakout: After the tragic Ultra episode in 2006, everyone assumed Willie was done in the drama department, but it wasn't the case-it just goes to show that when you have the world at your feet (not to mention a supposed P3.5-million paycheck), anything is possible. Last year, the controversial TV host had an overblown legal battle with ABS-CBN after he publicly threatened to resign if the network giant kept Wowowee critic Jobert Sucaldito on payroll.
ADVERTISEMENT - CONTINUE READING BELOW
"Nananawagan ako sa management ng ABS-CBN, huwag niyo namang payagan na tinitira ang show. Ang laking kita ng Wowowee  para sa ABS. Mamili na kayo. Kapag hindi ninyo yan tinanggal, ako ang magre-resign dito sa Wowowee! Tandaan ninyo 'yan (I'm calling out to the management of ABS-CBN, do not allow people to criticize the show. Wowowee earns so much for ABS. You have to choose. If you don't remove him, I'll resign from Wowowee! Remember that)!" he announced in one episode.
When management ignored his woes, Revillame went on a self-imposed sabbatical before moving on to a different network, triggering more court suits in his way But as that issue was hung out to dry, on his new show on TV-5, viewers witnessed what looked like Revillame making a painfully shy six-year-old gyrate a la macho dancer for the sum of P10,000. Accusations of child abuse prompted sponsors to pull out their advertisements  from the program. While waiting for the MTRCB's verdict on the matter, Willie's show was suspended. The multi-millionaire variety show host also threatened to sue several celebrities who criticized his actions over Twitter, though he took it back eventually. Prior to all this, Willie also announced his disappointment and estrangement from friends and former co-hosts John Estrada and Randy Santiago on the show.


The Aftermath: Surprise, surprise: Revillame has a new show with a new format on TV5 called Wil Time Bigtime. Willing Willie co-host Shalani Soledad has also returned to co-host with him. Wil Time Bigtime aired last May 14 with a whopping 37.5-percent audience share, solidifying the network's lead in primetime ratings.
ADVERTISEMENT - CONTINUE READING BELOW
Artwork by Warren Espejo
Share this story with your friends!
---
Help us make Spot.ph better!
Take the short survey
Load More Stories