MOVIE REVIEW: Pirates of the Caribbean: On Stranger Tides
SPOT.ph movie reviewer Paul Daza says this Johnny Depp-Penelope Cruz starrer has its moments. However...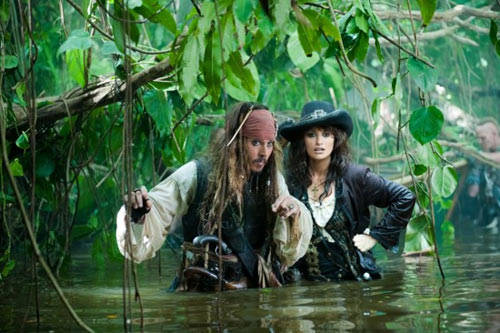 Johnny Depp is back as Captain Jack Sparrow starring opposite Penelope Cruz in "Pirates 4"

Though the uncomplicated story of  Pirates of the Caribbean: On Stranger Tides is a big improvement over the plots of the last two movies in the blockbuster franchise (Dead Man's Chest and At World's End), and Johnny Depp is back in fine, oddball form as Captain Jack Sparrow,  nothing about On Stranger Tides surpasses or even matches the pleasures that the first film, 2003's The Curse of the Black Pearl, provided. Where the experience of viewing the first film was akin to stumbling upon a cavern filled with treasure, watching the fourth film feels like having taken one too many trips to the well.
Watch the trailer
Set in the 1750s, On Stranger Tides begins in London, where Captain Jack Sparrow (Johnny Depp) hears rumors that he's hiring crewmen for a ship. The rumor quickly becomes fact when Jack finds himself on a boat that's racing against British and Spanish ships to find the fabled Fountain of Youth. Complicating the expedition is the reappearance of a woman from Jack's past, Angelica (Penelope Cruz), who claims to be the daughter of the infamous pirate Blackbeard (Ian McShane). Feared by all, Blackbeard is eager to drink the fountain's age-defying waters because it's been prophesied that he will die in a matter of days.

Let's start with the good things about Jack Sparrow's latest sparring adventure. Responding to criticism that the last two films in the billion dollar grossing franchise had confusing and incoherent plots, the filmmakers appear to have made a serious effort to fashion a tale that even children could understand. In this, they have mostly succeeded. On Stranger Tides has the efficient simplicity of the first three Indiana Jones films, where the hero knows exactly what he's questing for, and what obstacles he needs to overcome to get his hands on said object. In the case of On Stranger Tides, the obstacles include such things as scary mermaids, zombie shipmates and elusive silver chalices, not to mention the usual treacherous pirates and traitorous "friends."

For me, the best scene in Pirates 4 takes place about halfway into the movie, and shows Jack and his shipmates trying to capture a mermaid one dark night. The wonderful sequence begins with a mermaid who looks like Amanda Seyfried eerily appearing from nowhere and clinging to a boat whose male passengers have been sent by Blackbeard as mermaid bait. Before long, the scene escalates into a fierce fight as dozens of fast-moving mermaids hurtle themselves out of the water and attack the men who are trying to catch them. The shots which show Jack and his shipmates trying to capture the mermaids with a long fish net even recall the Oscar-winning documentary feature The Cove, which was about a chilling dolphin bloodbath that happens annually in Japan.

But there lies one of On Stranger Tides' main flaws-namely, that a scene which takes place in its middle section is more engrossing and captivating than its climax. Nothing about the watery, climactic sequence-  not the set design, not the visual effects, and not the way it is staged- trumps the mesmerizing mermaid setpiece. It's like director Rob Marshall exhausted his wellspring of ideas on that clash between man and mermaid, leaving viewers with a climax that's hardly unforgettable.

The 3-D isn't much help either. Considering that Pirates of the Caribbean: On Stranger Tides was actually filmed using 3-D cameras a la Avatar, one would expect its images to have more depth compared to movies which were shot in 2-D but converted to 3-D for their theatrical exhibition, like Thor and Priest. Surprisingly though, that's not the case- the 3-D seen in Thor and Priest is superior to the 3-D displayed in Pirates 4.

Making up somewhat for On Stranger Tides' shortcomings is the always reliable Johnny Depp, whose quirky delivery of punchlines remains unmatched. His quotable quotes in this installment include such gems as asking, "You look familiar...have I threatened you before?" and saying "your hiney" instead of "Your Highness" to a British monarch.

The scriptwriters who came up with these quips for Depp, however, are less successful with Oscar winner Penelope Cruz, who is given a theatrically memorable introduction in the film, and not much else. As the feisty Angelica, her skills with a sword may equal Jack's, but she's no match for him in a verbal joust. The lines she's given simply aren't as zippy and inventive as the ones Depp delivers.  

The story's other new characters are also a mixed bag, the fast and furious mermaids being the film's most impressive achievement. Less impactful are the zombies, which I was hoping would also be given a creative upgrade by the filmmakers. Sadly though, what the zombies get here is a downgrade, the script conceiving them as mindless slaves who aren't scary at all. Etched just as badly is their boss, Blackbeard, who turns out to be the most forgettable villain in all four Pirates of the Caribbean movies.

On Stranger Tides has its moments, but they don't come as frequently or as impressively as they did in the series' previous entries. It's not a must-see like the first one was, but rather, just something to tide you over till the next hopeful blockbuster.     

Rating: 3 out of 5 Spots •••


ADVERTISEMENT - CONTINUE READING BELOW
CONTINUE READING BELOW
Recommended Videos
Share this story with your friends!
---
Help us make Spot.ph better!
Take the short survey
Load More Stories