10 Things You Should Know Before Watching Harry Potter and The Deathly Hallows 2
Brush up on your Harry Potter vocab before hitting the cinemas this week!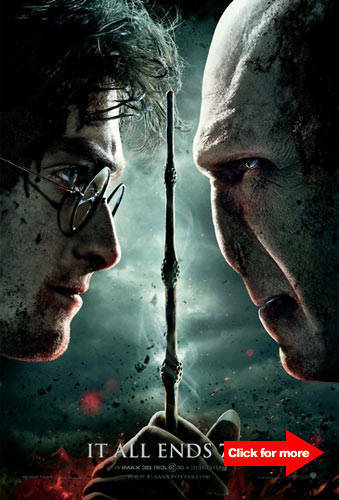 What happened before the final confrontation? Click for more.
Unless you've been living under a rock, you'd know that many a childhood will end in a few days' time.
British author J.K. Rowling conceptualized the Harry Potter world while waiting for a train one fine day in 1990. The train was delayed for four hours-just enough time to form a simple premise. But what once was an unlucky circumstance turned into a fortuitous adventure that touched millions of lives. Far from its boredom-busting origins, Harry Potter's story stretched into seven novels, which all soared to become international bestsellers. And, like most literature that managed to get a decent-in this case, massive-cult following, Harry Potter was adapted into film.
Potterheads would argue that the first Harry Potter film in 2001, Harry Potter and the Sorcerer's Stone (not to mention the next six adaptations) was far from accurate. The acting was less than what fans hoped for and some effects were somewhat questionable. Still, the films made Harry Potter seem real-at least for a few hours, anyway. Soon "Muggles" and Potterheads alike were cheering on a Quidditch match as if they were watching from the sidelines; everyone was swishing and flicking their wrists, saying "Levi-o-sa" not "Levi-o-sar."
The eight Harry Potter films were produced within a span of 10 years, with the last, Harry Potter and the Deathly Hallows 2, hitting the big screen this week. For some, the highly anticipated finale is a cause for excitement as well as dread. After all, most HP movie fans grew up with Rupert Grint (Ron Weasley), Emma Watson (Hermione Granger), and Daniel Radcliffe (Harry Potter). We've seen these three warp from acting noobs who either can't cry (Dan in Prisoner of Azkaban) or tend to overact (Rupert in Chamber of Secrets) to effective actors who had us tearing up when Sirius Black died in the Order of the Phoenix. The films have become some sort of measure for growing up, and facing the final leg of this long journey evokes a feeling of loss similar to that of a parting friendship.
ADVERTISEMENT - CONTINUE READING BELOW
Harry Potter has evolved from having a straightforward hero-must-defeat-foe plot to a tangled web of ideas-liberally using Chekhov's Armory to connect details in the slightest yet most significant ways. In an attempt to un-complicate this magically mysterious world, especially to those not so versed in its wizarding vocabulary, SPOT.ph presents a short, nostalgic refresher of the tale-compiling everything one needs to know before the beloved hero faces Voldemort for the last time.
Photos from Warner Bros; screencaps from the Harry Potter films

A compilation of all the Harry Potter movie trailers
CONTINUE READING BELOW
Recommended Videos
Share this story with your friends!
---
Help us make Spot.ph better!
Take the short survey
Load More Stories