MOVIE REVIEW: Bridesmaids
Find out why SPOT.ph movie reviewer Paul Daza compares this chick flick to <em>The Hangover</em>.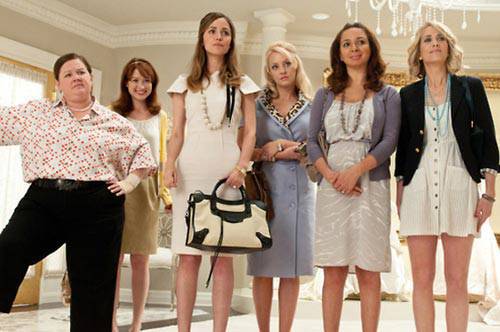 Kristen Wiig could be the next Tina Fey
If you've ever wanted to see a group of thirty-something females in scenes as adult, crude, and gross as those in the male-centered Hangover movies, then Bridesmaids is for you. A comedy about the misadventures which six gal pals experience as they get ready for a friend's wedding, Bridesmaids is the bawdy new movie from producer Judd Apatow, whose Knocked Up and The 40 Year-Old Virgin were hits in the USA. Rated R-13 by the MTRCB and showing in only a few theaters in Manila, Bridesmaids plays like  a lower-end version of Sex and The City, crossbred with the sophomoric humor of Due Date and The Hangover Part II.
Watch the trailer


Annie (Kristen Wiig) and BFF Lillian (Maya Rudolph) have known each other since they were kids in Milwaukee, Wisconsin. When Bridesmaids begins, they're in their 30s and still single, and having problems with the men in their lives. Annie can't stop seeing Ted (Jon Hamm) even though he only uses her for sex. Lillian, on the other hand, complains that her boyfriend Dougie (Tom Heidecker) has been acting strange lately. Days later,  Lillian drops a bomb: Dougie has proposed, and of course, Lillian wants Annie to be her maid of honor. Annie must now help her best friend navigate the road to matrimony together with four other bridesmaids. Complicating the already stressful situation is the fact that the insecure Annie is convinced that fellow bridesmaid Helen (Rose Byrne)-Lillian's future sister-in-law - is out to replace Annie as Lillian's BFF. Annie's determination to keep the title results in many misadventures, some of which are as hilarious as they are painful to watch.
ADVERTISEMENT - CONTINUE READING BELOW


Bridesmaids has many things going for it. The Milwaukee setting is a refreshing alternative to the overused cities of Los Angeles and New York, and its cast of mostly unknown performers allows viewers to approach the movie with hardly any expectations. And though formulaic, the script co-written by Kristen Wiig (who plays Annie) and Annie Mumolo is funny and insightful, mining comedy from unexpected sources.


It's thus not surprising that the movie is a showcase for Wiig's acting and scriptwriting skills, promising proof that she can be the next Tina Fey. Wiig is a revelation in Bridesmaids, effectively conveying the amusing and repulsive emotions which Annie exhibits as she goes on her downward spiral. There's one scene though where Wiig trumps Fey: the hilarious and humiliating sex scene that opens the film. The sequence-which shows Annie huffing and puffing in bed with Ted- is rib-tickling in its perverted demonstration of what making love is not. It's a scene Tina Fey wouldn't be caught dead doing, and is just the first of many scenes which the fearless Wiig aces and hits out of the ball park.
CONTINUE READING BELOW
Recommended Videos


The script, however, isn't so selfish as to let Annie have all the fun. As Rita, the bridesmaid for whom motherhood is anything but a joy, Wendi McLendon-Covey is a hoot. Her complaints about her boys leaving semen everywhere in their home, and her claim that she can use the dried discharge to "cut a blanket" is one of the funniest lines I've heard in a movie all year.  Also good for a few giggles is the rotund Melissa McCarthy as Megan, whose effortless ability to make everyone around her uncomfortable makes her the Zach Galifianakis of the group. As she farts, flirts (with men and women) and philosophizes about friendship in the movie, she comes dangerously close to stealing the movie from Wiig.
ADVERTISEMENT - CONTINUE READING BELOW

The men also provide solid support despite being written as two-dimensional characters. As the f__k buddy who makes life miserable for Annie, Jon Hamm is hilariously disgusting in the few scenes he's in. As the good and decent highway patrolman who likes Annie, beefy Irish actor Chris O' Dowd is a wonderful alternative to the GQ-types who normally appear in romantic comedies.


For all its witty dialogue and winning performances, however, what viewers will probably remember most after watching Bridesmaids is the scene where the gals become all sick and sweaty from food poisoning as they shop for bridal gowns in a boutique. As they race to the comfort room and fall over one another to relieve themselves, you may, while giggling uncontrollably, realize that you're seeing a turning point in Hollywood's gender wars. For decades, women have been demanding equal opportunity as their male counterparts on both sides of the camera. With Bridesmaids, this wish has been partly granted, its sorority of characters given the "opportunity" to do an ensemble toilet humor scene that's as racy as something you'd see in The Hangover. Bridesmaids could very well be the world's first sick chick flick.

Rating: 3½ out of 5 Spots •••.
Check out the movie schedule for Bridesmaids here.
Share this story with your friends!
---
Help us make Spot.ph better!
Take the short survey
Load More Stories