Top 10 Modus Operandi of the Most Common Crimes in Manila: 2011 Edition
Get informed! Don't get victimized by these sneaky M.O.s.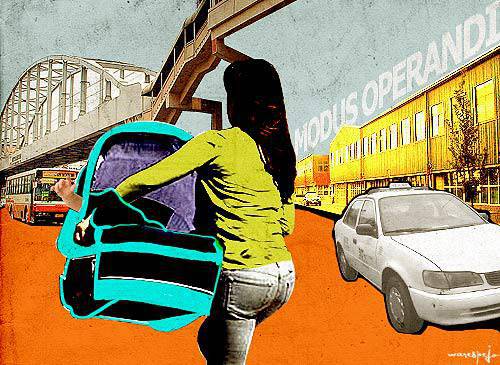 Just when you thought that news shows had exposed every cellphone sham and "Facebook ploy" there was, cash cons make headlines with new and more elaborate tricks up their sleeve. Your best mode of defense? Be aware. Following last year's Top 10 Modus Operandi of the Most Common Crimes in Manila, SPOT.ph listed 10 of the most common M.O.s of today so you don't fall prey to their scheming ways.
ADVERTISEMENT - CONTINUE READING BELOW
1. Little Taxi Raiders
Scene of the Crime: Juvenile gangs called "Batang Hamog" attack vehicles passing through EDSA Guadalupe.
Plan of Attack: A gang of children, aged 7 to 11 years old, surround vehicles (usually taxis) stuck in traffic. They forcibly open car doors and  grab whatever they can find in a split second-money, cellphones, bags, laptops, and other valuables.
GMA News TV's News To Go has reported that these kids have devised a way to rob vehicles with locked doors by throwing rocks and other heavy objects on the roof of the car to distract the driver and passenger so they can open the car doors. Other times, raiders have resorted to shaking the hood of the car to annoy the driver, forcing him to step out of the vehicle. Then, the raider's cohorts strike.
Defense Mechanism: Make it your first instinct to lock all the doors of the vehicle, especially when passing through this area. Never unnecessarily open them, and do not get down from the car. Remind your driver to stay inside the vehicle at all times and instruct him or her to drive to the nearest police station once attacked.
ADVERTISEMENT - CONTINUE READING BELOW
2. Dentists' Attackers

For the latest Philippine news stories and videos, visit GMANews.TV
Scene of the Crime: The serial robber and rapist, who is still on the loose, targets dental clinics, particularly in Quezon City, Manila, Caloocan City and Bulacan.
Plan of Attack: A dentist who was victimized by this man said in an Unang Balita report that the robber first posed as a patient. After she ushered him towards the dental chair, he pulled out a gun and asked for money and jewelry from everyone inside the clinic. Then, the perpetrator tied the hands of the dentist to the dental chair and molested her.
A man who matched the cartographic sketch of the robber was arrested in Laguna earlier this month. Victims, however, said that the man taken into police custody was not the one who committed the series of crimes. Authorities are still tracking the whereabouts of the real culprit.
ADVERTISEMENT - CONTINUE READING BELOW
Defense Mechanism: Police have advised dentists to be more wary of accepting walk-in patients and uphold a by- appointment-only policy. Installing closed-circuit television (CCTV) cameras in strategic points inside the clinic and securing doors with sturdy locks can also help in deterring this kind of crime.
3. Convenience Store Crooks

For the latest Philippine news stories and videos, visit GMANews.TV
Scene of the Crime: Cashiers and managers in convenience stores and groceries, beware. These crooks try to trick you to rob the contents of your cash registers.
Plan of Attack: Members of the so-called "Salisi Gang" pretend to be ordinary customers in the store. One of them will buy something cheap, say a can of soda, and bring it to the counter. Once there, the man pays with either a P500 or a P1000 bill. When the cashier opens the cash register to give him change, the robber will demand for another variant of the softdrinks to make the cashier leave the cash box unattended, whereupon the robber can then grabs the money.
ADVERTISEMENT - CONTINUE READING BELOW
If the cashier does not take the bait and leave her area, plan B ensues: after the robber accepts his change, another member of the gang distracts the cashier by shouting, making him or her unmindful of the amount he or she handed the "customer." The guy posing as a customer then claims that he was handed insufficient change, forcing the cashier to give him more money.
Defense Mechanism: Cashiers should always stay alert and never leave the cash register unattended. Again, CCTVs can come handy to make sure that these crooks are caught.
4. Baby Stealers

For the latest Philippine news stories and videos, visit GMANews.TV
Scene of the Crime: Baby stealers usually roam OB wards of public hospitals searching for their next prey.
Plan of Attack: A mother whose newborn was kidnapped recalled in the show On Call that after she was discharged from the hospital, a woman who introduced herself as "Melody" befriended her, saying that she had a cousin confined in the ward. She volunteered to carry the baby and accompanied the mother outside to the bus terminal. Once at the terminal, "Melody" forced the trusting mother to go the restroom and offered to watch over the baby. After the mother left, "Melody" took the baby away with her.
ADVERTISEMENT - CONTINUE READING BELOW
Defense Mechanism: Never trust total strangers to look after your baby, even if you'll be gone for only a second.
5. Tunnel-Digging Thieves

For the latest Philippine news stories and videos, visit GMANews.TV
Scene of the Crime: These thieves operate underground-they create tunnels to get inside jewelry shops, pawnshops and banks undetected.
Plan of Attack: The "Acetylene Gang" starts their operations by surveying the surroundings of their targeted place. They try to lease vacant lots or business spaces around or above their target. They may also utilize creeks or drainage systems near the area. From there, they start digging a tunnel through the ground or drilling through the adjacent wall to gain entry to the pawnshop, jewelry shop or bank. They usually do this at night and on weekends to go unnoticed. Once in, the group uses a portable acetylene torch to destroy the vault and snatch valuables.
ADVERTISEMENT - CONTINUE READING BELOW
A 24 Oras report showed that the police caught some of the gang members-who turned out to be miners-in the Rizal province.
Defense Mechanism: In an Inquirer report early this year, National Capital Region Police Office (NCRPO) chief Director Nicanor Bartolome advised business owners to be vigilant when inspecting their establishments-check security alarms relentlessly and have security guards patrol shops on irregular intervals. He also said it helps to be observant, especially if you notice new faces in the neighborhood.
6. Driver-turned-carjacker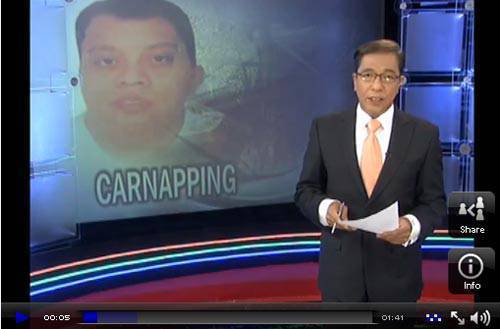 ADVERTISEMENT - CONTINUE READING BELOW
Click on the photo to watch the video on ABS-CBNnews.com
Scene of the Crime: Think you're safe when in the confines of your own home? Think again. These crooks attack the houses of affluent families, especially those with luxury vehicles.
Plan of Attack: ABS-CBN's TV Patrol reported how this crafty carjacker operates. First, he applies as a driver for a rich family, usually those living in exclusive subdivisions. To make his act more convincing, he presents fake documents and an NBI clearance during the application. Once hired, the driver pretends that he has to pick up a member of the family one night, only to take the luxury vehicle away with him.
Defense Mechanism: As much as possible, hire drivers that you know personally or who were recommended to you by a trusted friend. It's also good practice to cross-check his name with the rogue gallery of the police station nearest you.
ADVERTISEMENT - CONTINUE READING BELOW
7. Juvenile Pickpockets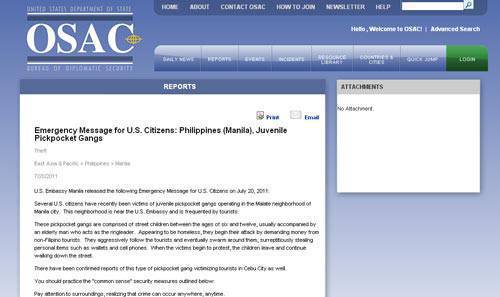 Click on the photo to read the emergency letter on osac.gov
Scene of the Crime: This gang usually strikes near the United States Embassy in Malate, usually victimizing foreigners and tourists.
Plan of Attack: Seemingly harmless kids, aged 6 to 12, pretend to be beggars asking for alms from passersby. Usually accompanied by a single adult who serves as their ringleader, they aggressively swarm around foreigners when they refuse to give money. The children proceed to follow their victim to surreptitiously steal their wallets and cellphones.
ADVERTISEMENT - CONTINUE READING BELOW
This attack on foreigners has become so rampant that it prompted the US Embassy to issue a warning for US citizens visiting the area. The embassy claimed that similar incidents also happened to Americans in Cebu.
Defense Mechanism: The embassy advises foreigners to cross the street once they notice a group of street children approaching them. "If they continue to follow or harass you, seek assistance from a local establishment's security guard or door escort. The gangs usually leave once they encounter authority figures," the statement said. Foreigners are also advised not to wear jewelry and refrain from carrying huge amounts of money in their pocket when in public places or when using public transportation.
8. Taxi Trickers
Scene of the Crime: Although taxis are considered by many as one of the safer means of transportation around the metro, abusive drivers also find ways to illegally charge more money from their passengers.
ADVERTISEMENT - CONTINUE READING BELOW
Plan of Attack: These crafty drivers use a tiny mechanism called a "batingting" to control the taxi's meter and increase the amount the passenger will pay for his or her fare. The mechanism has to be sealed inside the meter first-yes, even the new ones installed by the government post-fare hike. The driver will hides the "batingting" under his seat or near the steering wheel. This will allow them to demand staggeringly high fares even for short distances.
Defense Mechanism: Pay attention to the taxi meter-you should be able to estimate the total cost of your ride. If you think you were victimized, get the company name and the plate number of your taxi, then report the incident to the appropriate authorities such as the Land Transportation Franchising and Regulatory Board.
9. Bumper Boys

For the latest Philippine news stories and videos, visit GMANews.TV
ADVERTISEMENT - CONTINUE READING BELOW
Scene of the Crime: These daredevils can attack anywehere, but they often choose a place where traffic is slow and heavy. They spare no one-not even one of the country's lawmakers, Senator Tito Sotto.
Plan of Attack: Senator Sotto himself recounted in a Showbiz Central interview how he almost fell prey to these crooks. One of the members of the "Bundol Gang" purposely bumped himself against the vehicle and made it appear that he was hit. The supposed victim carried fake blood and mud with him to make his act more convincing. The guy then demanded money as payment for the fake injury. A Philippine Star report dated July 20 specified that members of the gang "tail travelers arriving at the Ninoy Aquino International Airport" and usually strike in the pre-dawn hours. According to the Star report, the attackers hijacked cars and ran away with them after dumping their victims.
Defense Mechanism: Eastern Police District director Chief Superintendent Francisco Manalo advised the public not to open car doors when hit from behind by another vehicle. Instead, write down the plate number of the vehicle and proceed to the nearest police station to report the incident.
ADVERTISEMENT - CONTINUE READING BELOW
10. Social Media Scammers
Scene of the Crime: The growing popularity of social networking sites like Facebook has given criminals a new arena to execute their scheme.
Plan of Attack: The operations of these online crooks start by befriending you in a social networking site. He or she tries to gain your trust and builds a relationship with you. Once you agree to meet in person, he or she will take advantage of you, often by stealing your money or other belongings. Recently, Mula sa Puso director Ricky Rivero was victimized by a Facebook friend who stabbed him 11 times after he refused to give him money. A more dire case was reported on ABS-CBN's TV Patrol where a call center employee was murdered by a man she met online.
Defense Mechanism: Exercise caution when talking to people online. When on Facebook, it's best not to accept friend requests from people you do not really know. It's never a good idea to meet a stranger you met online in person. If you must do so, bring someone along with you.
ADVERTISEMENT - CONTINUE READING BELOW
Artwork by Warren Espejo
Are you sure you want to delete this list?

Recommended Videos
Load More Stories