MOVIE REVIEW: Horrible Bosses
Alfred Hitchcock thriller meets <em>The Hangover</em>, Paul Daza calls this comedy about hateable honchos.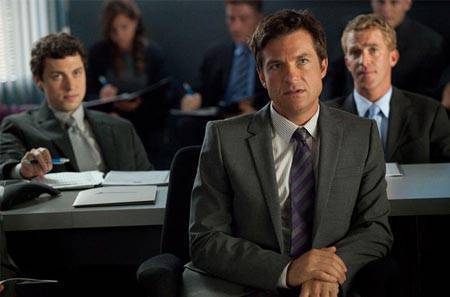 Jason Bateman stars in Horrible Bosses
Like the similarly titled Ruthless People, Mean Girls and Bad Teacher, Horrible Bosses is a comedy that gets its laughs by exploiting its audience's fascination with awful people. Unlike those relatively safe and formulaic movies, however, Horrible Bosses has the ambition and audacity to be more original by weaving murder into its plot. The result is a funny, unpredictable flick that successfully juggles raunchy adult humor with a dangerous, semi noir-ish edge.
Nick, Kurt and Dale are good friends who have one thing in common: of late, they've begun to hate their bosses enough to want to kill them. For months, management candidate Nick (Jason Bateman) has been putting in 16-hour days to get a much-deserved promotion. One day, though, his superior Dave Harken (Kevin Spacey) decides to give himself the job Nick was slaving away for. Kurt (Jason Sudeikis), on the other hand, was enjoying his work at a chemical company until his beloved boss, Jack Pellit (Donald Sutherland), died and left the business to his obnoxious, coke-snorting son Bobby (Colin Farrell). Now, Bobby wants to fire everyone-starting with those who are overweight and disabled-to cut costs so he can pocket the savings. Then there's dental assistant Dale (Charlie Day), who's the object of desire of his sex-starved boss, Dr. Julia Harris (Jennifer Aniston). Dale, however, has been refusing her X-rated sexual advances on the grounds that he's engaged to be married. The bad doctor, however, won't take no for an answer, and she threatens to blackmail Dale with sexually-explicit photos she has of him in compromising positions with her. With such superiors making their lives a living hell, the trio decide one night to pay a convicted criminal (Jamie Foxx) to kill their horrible bosses. But complications arise-as they inevitably do in these comedies-leading to a situation where the three buddies might have to do the murderous deeds themselves.
ADVERTISEMENT - CONTINUE READING BELOW
Watch the trailer of Horrible Bosses
Given its title, it's not surprising that the most entertaining ingredient in Horrible Bosses are its titular evil employers. Bateman, Sudeikis, and Day may be talented (if relatively unknown) actors, but it's the better-known Kevin Spacey, Colin Farrell, and Jennifer Aniston who have a darn good time playing their repulsive tormentors. As the  megalomaniac who enjoys treating Jason Bateman like his office bitch, Spacey once again taps into the simmering menace that served him well as Lex Luthor in Superman Returns. Only this time, he gets to use lots of expletives and four-letter words. Of the film's three horrible bosses, it's Spacey's Dave Harken who's the scariest simply because he's the script's most realistically-drawn villain. More broadly rendered but no less fun to watch is Colin Farrell as the prostitute-loving coke sniffer. Almost unrecognizable as the balding, tattooed Bobby, Farrell is a treat as a total sleazeball. In terms of over-the-top villainy, however, it's Jennifer Aniston's nymphomaniac dentist who delivers the most bang (pun intended) for your movie buck. In Dr. Julia Harris, Aniston has created an antithesis of sorts to the Rachel character she created in the sitcom Friends, and she has a wonderfully wicked time playing a woman with an insatiable sexual appetite. So ravenous is the demented dentist that she even suggests to Dale that they do the nasty on top of the body of his knocked-out fiancé, who's unconscious from a dental procedure.
CONTINUE READING BELOW
Recommended Videos
As enjoyable as the bosses-behaving-badly are the many unexpected detours the film takes as a result of our heroes' murderous plan. From a fantasy sequence showing a tormentor taking a swan dive from a skyscraper to the very real, cold-blooded killing of another, nothing in Horrible Bosses' plot is predictable. There are even informative segues that tell us how absurdly easy it is to be stigmatized as a sex offender in the US for life, and a subplot that illustrates how difficult it is for even an Ivy League graduate who used to work for Lehman Brothers to land a job. The story moves swiftly and efficiently from one sequence to another, balancing the darkness of the murder plot with the mood-lightening gags we've come to expect in this post-Hangover age of adult comedies. In Horrible Bosses, the ewww-inspiring gags include an encounter with a man whose fetish is urinating on people, and a scheme where an abusive boss' toothbrush and dental floss are smeared with the fecal matter of his employee.
ADVERTISEMENT - CONTINUE READING BELOW
Yes, parts of Horrible Bosses are appalling and disgusting, but it has moments that are also provocative and intriguing. If you've ever wondered what you'd get if you mashed an Alfred Hitchcock murder thriller with the crude, adolescent comedies of Todd Phillips (the Hangover films), then wonder no more, for Horrible Bosses is what such an inconceivable union would result in.
RATING: 3½ out of 5 Spots •••.
Click here to check the movie schedule.
Photos from Warner Bros. Pictures
Share this story with your friends!
---
Help us make Spot.ph better!
Take the short survey
Load More Stories