MOVIE REVIEW: Dream House
This inventive psychological thriller has just enough shockers and twists to satisfy horror fanatics, says SPOT.ph movie reviewer Paul Daza.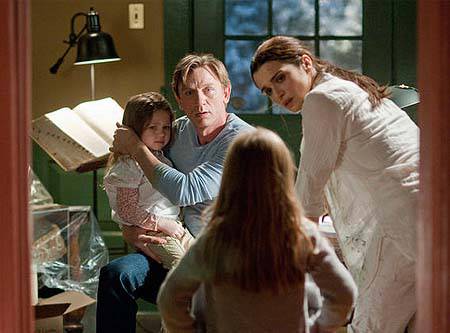 Daniel Craig and Rachel Weisz star in Dream House
Because I quite enjoyed the psychological thriller Dream House, I was surprised to see that its score on the movie review website Rotten Tomatoes (RT) was an abysmal 8/100. That put it in the same league as The Last Airbender (6/100) and  Abduction (5/100), compelling me to read the Dream House reviews and understand why the US critics despised it so.
ADVERTISEMENT - CONTINUE READING BELOW
CONTINUE READING BELOW
Recommended Videos
After reading a few reviews, I now have a partial explanation for the film's low RT rating: several US reviewers mentioned in their assessments that the film's trailer had given away the major plot twist that's sprung on the audience in the midsection,  depriving them of one of the film's most major shockers. I, on the other hand, saw Dream House with two companions who, like me, had not seen the trailer beforehand.  All we knew about the movie was that it had an impressive cast (Daniel Craig, Rachel Weisz, and Naomi Watts), and that its poster art showing two ghostly little girls was evocative of The Shining. And wouldn't you know it, all three of us ended up liking the film when the lights came on at the end. The lesson in all this? If you don't know anything about Dream House, especially its key plot twist, you'll probably like it more than someone whose expectations have been tainted by that stupid, stupid, stupid trailer.
ADVERTISEMENT - CONTINUE READING BELOW
The Dream House trailer
Here's a spoiler-free summary of the story of Dream House: as it snows in New York, Will Atenton (Daniel Craig) leaves his job as a publisher to spend more time with his family in their newly-acquired house in a New England suburb. Soon, however, unnerving things start happening there. His wife Libby (Rachel Weisz) and their two daughters are frightened by a man outside who supposedly watches their every move through the windows at night. Will is also glared at by a neighbor from across the street who is married to the quiet Ann Patterson (Naomi Watts). One evening, a goth youth tells Will that his dream home was the very same place where a man named Peter Ward brutally murdered his wife and kids five years ago. To make things worse, Peter has recently been released from a mental institution by the state due to lack of evidence that it was he who killed his family in cold blood. Could Peter be the man who has been watching Will's family through the windows on those chilly winter evenings?
ADVERTISEMENT - CONTINUE READING BELOW
As stated earlier, the less you know about Dream House, the better. That's why I won't even say what other scary movies Dream House reminds me of, because doing so might allow you to guess the plot's key twist. Suffice it to say that the film has enough scares-both clichéd and subtle-to make it at least satisfactory for those looking for a more intellectually-challenging ghost story. The conventional scares include the use of well-timed banging noises to punctuate scenes that are dead quiet, and the sudden appearance of creepy eyeballs in a part of Will's house that is supposedly unoccupied.
For me, though, the most bone-chilling part of the film is a little girl's delivery of a simple line of dialogue: "Daddy, there was a man at the window. He had a big head and his face was fuzzy." It's moments like this-combined with shadowy cinematography, an eerie music score, and consistently believable performances from the cast-that wrap Dream House in a giddy feeling of unease from start to finish, even when nothing particularly fearsome is happening onscreen. Whether it's two little girls giggling under a blanket or the sound of hushed voices coming from a boarded up basement, Dream House comes with just enough shockers and twisted turns to satisfy those looking for the perverse "enjoyment" that comes with being scared.
ADVERTISEMENT - CONTINUE READING BELOW
Inventive and unnerving, Dream House is one of the better scary movies I've seen in months. It may not be as petrifying as Insidious or as nerve-shredding as Paranormal Activity, but it has its moments. Is the film excellent? No, it's not. For me, Dream House is just good. I would have liked it more if the ghosts had bigger roles in the climax, and if the finer details of the final revelation were easier to follow. And who knows, the film might have also benefited from more organic, more old-fashioned visual effects, as opposed to the sleek but impersonally-rendered animation that's on display during a key moment in the film.
While I'm not sure if such suggestions would have actually improved Dream House, what I am sure of is that the movie is way better than its Rotten Tomatoes rating of 8/100 would have you believe. Unless, of course, you've seen the trailer beforehand, in which case you'll probably give the movie your lowest rating as well.
ADVERTISEMENT - CONTINUE READING BELOW
Rating: 3 out of 5 SPOTS...
Click here to see the Dream House movie schedule

Photos from Universal Pictures

Are you sure you want to delete this list?

Load More Stories