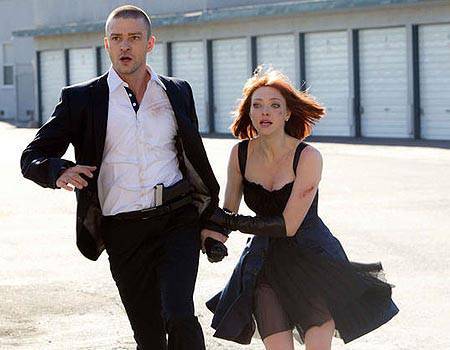 In Time stars Justin Timberlake and Amanda Seyfried
(SPOT.ph) Though it has the provocative themes and intriguing ideas which are the hallmarks of his earlier opuses like Gattaca and The Truman Show, writer/director Andrew Niccol's futuristic new sci-fi thriller, In Time, doesn't measure up to those sublime efforts. Though it starts out tantalizingly as it establishes a world where time-and not money-is the true currency, In Time loses steam way before its climax, devolving into a conventional outlaw movie a la Bonnie and Clyde.
ADVERTISEMENT - CONTINUE READING BELOW
Watch the trailer
Ghetto dweller Will Salas (Justin Timberlake) lives in the near future, in a USA where time is literally money, and where most men and women only get to live until they are 25 years old. Anyone who wants to live longer than that will have to earn, steal, or inherit more time. One day, however, Will receives 100 years from the wealthy Henry (Matt Bomer), who dies minutes after the transaction. Suddenly rich, Will decides to live it up in the ultra-exclusive New Greenwich zone, not knowing that he's become the object of a manhunt as a result of Henry's "murder." As the law closes in on Will, he takes the wealthy Sylvia (Amanda Seyfried) hostage, triggering events that turn them both into fugitives. As the police try to catch them, Will and Sylvia become lovers and attempt to bring down a system where the disadvantaged masses are killed so that the wealthy may live.
Appropriately enough for a movie that was made during troubled times for the US economy, In Time presents one of the drabbest depictions of the near future I've seen in a  Hollywood sci-fi flick in years. There's none of the smoky, neon-lit eye-candy that made Blade Runner such a dazzler, for example. Also absent are the gleaming, high-tech highways and shiny flying cars seen in Minority Report and Back To The Future Part 2. What you will see in In Time is a future that looks like an uninspired extrapolation of the financially-troubled USA of today, where street lights in derelict neighborhoods are amber-colored and the playground of the fabulously wealthy looks very much like the interior of today's five-star hotels. What's good about this approach to the film's production design is that it paints a familiar, relatable world that doesn't distract viewers from focusing on the film's very human narrative. With sets and costumes that look almost contemporary, there's nothing about In Time that looks fake. The caveat, however, is that In Time turns out to be quite the dull-looking sci-fi flick, one that's devoid of the extravagant cityscapes and visual effects set pieces that would compel you to see it on the big screen.
ADVERTISEMENT - CONTINUE READING BELOW
What In Time lacks in visual appeal, however, it partly makes up for in terms of its very  provocative ideas. Like the best science fiction stories, In Time prompts viewers to ask how they would survive if they traded places with the film's protagonists. This is a depressing, fast-paced world where time IS gold, where a cup of coffee will cost the customer four minutes of life, a luxury car, a mind-numbing 56 years. The best part of the film is in fact the first half, which establishes writer/director Andrew Niccol's disturbing alternate reality. It's a world where every second is a matter of life and death for a mother and son, where thieves are called Minute Men and policemen are called Time Keepers.
Normally, a cops-and-robbers subplot would add excitement to a movie. In the case of In Time, however, the opposite is true. When the Time Keepers are brought in to capture the outlaw couple played by Timberlake and Seyfried, the movie becomes just another fugitive movie, one that loses much of the uniquely dystopian flavor that made the first hour so compelling. It's like Niccol crammed all his brilliant ideas in the first half and had nothing left for the second. For a film that does such a terrific job illustrating how valuable time is in its first half, it's sad that its conclusion should feel like a waste of it.
ADVERTISEMENT - CONTINUE READING BELOW
RATING:  3 out of 5 Spots ...
Click here to see the movie schedule for In Time
Photos from 20th Century Fox
Share this story with your friends!
---
Help us make Spot.ph better!
Take the short survey
More Videos You Can Watch
Load More Stories