MOVIE REVIEW: Happy Feet Two
Will this animated sequel match its Oscar-winning predecessor?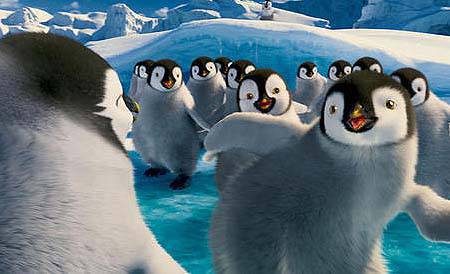 (SPOT.ph) Though it's ostensibly marketed as a family film, the new computer animated/live action hybrid Happy Feet Two isn't quite as easy to label or categorize. In addition to being an Antarctic adventure about a father-son penguin pair, it also has elements of a song and dance musical that mashes various musical genres together. The movie also espouses ideas about the vastness of the universe vis-a-vis the capacity of one tiny life form to make a difference in the scheme of things, a philosophy that wouldn't have been out of place in Terrence Malick's provocative, little-seen masterpiece The Tree Of Life. All these make Happy Feet Two one of the weirdest, most eccentric mainstream computer animated films ever made, the kind of kiddie film you can't imagine emerging from the hard drives of Pixar or Dreamworks Animation.
ADVERTISEMENT - CONTINUE READING BELOW
Watch the Happy Feet Two trailer

On the surface, the story seems typical of the genre: After being humiliated while attempting to dance like his father Mumble (Elijah Wood, reprising the character he voiced in the first Happy Feet), young Erik (Ava Acres) runs away from his penguin community in search of a place where no premium is placed on one's dancing skills. As he journeys with two other penguin friends, Erik meets a flying penguin named Sven (Hank Azaria) who teaches him that one can achieve anything he/she sets his mind to. As all this is happening, however, Erik, Mumble, and the entire penguin population in the South Pole are unaware of a looming catastrophe that could wipe out their entire community.

The plot seems simple enough, but co-writer/director George Miller includes characters and situations in the fold that give the sequel an off-putting tone, one that its Oscar-winning predecessor (Happy Feet won the Academy Award for best animated feature in 2007) didn't have. The scene early in the movie which establishes Erik's humiliation, for instance, is painful to watch, and could well be the first time a child character is shown urinating onscreen in an animated movie. The scene shows Erik attempting to dance like Mumble, but the awkward effort causes the chick to fall head-first into the snow, his tiny feet protruding from the ice. As he struggles to stand up, yellow urine whizzes out from between his legs, triggering gales of laughter from the other penguins. I understand that it's important to establish the trauma that motivates Erik to run away from the community at this point, but was it vital to show the poor penguin actually peeing? The only restraint that the filmmakers appear to have practiced in the shot is to not have the pee gush out at the audience in "immersive" Imax 3D!

Similarly off-putting is the gay subtext that's established between the two male krill-voiced by Matt Damon (Bill) and Brad Pitt (Will), who break away from their swarm with hopes of moving up the food chain and becoming more than just lunch for whales. At one point during their journey against the tide of convention, the Matt Damon krill asks the Brad Pitt krill if the two of them could adopt and raise a bunch of baby krill together. He then punctuates the suggestion by singing a line from the George Michael/Wham! song, "Wake Me Up Before You Go Go." As exasperated pop culture commentators exclaim these days, "Seriously?"

Age-inappropriate homoerotic gags and the sight of squirting urine aside, however, I still  enjoyed Happy Feet Two. I must admit, though, that this sequel's predecessor was far more rewarding than this outing, which feels like a mere rehash of ideas that were already brilliantly elaborated on in the 2006 hit. Also disappointing is the fact that Robin Williams has only three laugh-out loud quips this time around, and two of them are already in the trailer. Hank Azaria, one of the funniest voice talents in The Simpsons TV series (he voices Chief Wiggum, Comic Book Guy, and many others)-is surprisingly  unfunny here as Sven, the flying penguin with a secret. Similarly underutilized is the hilarious, hot-blooded Latina Sofia Vergara (TV's Modern Family) as Carmen, the penguin which Robin Williams' Ramon lusts after.   

Technically, however, Happy Feet Two is the picture of perfection. The sight of a penguin multitude dancing on the ice and billions of krill swarming in the ocean, coupled with a soundtrack that quotes songs by Janet Jackson, Michael Jackson, Rick Astley, and many others, make Happy Feet Two a resplendent, virtual feast of sight and sound, especially when experienced in Imax 3D.


ADVERTISEMENT - CONTINUE READING BELOW
RATING:
3 out of 5 Spots for the 2D version •••
3½ out of 5 Spots for the Imax 3D version •••.                

Click here to see Happy Feet Two's movie schedule
Images from Warner Bros. Pictures
CONTINUE READING BELOW
Recommended Videos
Share this story with your friends!
---
Help us make Spot.ph better!
Take the short survey
Load More Stories