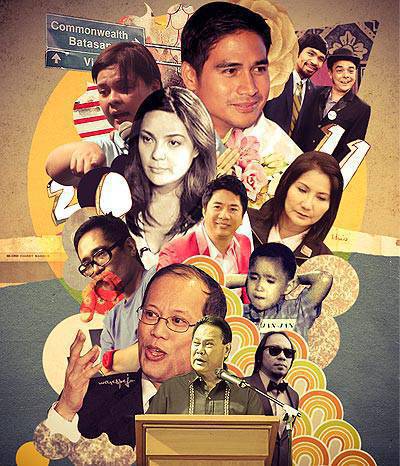 (SPOT.ph) It's the start of the New Year so here, in no particular order of importance or notoriety is the obligatory list of people and events that made 2011 a year we'd rather forget:


THE PRESIDENTIAL PORSCHE. Happened at the start of 2011. Oh, all the jokes and the puns involving the "Daang Matuwid" slogan. But in the face of P-Noy's miserable romantic life which he had so lyrically compared to Coke Light first then to Zero, I say: bring back the damn Porsche.
ADVERTISEMENT - CONTINUE READING BELOW


THE DUTERTE FIST AND FINGER INCIDENT. The offspring of the so-called "Punisher" showed how local executives should deal with "erring" officials. If not with closed fists, then with an outstretched middle finger. Hey, we never ever mess with family traditions.


THE DOMINGUEZ CARNAP SYNDICATE. Thirty-one cases of carnapping and carjacking were reported in January 2011 alone, temporarily making Metro Manila a city full of paranoid car-owners. But it was not without reason: we saw a spate of brand spanking new SUVs vanishing right inside garages or swiped from hapless drivers at gunpoint. To make matters worse: images of burned corpses (whether or not they were carjack victims or two-timing syndicate members was immaterial - a burned corpse always sends the most terrifying of messages). For a time, car sales dipped. But it was a choice between that or dealing with asshole cabbies. And we'd surely want to douse them with kerosene.


THE JANJAN INCIDENT ON WILLING WILLIE. Since we have yet to become a Tivo society, this thing would not have blown up if someone didn't post it on social networking sites. Lesson #1: the Internet does not clear away its dirty dishes.


THE "KILLER HIGHWAY." They are not really accidents if the reason is stupidity. Intelligent people use the overpass. They do not play hopscotch with vehicles zooming at 100 kph-under the cloak of midnight. But beyond that, there was a string of ghastly accidents involving buses and motorcycles. For a time there, we said to ourselves: who needs the RH Bill and population control when you've got Commonwealth Avenue?


THE LIGOTS AND VALIUM. Especially Mrs. Erlinda, who demonstrated to the Senate blue ribbon committee and the rest of the world the limitless pleasures of diazepam. "Naka-Valium po ako" will forever resonate throughout the Senates hallowed history.  It would be on the same exalted plane as Hayden Kho's "Super hawwwwt!" and Sen. Lito Lapid's noble question in the RH Bill debate: "Bakit noong nagkaroon ng family planning, nagkakaroon ng triplets, four-plets?"
ADVERTISEMENT - CONTINUE READING BELOW


P-NOY CORONA TRADING BARBS. A showdown between the executive and the judiciary. It's about time. Next we'd like to see: a real-life, honest-to-goodness royal rumble like what they do in South Korea and Taiwan. Maybe this county might finally get somewhere.


THE FLOODS. And speaking of medieval, nothing sweeps this country right back to the Dark Ages than a typhoon  for which we seem to remain perpetually unprepared. You could say that that scene in Calumpit, Bulacan-where residents waded in knee-deep water for weeks-has no place in a modern society. But then again, the same thing happened in Thailand and Australia, which are hardly Third World states. Climate Change does not discriminate, after all.  And if we believe the doomsday prophets, we're all gonna die December this year.  Those blasted Mayans.


THE MITSUBISHOPS. Like a complex, overwrought detective novel with a singular antagonist, in a way, you could say that the majority of the controversies that haunted us in 2011 can be traced right back to GMA.  But now those wheels-massively run-down due to punishing provincial terrains-remain in the parking lot of the PCSO.  Oh, those poor, honest, but proud clerics. Which brings us to...
ADVERTISEMENT - CONTINUE READING BELOW


THE RH BILL DEBATES. In the face of a seemingly trenchant and less pliable populace, the Catholic Church was on the offensive, because offense is the best defense. Oh, how we miss Cardinal Sin. My friend the historian Xiao Chua was right when he said that at least when Sin was pontificating, the man always had a healthy sense of humor.  Though I don't think Sin would have said, "There's always Commonwealth Avenue." And I don't think Sin would have cautioned the faithful against giving Angry Birds toy items as Christmas gifts.
THE FALL OF THE TYRANTS. One by one, they fell. They who once upon a time seemed high and mighty and seemingly eternal. From the long-time dictators swept out by the so-called Arab Spring to Osama Bin Laden. Kim Jong Il not counted, because he had an immediate replacement, his lardy and doughly little lad, Kim Jong Un, who indeed fits the title of "Supreme Commander"...of donuts.
ADVERTISEMENT - CONTINUE READING BELOW


Back here, our own version of the Supreme Commander of donuts, lechon, and ice cream refused to attend the senate investigations after being accused of selling second-hand choppers to the PNP. A more curious sight than King Jong Un's double chin is the former First Gentleman pleading for public sympathy. And the words "Palparan"and "WANTED" in the same headline.


PACQUIAO-MARQUEZ PART 3. And eventually, 4, 5, 6, 7, 8, 9, 10, all the way up to 56 when both are wrinkly and more bloated.  Though, the real winner, by unanimous decision and still the undisputed Mrs. Pacquiao...Jinkee. But the poor woman after being haunted by rumors of her husband's habitual infidelity, now stands accused of this question after appearing impossibly beautiful on a magazine cover: "Salamat, doc o salamat, Photoshop?"
KC-PIOLO. That tearful interview on The Buzz needed no subtitles.  To use the words of a Zen master,  it said nothing and everything at the same time. Oh, and by the way, last year, the world said goodbye to the Czech Republic's favorite dissident and leader Vaclav Havel. I looooove his name.  "Havel." Sounds like "havey." "Vaclav." Sounds like.... "Baklava" Who wants dessert?
ADVERTISEMENT - CONTINUE READING BELOW


GMA AT THE AIRPORT. GMA in the hospital. GMA in Robocop's-style neck brace. GMA and that annoying now of testicular fame. GMA. Period.
Artwork by Warren Espejo
Share this story with your friends!
---
Help us make Spot.ph better!
Take the short survey
More Videos You Can Watch
Load More Stories