A Mother's Story: Pokwang as the Modern Pinay Heroine
Pokwang's latest film is "possibly her best work ever," says our SPOT.ph blogger.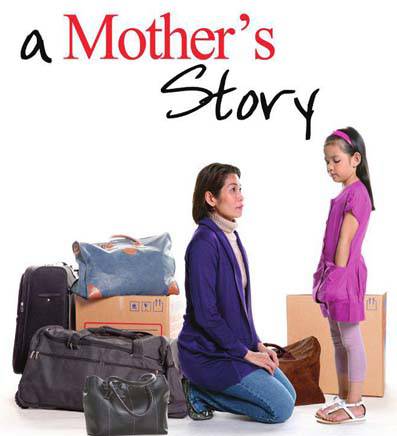 (SPOT.ph) I've always kind of liked Pokwang, although I cannot tell you why. In any case, I went to see her new movie A Mother's Story on opening day because I was looking forward to forgetting all about the recently concluded Metro Manila Film Festival-after all the in-fighting and the righteous mudslinging, the bad acting, and the random "kutis ganda" awards. I felt that I was starting the year right by supporting my favorite acting comedienne in her first really big role as an OFW who leaves her family to work as an illegal alien in California. Successfully screened in North America, Europe and (possibly) the Middle East for the balikbayan/OFW market, A Mother's Story has been released in the Philippines by ABS-CBN. Produced by The Filipino Channel, ABS-CBN's global arm, A Mother's Story is done in the great tradition of heavy handed Pinoy melodrama (that is, iyakan galore and yes even a sampalan scene)-but highlights the OFW experience in a way that's full of heart.

Medy Santos (Pokwang) is a makeup artist who works hard to feed her kids and support her
semi-useless gambling husband Jerry (Nonie Buencamino). An opportunity brings her to the U.S. where she bumps into her old friend Helen (Beth Tamayo) who convinces her to stay in the U.S. and find work so she can send money home to the family. Medy, torn by love and necessity, decides to stay as an illegal alien in California where she ends up as a domestic helper for uppity white people (BMW-driving lawyers, go figure) who basically start out nice then eventually treat her like shit. After seven years of working abroad, Medy comes home to her aging mother Choleng (Daria Ramirez in fine form), only to find her son King (Rayver Cruz) angry and resentful and her husband spending his nights away from home. Only daughter Queenie (Xyriel Manabat) loves her poor momma with a child's uncomplicated acceptance of why things are the way they are.


ADVERTISEMENT - CONTINUE READING BELOW
Watch the trailer


I must warn you, in the entire second half of this movie everyone is crying on screen. There will be criers in the audience too, so bring your tissues. Strangely enough I sat dry-eyed throughout, possibly too distracted by the omnipresent and unfortunately cheesy film score. (Although I must admit, I was bawling during the trailer which I had seen last December.) A Mother's Story is a tear jerker extraordinaire but real poignancy can be found in the relatively smaller moments: Pokwang hugs a Snowman in the basement storage room where she sleeps, the tear that falls from Rayver's eyes as he packs a balikbayan box with his mom, the look on her face as she hands her husband the annulment papers and walks away without making a scene. While this movie suffers from sloppy filmmaking (not a single decent transition, weird sound, and people in the background waving at the camera)-the story, written by Senedy Que, is both real and relevant. This is only one in millions of other stories about mothers and fathers, sons and daughters who all have to leave so that their loved ones left behind can have a chance at a better life.
CONTINUE READING BELOW
Recommended Videos
Fortunately for Pokwang, this is the role of a lifetime and possibly her best work ever. Her kind of dramatic acting isn't mannered and over-the-top; Pokwang is a natural because she knows instinctively about good timing. Ever the comedian, she can hide pain behind humor but manages to tap into her own personal tragedy for this role. Working as an OFW before her foray into showbiz, Pokwang had to leave behind a young child who died while she was working in Abu Dhabi. She couldn't come home when she lost her son and her marriage dissolved. Who knew that one day Pokwang, Marietta Subong in real life, would make a movie that mirrored her personal journey-and laugh all the way to the bank. In the end, she wins.


ADVERTISEMENT - CONTINUE READING BELOW
BTS video of A Mother's Story
Share this story with your friends!
---
Help us make Spot.ph better!
Take the short survey
Load More Stories