MOVIE REVIEW: Sherlock Holmes: A Game of Shadows
The Robert Downey starrer, says our SPOT.ph movie reviewer, is "a well-oiled sequel."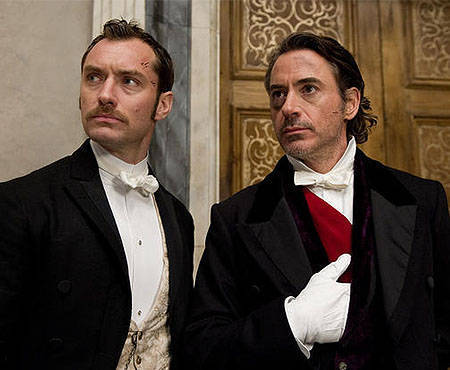 Jude Law and Robert Downey Jr.
(SPOT.ph) Throughout the run of the Metro Manila Film Festival, it was fairly common to hear moviegoers ask, "Wala pa bang English?" when they arrived at the multiplex and saw only local fare being screened. With Sherlock Holmes: A Game of Shadows, fans of "English" Hollywood flicks will be served not just English-they're also in for a very European concoction consisting of French, German, Swiss, and even "gypsy" flavors to satisfy their appetite for big-screen spectacle. Smart, witty, and technically impeccable, A Game of Shadows is a potent period adventure, a sequel which I enjoyed even more than its already satisfying predecessor.
Watch the trailer
It's 1891 and super sleuth Sherlock Holmes (Robert Downey Jr.) is on the trail of his arch nemesis, Professor James Moriarty (Jared Harris). Holmes has deduced that a clutch of seemingly unrelated murders in China, India, and other parts of the world are actually strands of a web of conspiracy spun by Moriarty himself, who has plans to usher in a world war. In an attempt to thwart Moriarty's evil scheme, Holmes enlists the aid of the ever reliable Dr. Watson (Jude Law), just as the good doctor is about to tie the knot. But even before Watson can go on his honeymoon, he and Holmes find themselves entangled in the affairs of a fortune-telling gypsy named Madam Simza Heron (Noomi Rapace), whose missing brother is connected to Moriarty's nefarious plot. Will Holmes be able to save the world from a man whom even he admits to being intellectually inferior to?
ADVERTISEMENT - CONTINUE READING BELOW
One simple reason why this sequel is better than its predecessor is that it's a lot easier to understand what Downey, as Holmes, is saying this time around. I only understood half of the actor's lines in 2009's Sherlock Holmes, his thick British inflections too much for my Hollywood-reared brain to decipher. Apparently, there was enough of a clamor from moviegoers the world over to convince the filmmakers that the Iron Man star's line delivery could be much improved. And so, when Downey/Holmes expounds on such things as graphology and fortune telling in Sherlock 2, I could actually decipher what he was saying, rather than have to ask my companion to "translate" what was said.
CONTINUE READING BELOW
Recommended Videos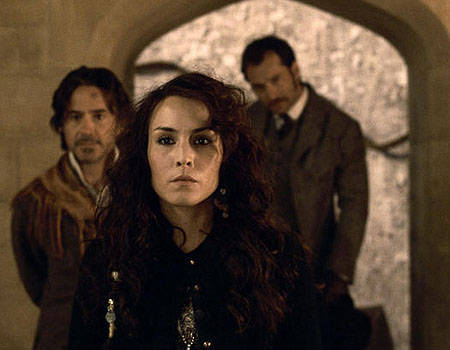 Noomi Rapace joins the cast of Sherlock Holmes 2
Another reason I couldn't take my eyes off of director Guy Ritchie's well-oiled sequel is the addition of the spicy Noomi Rapace to the cast. Rapace, who became a breakout star playing the title role in the original Swedish film version of The Girl With The Dragon Tattoo, is an intriguing addition to A Game of Shadows, giving it a strong, multicultural flavor that Rachel McAdams-the previous film's leading lady-could never have provided. Do not, however, expect to see any of the frank nudity that Rapace treated audiences to in Dragon Tattoo. In A Game of Shadows, the only nudity you'll see is of the male variety, and it's not done to arouse prurient interests, but rather, to make moviegoers howl with laughter.
ADVERTISEMENT - CONTINUE READING BELOW
This and other comedic barbs aside, however, A Game of Shadows is quite a serious affair. That's due in large part to the superb portrayal of Holmes' nemesis Moriarty by Jared Harris, who plays the cool and calm criminal genius with veiled menace, like Hannibal Lecter minus the cannibalism. Unlike the usual Hollywood baddie, Moriarty uses book learning, hypnosis and the law of supply and demand to advance his schemes. And just like the aforementioned Hannibal Lecter and Al Capone (as played by Robert De Niro in The Untouchables), he's the sort of villain who enjoys an evening at the opera while his minions destroy his enemies. He also isn't immune to the delights of using torture to obtain information from opponents. So good is Harris as the villain that he and Downey succeed in making a scene where they're merely reciting chess moves crackle and pop with unnerving tension. As a fan of Arthur Conan Doyle's enduring sleuth stories, I was thrilled to no end that Harris had created a Moriarty who was way more chilling than the one I imagined in my head when I first discovered Holmes' exploits.
Fans of the books will also be intrigued to know that Switzerland's Reichenbach Falls are  in the movie. If you're enough of a Sherlock fan to know the significance of that locale in Holmes lore, you won't be disappointed by what takes place in its turbulent waters in the film. All told, Sherlock Holmes: A Game of Shadows is a winning blend of murder, mystery, and mayhem that's irresistible. When that final punctuation mark is typed on a piece of paper at the end of the film, it's safe to say that Sherlock Holmes 3 is one sequel you'll actually be looking forward to as you leave the theater.
ADVERTISEMENT - CONTINUE READING BELOW
Rating: 4 out of 5 Spots ••••
Click here to see the Sherlock Holmes: A Game of Shadows movie schedule
Photos from Warner Bros. Pictures

Share this story with your friends!
---
Help us make Spot.ph better!
Take the short survey
Load More Stories