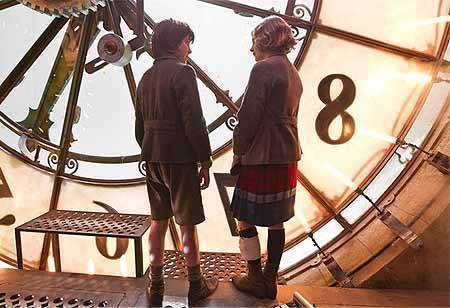 Hugo is  Martin Scorsese's first family-friendly film
(SPOT.ph) Enchanting and entrancing, luminous and illuminating, Hugo is Oscar-winning director Martin Scorsese's first foray into family-friendly, 3D filmmaking. A heartfelt, passionate love letter about the fragile beauty of early escapist cinema, Hugo is must-see viewing in 3D. Currently playing to near-empty movie houses, it'll be a miracle if the miraculous Hugo will still be in Manila's multiplexes beyond Tuesday, February 21.
ADVERTISEMENT - CONTINUE READING BELOW
Watch the trailer
Based on Brian Selznick's bestselling children's book "The Invention of Hugo Cabret," Hugo is set in 1930s Paris. The film follows clock-fixing orphan boy Hugo (Elijah Wood lookalike Asa Butterfield) and his book-loving female friend Isabelle (Let Me In's gifted Chloe Grace Moretz) as they try to find the connection between the wind-up automaton Hugo's late father (Jude Law) left behind and the heart-shaped key in Isabelle's possession that brings it to life. As they piece the puzzle together, they are drawn into the sad life of a forgotten movie magician who gave the world its first fantastic films.
As befitting a film that celebrates cinema, Hugo is stuffed with everything we love about the movies.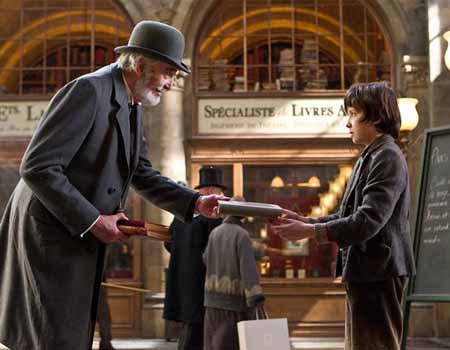 Asa Butterfield also stars in Hugo
You want to be transported to another time and place? It doesn't get any better than Martin Scorsese being given $170 million to turn back the clock and put onscreen, in 3D,  his dreamy, romanticized portrait of pre-World War II Paris. Being the cinema-worshipping film craftsman that he is, Scorsese commences Hugo with a breathtaking money shot: from the skies above the Eiffel Tower, his camera swoops down from the clouds, glides through the wall of a busy train station, then whizzes past passengers heading for their trains. The uninterrupted bravura shot finally ends when the camera  finds the eye of our hero, observing his small piece of the world from behind one of the station's many huge clocks. And that's just the first minute of the film. As Hugo and Isabelle embark on their adventure, they find themselves in colorful eateries, a cavernous library, steam-filled corridors, and scary cemeteries. (With all of Hugo's innumerable visual stunners, it's a shame it wasn't released in Imax.)
ADVERTISEMENT - CONTINUE READING BELOW
You want romance? There's love in Hugo for both the very young and the very old. The verbal sparring matches between Isabelle and Hugo, in which they try to outdo one another in terms of the vastness of their respective vocabularies, is one of the script's many treats. For the older set, there's a flirtatious romance featuring two character actors from the Harry Potter movies, one that itself gives rise to a romance between a pair of four-legged creatures.
You want comedy? Sacha Baron Cohen (Borat) is a riot as the bullying train inspector who uses a mean doberman to capture his avowed arch-enemies, orphans! His slapstick routines, which pay homage to silent comedy greats like Charlie Chaplin and Harold Lloyd, are on crowd-pleasing display here, as are his amusing facial tics and unique way with line delivery. The film's funniest moment has Cohen faking a smile, its best line a lie he tells his love interest, played by Emily Mortimer.
ADVERTISEMENT - CONTINUE READING BELOW
All these ingredients, however, are there merely to serve the main story, and what a wonderful, poignant story Hugo reveals itself to be. Beyond being about a once-celebrated filmmaker who finds himself forgotten by the public, Hugo also handles such human fears as aging and "being broken" profoundly and poetically, using such cinema staples as destructive chase scenes, hilarious comic pratfalls, powerfully moving performances and shocking dream sequences in what ultimately adds up to one dream of a movie.
Rating: 5 out of 5 Spots •••••
Check the schedule for Hugo
Photos from Paramount Pictures

Share this story with your friends!
---
Help us make Spot.ph better!
Take the short survey
More Videos You Can Watch
Load More Stories