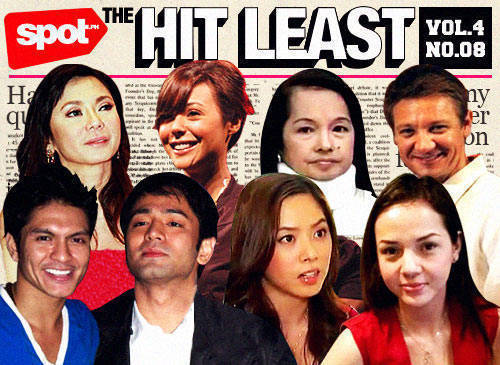 1. FORMER PRESIDENT GLORIA MACAPAGAL-ARROYO SAYS SHE'S UPSET OVER ELECTORAL SABOTAGE CHARGE, PLEADS "NOT GUILTY." If she entered a guilty plea, it would have signaled the Apocalypse.
2. MALACAÑANG SAYS THERE'S NOTHING WRONG ABOUT THE PAGCOR CHIEF ACCEPTING FREEBIES FROM A JAPANESE CASINO TYCOON WHO WANTS TO DO BUSINESS IN THE PHILIPPINES. If a guy lets you stay in a $6,000-a-night hotel room for free, you must check your breathing pattern-as it becomes erratic when your barely used conscience tries telling you that you're in deep shit.
3. IN THE WAKE OF ANOTHER YOUNG MAN DYING FROM ALLEGED HAZING INJURIES, SOME PEOPLE STILL INSIST THAT THE PRACTICE PROMOTES BROTHEHOOD. Only if your brother is Satan.
4. AROUND 800 INMATES OF THE QUEZON CITY JAIL CONDUCT A NOISE BARRAGE TO PROTEST A GANG LEADER'S TRANSFER TO CAMP BAGONG DIWA IN TAGUIG. Now, that's brotherhood! (We bet they all think hazing's a good thing, too.)
ADVERTISEMENT - CONTINUE READING BELOW
5. LATEST CORONA IMPEACHMENT TRIAL MELTDOWN: SENATOR JUAN PONCE ENRILE GETS MAD AT THE PROSECUTION TEAM, ASKS REP. NIEL TUPAS, JR., "DO YOU WANT ME TO LECTURE TO YOU MORE?" Nearly one month into the impeachment trial, somebody still hasn't learned to just shut the hell up.
6. THE BOURNE LEGACY'S JEREMY RENNER WEARS A BARONG AND CARGO PANTS WHEN HE PAYS A COURTESY CALL TO P-NOY. OK, you're cute...but that ensemble belongs to the hurt locker.
7. HAYDEN KHO, JR.-WHOM DR. VICKI BELO ACCUSED OF BEING INVOLVED WITH ACTRESS NANCY CASTIGLIONE-FIGHTS BACK BY ACCUSING BELO OF CHEATING ON HIM WITH .YOGA INSTRUCTOR ALJARREAU GALANG. When telenovelas are desperate for ratings, they suddenly introduce new characters to spice things up.
8. AFTER HAYDEN KHO JR. AND DR. VICKI BELO'S TWITTER MELTDOWNS, SHOWBIZ SCRIBE RICKY LO REPORTS THAT THEY'VE KISSED AND MADE UP. Now for the good news: Kho has quit Twitter and has abandoned his plans to get involved in showbusiness again. (Plus, there haven't been any video leaks...yet.)
9. SAM PINTO IS ASKED IF SHE HAS HAD ANY PLASTIC SURGERY, SHE SAYS SHE HASN'T. This is how far we've come as a civilization: If you see a gorgeous woman immediately ask her if she's been surgically enhanced.
10. DJ ANGELICOPTER GETS TERMINATED, MAGIC 89.9 MANAGEMENT SAYS GRACE LEE HAD NOTHING TO DO WITH IT. Unfortunately, each time a statement like this is made, there are people who prefer to think otherwise.
Art by Warren Espejo.
ADVERTISEMENT - CONTINUE READING BELOW
Share this story with your friends!
---
Help us make Spot.ph better!
Take the short survey
More Videos You Can Watch
Load More Stories