Hayden Kho and Vicki Belo "kiss and make up," Grace Lee vs. Angelicopter + more lowlights
Plus, Jeremy Renner's fashion gaffe and other crazy tales.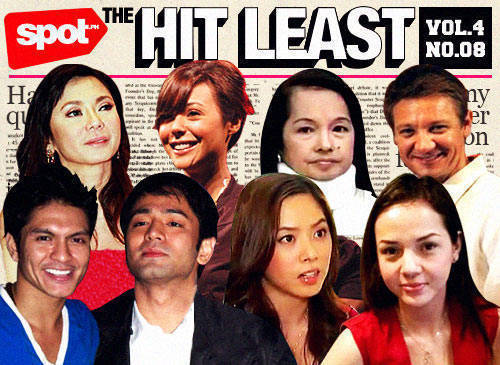 1. FORMER PRESIDENT GLORIA MACAPAGAL-ARROYO SAYS SHE'S UPSET OVER ELECTORAL SABOTAGE CHARGE, PLEADS "NOT GUILTY." If she entered a guilty plea, it would have signaled the Apocalypse.
2. MALACAÑANG SAYS THERE'S NOTHING WRONG ABOUT THE PAGCOR CHIEF ACCEPTING FREEBIES FROM A JAPANESE CASINO TYCOON WHO WANTS TO DO BUSINESS IN THE PHILIPPINES. If a guy lets you stay in a $6,000-a-night hotel room for free, you must check your breathing pattern-as it becomes erratic when your barely used conscience tries telling you that you're in deep shit.
ADVERTISEMENT - CONTINUE READING BELOW
3. IN THE WAKE OF ANOTHER YOUNG MAN DYING FROM ALLEGED HAZING INJURIES, SOME PEOPLE STILL INSIST THAT THE PRACTICE PROMOTES BROTHEHOOD. Only if your brother is Satan.
4. AROUND 800 INMATES OF THE QUEZON CITY JAIL CONDUCT A NOISE BARRAGE TO PROTEST A GANG LEADER'S TRANSFER TO CAMP BAGONG DIWA IN TAGUIG. Now, that's brotherhood! (We bet they all think hazing's a good thing, too.)
Recommended Videos
Load More Stories