FOOD REVIEW: Nolita at Bonifacio High Street Central
JJ Yulo's verdict: Authentic New York-style pizza that brings him back to the Big Apple...kind of.
Nolita
7th Avenue, corner 31st Street, Bonifacio High Street Central
Taguig City
Tel. No. 0917-532-2612
(SPOT.ph) Once upon a time, I got to spend some time in the Big Apple.
The one thing about living in New York City, whether you visited there for a week or lived there for 10 years, is that it's presence never quite leaves you. Ask anyone who's been there-they can probably still see the streets, teeming with people rushing to and fro. They can still smell the smells, both good and bad. They can hear the hum of the city, of construction, of chatter, of progress. In their mouths, they most certainly can taste the food.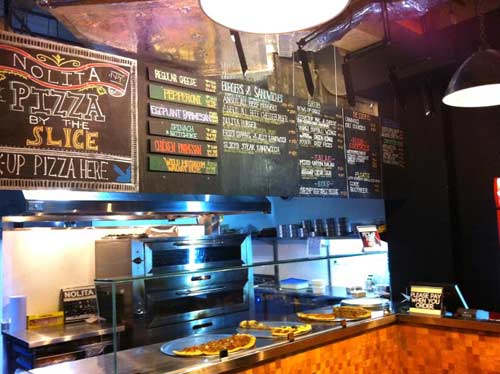 Like many other hip establishments, the menu is written on a blackboard.
I'm not even talking about the delicious grub found in the thousands of restaurants strewn across the city and its boroughs (that is, of course, a given!). No, it's the every day stuff that also sometimes haunts you. The bagel smeared with flavored cream cheese...or that classic cart bought hotdog...or that in your face halal plate...or that horrible coffee you can buy in every street corner-the placebo you sip after a long night...and of course, there is the pizza slice, or simply, the slice.
ADVERTISEMENT - CONTINUE READING BELOW
Everyone has their own favorite slice joint, and everyone munches on it more often than they will care to admit. It's one of the city's most famous (and cheapest) comfort foods, an irresistible treat of crunchy thin crust, ooey gooey cheese, and various toppings (I'm a mushroom guy myself!)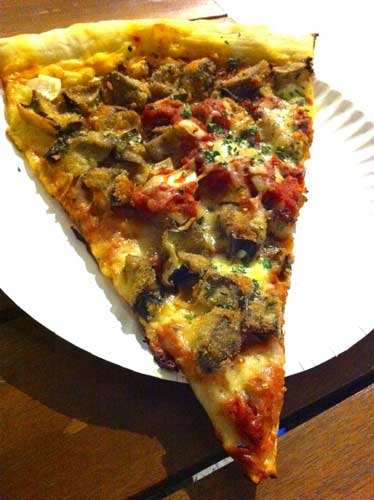 Eggplant parmesan pizza
CONTINUE READING BELOW
Recommended Videos
Places all over the world have tried to copy it, of course, but somehow I haven't come across a version that remains faithful to it. Not to say that pizza elsewhere is not good-that would be preposterous!-I just haven't had a slice that really brings me back to a sidewalk in New York, greedily munching, with oil slightly dripping on my arm. That is until surprisingly I came across one that kind of did...in the middle of Fort Bonifacio.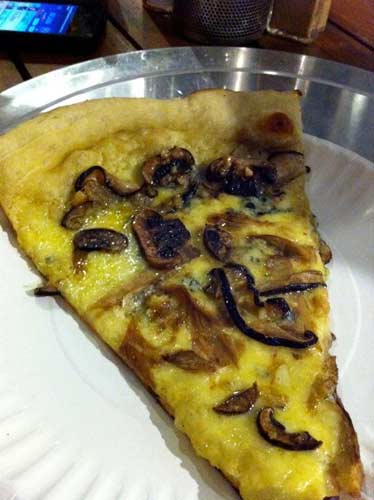 ADVERTISEMENT - CONTINUE READING BELOW
Mushroom and bleu cheese pizza
Nolita is a pizza and burger joint located at the swanky new digs of High Street. It's a small and casual space, not really built for much lingering, though you pretty much could if you wanted to. Their menu is written on a blackboard, as is done in a lot of hip establishments these days. Reading it guarantees your stomach singing a chorus of sweet grumbles-or at least your interest will be piqued.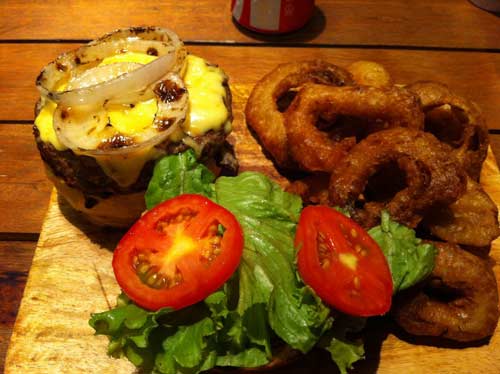 Cheese burger and onion rings
Just like in a Manhattan slice joint, there's some pizza laid out in front of you on the counter and calling your name. Talong is my love, so one slice had to be eggplant parmesan. The other slice was a mushroom and blue cheese combo. The first thing that gets to you will be its pricing, which may seem a little on the high side (P230 or so on the average for a huge slice). I couldn't help but compare it to NYC where you can get a decent slice for a dollar, but then again, this is an Ayala property where rent is crazy. I say don't worry-all that will be forgotten once your teeth sink into it. The crust was crunchy in some parts, smoky even, and yet still pliable, plus it came with a good amount of cheese and toppings. If anything, this instantly put a smile on my face and is hands down the jewel in Nolita's crown.
ADVERTISEMENT - CONTINUE READING BELOW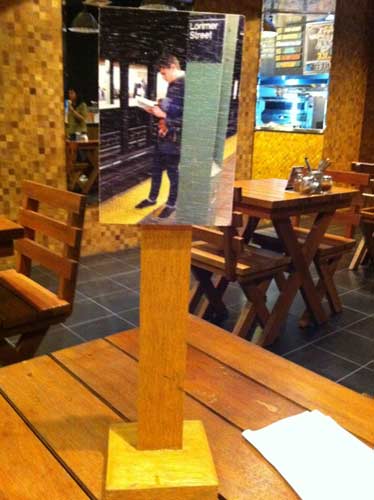 A cool number card
The Angus burger, on the other hand, needed quite a bit of work still. When asked for doneness, I asked for medium rare-a degree of doneness that hardly anyone but a select few really bother to do properly around these parts, and knowing that if it goes beyond (which it almost always does) it'll still wind up a bit pink, which is fine by me. Sadly, it showed up gray and dry-which also probably meant that their patty also lacked the amount of fat needed to produce the juice. Too bad, because all the other elements were okay-bread held up well, fries and onion rings were nice and crispy, and veg fresh. Nothing to really worry about, however, as all it takes to remedy this are some slight adjustments in the kitchen.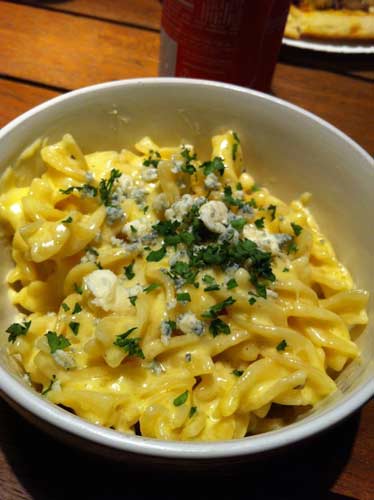 ADVERTISEMENT - CONTINUE READING BELOW
Mac and cheese
The mac and cheese was okay-made with what looked like fusilli (a twisty shaped pasta), cheddar cheese sauce and bits of bleu. I like bleu cheese as much as the next person, but I kinda wished there was less of it here, as it overpowered the sauce.
Rounding out the menu is some chili, a fried peanut butter and jelly sandwich (channeling your inner Elvis), a couple of salads, a cheesesteak, and cannoli for dessert (a cream filled Italian pastry), as well as some beers and cocktails.
Nolita is a welcome addition to the Fort's eating landscape, and is worth a trip to check it out. Come after a nice run and load up on carbs and protein to pep you up after all that sweating!
Rating: 3 out of 5 Spots •••
Photos by JJ Yulo
Read more about Nolita here.

Share this story with your friends!
---
Help us make Spot.ph better!
Take the short survey
Load More Stories