J. Co Donuts & Coffee
Ground Floor, Megastrip B
SM Megamall
Open from 8 a.m. to 10 p.m. (Weekdays); 8 a.m. to 12 m.n. (Weekends)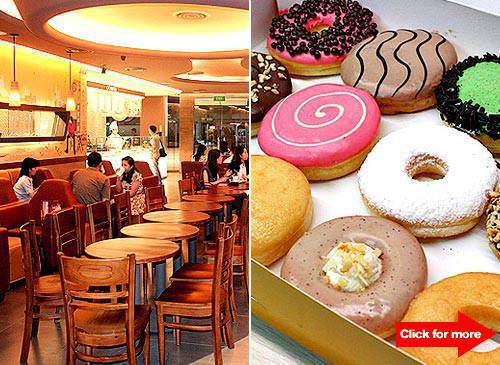 A new haven for your sweet tooth. Click for more.
(SPOT.ph) Many people who've traveled to Singapore already have a passing familiarity with J. Co, the doughnut stop with branches in Raffles and Bugis Junction. "In fact, many people have this idea that J. Co is from Singapore," says Alvene Ngo, a marketing officer of J. Co, which just opened its first Philippine branch this month. So it's a bit of surprise to find out that J. Co is actually from Indonesia; a marked contrast with the other major doughnut franchises in the country, which all usually hail Stateside.
An off-the-beaten track origin is not the only surprise this brand-new doughnut franchise offers. The interiors themselves have a modernist elegance you don't usually associate with the grab-and-go nature of the pastry itself. The plush chairs, amber lighting, and dark brown accents invite one to settle into a chair and stick around, especially when faced with the ton of doughnut choices on display. Not only that, but the store also offers two separate counters-one for the doughnuts themselves, and another for beverages and a yoghurt bar.
ADVERTISEMENT - CONTINUE READING BELOW
The choices can seem overwhelming-over 30 in all-but they all share common traits. "All our doughnuts are soft, light, and less sweet than other doughnut offerings," says Trina Lim, Vice President for Operations. This is especially evident in the "shell" doughnuts (the kind with stuff inside); you would normally expect a chewy bread and a thick, custard-like filling inside. But bite into, say, the Heaven Berry (P42), and you'll be pleasantly surprised at the smooth, whipped strawberry filling, and a bread that seems to melt in your mouth. The filling is so smooth that drippage is almost unavoidable (for our taste test there, we went through a half a forest's worth of tissue paper). On the other end of the creaminess scale, though, is the Coco Loco (P42); its dense, chewy Belgian chocolate center makes it one of the more filling choices on display.
Standouts, though, should be the unique, adventurous flavors that J. Co is offering. The first, Green Tease (P42), is a bit of a left-field choice, and first bites will be off-putting. But like Green Tea Kit Kat, the chocolate-meets-green tea taste quickly grows on you. Another must-try is the Avocado DiCaprio (P42), which doesn't just have a quirky name, but a quirky flavor as well. The avocado isn't overpowering, and is smoothly complemented by the luscious ambience of the chocolate topping.
We would be remiss if we didn't mention J. Co's signature flavor, the Alcapone (P42). A standard doughnut ring topped with white Belgian choco, what truly transforms this dish is the generous heaps of roasted California almonds heaped on top. The full flavor and crunch of the nuts elevates this doughnut to our must-have list. "In all J. Co branches, this is the bestseller," says Trina, and it's hard not to see why.
CONTINUE READING BELOW
Recommended Videos
Over at the beverage-and-dessert counter, other small touches help J. Co stand out from the crowd. A custom-made chocolate wafer floats atop every J. Coccino (P115) cappuccino blend, and the swirl of latte art makes one almost regret ruining the presentation with a first sip. Like the doughnuts themselves, the J. Cool Yoghurt (P95, single serve; P140, couple) is a bit on the light side, but opt for yoghurt take-out, and you get a very cute and handy styro box to bring home.
With such an extensive menu, repeat visits to J. Co are in order. Thankfully, the brand itself is looking to expand-by the third quarter of this year, you should expect six J. Co branches located in major malls all across Manila, so getting your quirky doughnut fix should only be a short ride away.
Share this story with your friends!
---
Help us make Spot.ph better!
Take the short survey
Load More Stories