Dolphy's Life Lessons: 10 Wise Moves From the Comedy King
We list the lessons we learned from the larger-than-life funny guy.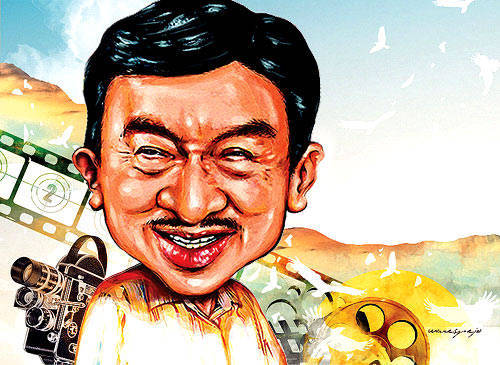 Rest in laughter, Rodolfo Quizon Sr. a.k.a. Dolphy (July 25, 1928 to July 10, 2012)

(SPOT.ph) It's been said that he who laughs last, laughs the loudest. Dolphy, who reigned as the country's King of Comedy for decades, is most probably having a good chuckle right now. He has checked out while we're all scrambling like mad to deal with his sudden exit. Imagine an impish little boy who has suddenly found the best hiding place ever just feeling amused that nobody can find him. Then again, at 83, the veteran comedian deserved to finally bow out and rest. As a tribute to his larger-than-life existence, we list the lessons we learned from the way he lived.
Artwork by Warren Espejo
Dolphy played working class heroes so well because he had been one of them before he became an actor.
10. Any job which doesn't involve robbing people is a good job. Before he became a Pinoy showbiz icon, Dolphy had built up an impressive blue collar resume. He had shined shoes, worked at a pants factory, hauled heavy loads at the pier, and driven a calesa. At one point, he even made money by sorting bottles.
ADVERTISEMENT - CONTINUE READING BELOW
Dolphy's work ethic was legendary.
9. Unless you're incapacitated, maimed, or no longer breathing, the show must go on. Dolphy was already appearing in shows at the Lyric Theater, as well as the Orient Theater and the Avenue Theater, during the Japanese Occupation. Sometimes, while he and his fellow performers were on stage, there would be air raids. Instead of stopping the show, they would simply run to the theater's air raid shelter while the explosions went on and get back on stage when the coast was clear (in a manner of speaking).
Not even age and the inevitability of death slowed down Dolphy.
CONTINUE READING BELOW
Recommended Videos
8. When possible, plan ahead. In his autobiography, Dolphy: Hindi Ko Ito Narating Ng Mag-Isa, Dolphy revealed, "Matagal na itong tsismis. I will confirm it. Mayro'n na nga akong kabaong bronze. No'n ko pa kinuha. Isa din ako sa kauna-unahang bumili ng family estate plan sa Loyola Memorial Park sa Marikina. (There has been talk about this for some time. I will confirm it. I've already picked out a bronze coffin for myself. I bought it a long time ago. I think I'm also among the first who bought a family estate plan Loyola Memorial Park in Marikina)." In an interview aired on GMA-7, Dolphy's grandson, Rowell Quizon revealed that the Comedy King had actually bought the bronze coffin way back in 1976.
ADVERTISEMENT - CONTINUE READING BELOW
Dolphy remained good-natured even when there were some people who were already announcing his death.
7. Remain levelheaded, even when there are people who seem to want you dead. In December 2010, Dolphy himself addressed death hoax ringleaders in a TV Patrol interview. He jokingly told them, "Ako, hindi ko masasabing mamamatay na 'ko. Kaya sinasabi ko, kanya-kanya tayong oras ng pagdating do'n. So huwag niyo kong apurahin, darating tayo dun (I can't say when I'll die. I say, we all have our own time when it comes to that. So, don't rush me, we'll get there)."
Dolphy said nice things to his ex, actress Alma Moreno.
6. Be genuinely gracious to your ex. According to a GMA News Online report, when asked how he felt about his ex, actress Alma Moreno, the mother of his son Vandolph, getting married to a Mindanao-based politician, Dolphy said, "I'm happy for her. Basta kinakailangan magsaya siya, di ba? Hanggat ika nga e may anghang pa tayo pareho-pareho, di ba (We need to be happy, right? As long as we all still have that 'heat,' right)?" And then, of course, he finished his statement with a laugh.
ADVERTISEMENT - CONTINUE READING BELOW
He may have starred in a 1955 movie called Gigolo, but Dolphy was always a gentleman in real life.
5. Never kiss and tell. Despite his romantic involvements, Dolphy was always a gentleman. In a segment in the book, Dolphy: Hindi Ko Ito Narating Ng Mag-Isa, he's asked why he broke up with actress Alma Moreno. He replied, "Tapos na 'yon, tapos na rin kami, huwag na lang nating ungkatin. Pwede n'yo siyang tanungin, kung gusto ninyo, pero walang manggagaling sa akin (That's done and over with and we're no longer together so let's not bring up the past. You can ask her about it if you want to, but nothing will come from me)."
Because of scenes that allegedly affected the Church, Dolphy's 2010 movie Father Jejemon got some flak. He faced the issue head on and said sorry.
4. When you make a mistake, own up to it and take the criticism like a man. In the wake of the brouhaha over certain "disrespectful to the Church" scenes in Father Jejemon (produced by his film company RVQ Productions), Dolphy didn't whine or ask for special treatment. He simply apologized for what was perceived as a "gaffe" on SNN, saying, "Nag so-sorry po ako...kung ayaw nila, aalisin (I am saying sorry...and if they don't like those scenes, they will be removed)." He was sincere, direct to the point, and followed through on his promise.
ADVERTISEMENT - CONTINUE READING BELOW
Dolphy worked hard for what he had.
3. Success doesn't come in a snap, so you have to start somewhere and keep going. Dolphy didn't earn his fame overnight. In 1947, when he was 19 years old, he got his first movie break when he was cast in Dugo at Bayan (I Remember Bataan), which starred Fernando Poe, Sr., father of another movie king, Fernando Poe Jr. It would be several years later before Dolphy was hailed as a star. He went on to play loveable underdogs such as John Puruntong and Kevin Kosme, and a host of others that showcased how brilliant he was at making the audience laugh and even cry. Dolphy was a comic genius, but he was also a force to reckon with when it came to drama.
Dolphy never dared to dabble in politics, even when he could have easily gotten elected.
ADVERTISEMENT - CONTINUE READING BELOW
2. Just because you're a big star, it doesn't mean you'll be a hit as a politician. Despite the clamor for him to run for office, Dolphy never did. A GMA News Online report points out one of the most popular anecdotes about Dolphy and politics. It seems that he was once asked if he would join politics, he said, "Huwag na. Natatakot ako (No, never mind. I'm scared)" When it was pointed out that he shouldn't be scared because he would surely win, Dolphy explained, "Doon ako natatakot, eh. Baka manalo ako. Madaling tumakbo, paano kung manalo (That's what I'm afraid of. That maybe I'd win. It's easy to run for office, but what do you do after you win)?"
Dolphy had one big happy family.
1. Never apologize for living by your own rules. Dolphy's life wasn't exactly conventional. All in all, he had 18 children with six women whom he had loved deeply. But he never got married. He would have wed his partner of 23 years, singer-actress Zsa Zsa Padilla, but health-related obstacles got in the way. Nevertheless, Dolphy said, "Ang pagsasama namin parang higit pa sa ikinasal (Our relationship is more than a marriage)." He lived life to the fullest and he always seemed to be having a great time. If there were spells of tragedy or sadness, he dealt with it without making anyone else miserable. As his son Eric Quizon put it, "Comedy is dead. Long live comedy." Thank you for the laughter, funny guy.
ADVERTISEMENT - CONTINUE READING BELOW
Share this story with your friends!
---
Help us make Spot.ph better!
Take the short survey
Load More Stories