MOVIE REVIEW: Brave
It's Pixar's first female protagonist. Was it a hit or a miss? SPOT.ph movie guru Paul Daza explains.
(SPOT.ph) A magical and mystical tale set in ancient Scotland, Brave is Pixar's very first animated feature with a lead female protagonist. The plot has tempestuous teen princess Merida (voiced by Kelly Macdonald) defying tradition and putting her family in grave danger as a result of her desire to change to her fate.
The trailer for Brave.
Pluses:
Those exquisite exteriors. Brave is at its most captivating and enthralling in the scenes where Merida is outdoors, whether its following enchanting will o' the wisps or riding her horse through the scenic mountains and lush forests of her kingdom. The beguiling 3D makes it all the more dazzling and immersive.
The captivating story. In addition to being its first movie with a female lead character, Brave is also Pixar's first fairy tale to be set in centuries past. Like the best fairy tales, this one keeps you enthralled and constantly asking, "What happens next?" Thank you, Pixar, for making Brave's trailer so nebulous that even those who've seen the trailers  more than once will still have no idea what the movie's plot is.
The Scottish songs and music score. With two wonderful songs ("Touch The Sky" and "Into the Open Air")  performed by Scottish Gaelic folk singer Julie Fowlis, not to mention a uniquely vibrant score by Patrick Doyle (Thor, Harry Potter and The Goblet of Fire), Brave is without question the most musically unique animated film to materialize  in many years. It does for Scottish songs and melodies what The Lion King did for African music. And while the two songs used in Brave will never be as popular as the African-flavored "Circle of Life" number that opened The Lion King, they are certainly as transporting as the movie's lush landscapes.


ADVERTISEMENT - CONTINUE READING BELOW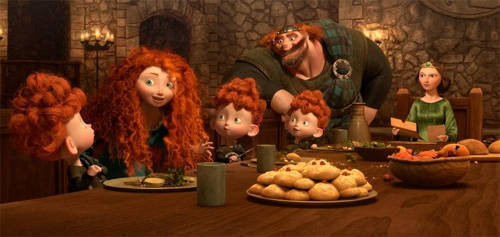 Kelly Macdonald plays the adventurous princess Merida.
CONTINUE READING BELOW
Recommended Videos
The luminous bonus short La Luna. If Brave is about the complex bond between a mother and daughter, the animated short La Luna-which serves as a pre-feature bonus attraction to Brave-is an ode to male bonding. Magical and eloquent in its use of minimal dialogue, La Luna glows and pulsates with charm in its all-too-brief seven minutes. Many of you may even find La Luna more satisfying than Brave.
Minuses:
The languid pacing. At 93 minutes, Brave feels like it's two hours long. This is due to  lots of talk and arguing about why Merida should simply obey her parents' wishes and just marry one of the four suitors.
The holes in the story. Pixar's talented moviemakers slave on their screenplays for years and years, revising and editing the storyline and script until it's Pixar-perfect. The result of all this editorial work is normally an airtight story. Brave, however, apparently slipped through the cracks, because it has a nagging plot hole that should have complicated the resolution more.
ADVERTISEMENT - CONTINUE READING BELOW
The copycat climax. Pixar's previous productions have always had original, thoroughly satisfying endings. Not Brave, though, whose pivotal last moments look like a carbon copy of the climax of another recent Disney animated classic.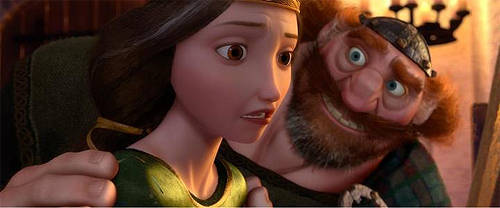 Emma Thompson is the unapproving queen.
In brief:
Brave is a bewitching adventure, but it's not as emotionally satisfying as Pixar's earlier masterworks. Of the 13 movies Pixar has made, this will probably rank near the bottom of most people's Top Ten list.
RATING:
4 out of 5 spots ••••
Check out the movie schedule for Brave here.
Share this story with your friends!
---
Help us make Spot.ph better!
Take the short survey
Load More Stories