Kinka-holics Anonymous: The Newbie's Guide to 'Adult Toys'
SPOT sneaked into Manila's adult toy shops for a primer on all things erotica.
For most, including the uninitiated, adult toy-shopping can be intimidating, not to mention, uncomfortable. SPOT.ph talked to the store clerks who have probably seen it all and heard it all, to tell us about adult toys 101: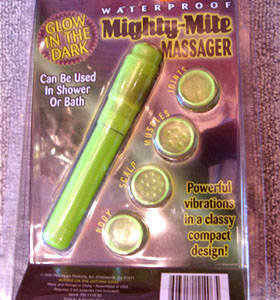 1.       Vibrators
Probably the most popular item to grace the store shelves, these little pulsating babies come in a variety of features:   glow-in-the dark, water-proof, strap-on and battery-operated and in a myriad of rainbow colors and prints (you wanted tiger prints?).
Some have animal faces like rabbits because in Japan, a longstanding taboo surrounding realistic depiction on vibrators urged manufacturers to use rabbit faces to disguise the real function of the toys.
Prices start at P1,000.00.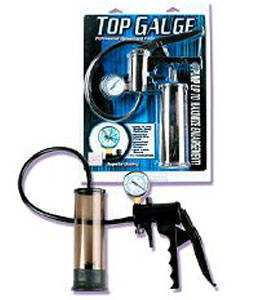 2.       Pumps
ADVERTISEMENT - CONTINUE READING BELOW
And by 'pumps' we do not mean shoes.   The pumps, which suspiciously look a lot like your normal air pump, the kind used to inflate balloons, are euphemistically referred to as male enhancement tools.   Used to 'pump' the guy's instrument with hopes to make it larger, there is no scientific proof of its effectiveness, and manufacturers produce them for the adventurous and the playful (and the brave). According to the newer adult toy shops in Makati, the pumps don't sell as much as the other toys.
Prices start at P2,000.00.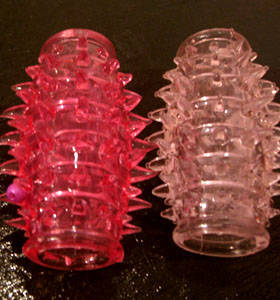 3.       Ticklers
CONTINUE READING BELOW
Recommended Videos
A rubber 'toy' inserted into the guy's member, with bumps, crests and protrusions to well, tickle and enhance sensations.   They come in various sizes, colors and bump variety.   In one shop, this was one of the bestsellers because of its affordable price tag.
Prices start at P450.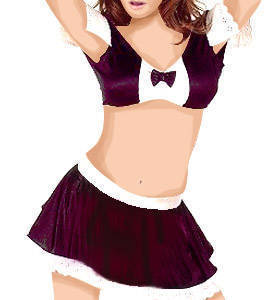 ADVERTISEMENT - CONTINUE READING BELOW
4.       Lingerie
No adult shop is complete without lacy things, thongs and even clothes to complete the fantasy - whether it's schoolgirl garb, a sexy nurse's outfit or the proverbial French maid frock.   Note to buyers: you can't fit them in most shops so you have to know your size.
Prices start at P500.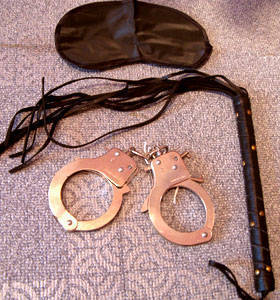 5.       Bondage
Satin masks, furry cuffs, 'pleasure tapes' and leather leashes can be found in most stores, all meant to restrain a partner by being cuffed, tied, blind-folded or gagged–whatever turns them on.
Prices start at P450.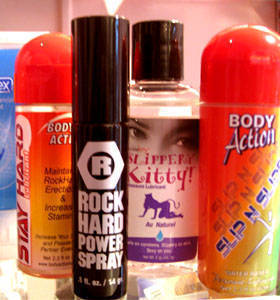 6.       Cosmetics and Lubes
ADVERTISEMENT - CONTINUE READING BELOW
Desensitizers, hardening cream, lubricants and arousal gels all come in different-sized tubes and flavors.   The right lubes and creams can enhance sensations, decrease pain associated with intercourse and is essential for experimentation, we were told.
The variety can be overwhelming, not to mention mind-boggling, in most stores: one was even labeled "Low-Carb Liquid Love" in Pina Colada, Blue Rasberry and Green Apple flavors, obviously meant to make using creams on the body tasty, fun and fat-free.
Prices start at P600.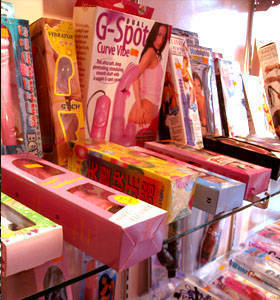 7.       Bachelorette/ Stag party novelty items
Adult toy shops are a haven for bachelorette and stag party favors.   Saying "sayonara!" to singledom has never been as fun (or kinky) with items such as sexy wineholders and "dirty dice".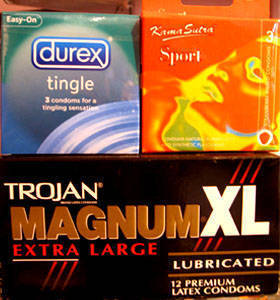 8.       Latex
ADVERTISEMENT - CONTINUE READING BELOW
No adult toy shop is complete without latex, all kinds that you can possibly think of. Some shoppers grab a box and go but some were unusually freaky, wanting to see if the latex fit before he buys a box.   We were told this was not normal shopping behavior.
Prices start at P50/ box.
Images taken by SPOT.ph. Lingerie image and main artwork by Warren Espejo.
COMING SOON: Mapping Manila's Adult Toy Stores.
Share this story with your friends!
---
Help us make Spot.ph better!
Take the short survey
Load More Stories