Making the Cut: A Guy's Guide to Manila's Cool Concept Barbershops
You'll want to take some time for a good cut and shave at these places.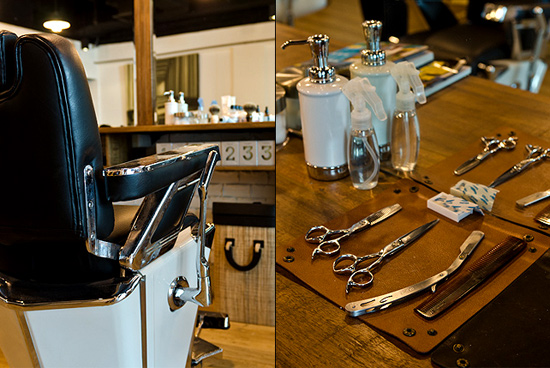 (SPOT.ph) Due for a haircut? Skip your streetside barber-or your girlfriend's salon-and treat yourself to a good cut and shave at these specialty grooming shops.
Also read:
Top 10 Hair Salons in Manila (2014 Edition)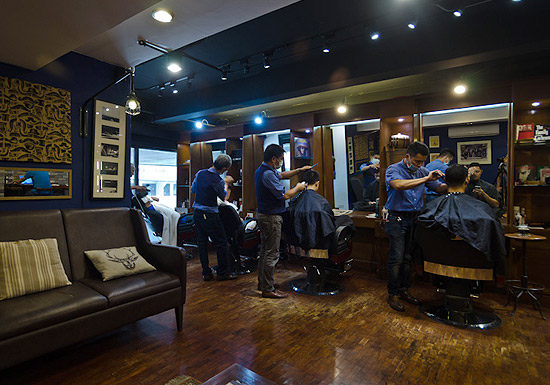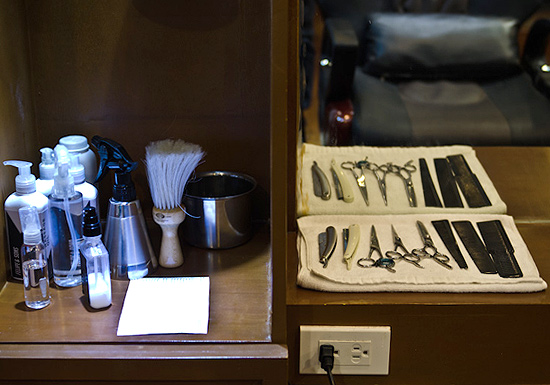 The Gentlemen's Club: Felipe & Sons Barberdashery
Contact: 949-7703; felipeandsonsph@gmail.com
Address: Mezzanine A, LPL Mansion, 122 San Agustin Street, Makati City
Operating hours: Monday to Friday from 11:00 a.m. to 10:00 p.m. and Saturday to Sunday from 11:00 a.m. to 9 p.m.
www.felipeandsons.com


ADVERTISEMENT - CONTINUE READING BELOW
The lowdown: First up, you might be wondering what a "barberdashery" exactly is. Felipe & Sons is a barbershop, offering excellent grooming services, and a haberdashery, customizing clothing pieces for every gentleman. This one-stop shop in Salcedo Village gives off an old-world charm that will transport you back to the good ol' days of tailored suits and spotless oxfords-times when men actually made an effort to look good and, ultimately, feel good.
Go for: The Felipe (P590)
This special grooming package includes a cut, shave, and a drink of your choice. Yup, you can enjoy an ice-cold bottle of beer while your barber busies himself tidying you up. Speaking of, most of Felipe & Son's staff are second- or third-generation barbers who learned their craft from their fathers and even grandfathers. They're the types who know what cut will suit your face and your personality best. Make sure to ask for a hard part-they do it so well here.
CONTINUE READING BELOW
Recommended Videos
Other services: Two Bits: Cut & Shave (P550), Two Bits Special: Cut & Luxury Services (P950), Cut & Rinse (P250), Touch-up (P150), Barber's Massage (P300/P500), Hot Towel Shave (P350), (Luxury Shave (P800), Facial Treatment (P800), Grey Reduction (P1,100), Shoe Shine (P150)
*Custom clothing services also available
The verdict: Expect attention to detail and a warm and friendly atmosphere at Felipe & Sons. They know how to pamper a gentleman down to the littlest detail-from traditional shavers and the most effective barbicide down to the perfect room temperature and the most spotless shoeshine in the metro. Plus points must also be awarded for their efforts to take pride in Filipino talent-because no one does it better.
ADVERTISEMENT - CONTINUE READING BELOW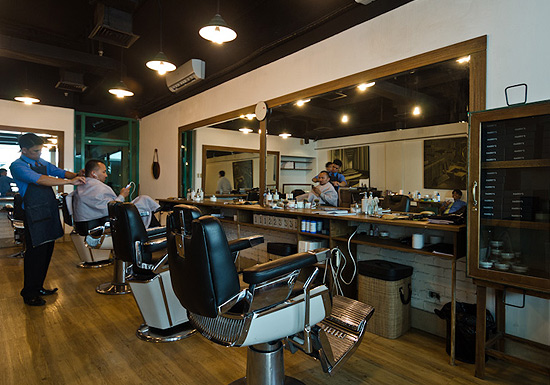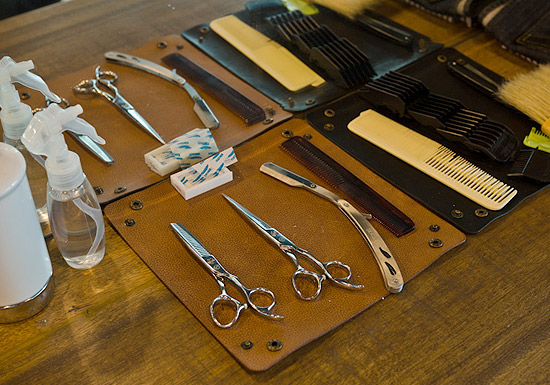 The Mancave: Back Alley Barbershop
Contact: 0947-5185736; dude@backalleybarbershop.com
Address: Unit 1D, Alpha Salcedo Condominium, Bautista St. corner Sanchez St., Salcedo Village, Makati City 
Operating hours: Monday to Friday from 11:00 a.m. to 9:00 p.m. and Saturday to Sunday from 10:00 a.m. to 9:00 p.m.
www.backalleybarbershop.com
The lowdown: Want your own time away from the bustling, fast-paced metropolis? Then Back Alley is exactly what you're looking for. Anyone eager to become a "better dude" would find refuge in this shop's cool interiors, hidden along a narrow alleyway in chill Salcedo village. The vibe is old school and hip, with black-and-white graphics taking up most of their wall space, and with wooden and industrial pieces sprucing up the room. Requisite reading materials such as Monocle, Kinfolk, and Grid are also on hand for everyone's perusal. There are even world city maps piled up on one shelf to inspire guests to appreciate the finer things in life. And that's exactly the type of pampering you will experience while at Back Alley. Every step of the process is calculated with the goal of giving the best personal services no barber or even salon can offer.
ADVERTISEMENT - CONTINUE READING BELOW
Go for: Cut + Shave + Hungover Treatment (P750)
Here is the ultimate pampering service any man could want. In a little almost two hours, you will be spoiled via an intricate cut of your choice, a delicate shave, and "a general relief and rescue service for gents who need a refresh." Expect to snooze through the treatment, only to awaken energized and ready for another busy day.
Other services: Haircut & Wash (P400), Shave (P450), Shoulder Massage & More (P450), Hungover Treatment (P750), No Frills Buzz Cut (P250), Cut + shave (P700), Cut + Hungover Treatment (P950)
The verdict: If you're looking for high quality services that can cater to your every whim, make sure to become a regular at Back Alley. It would be easy to spend half a day here. You'll meet like-minded dudes who value timeless style, impressive talents, and quality service. They have the best grooming products brought in from all over the globe like Baxter, Harry's, and Hairbond. Ever tried a "skin milk" product? You can at Back Alley. To top all that, they'll even make you choose your own vinyl to play on their turntable, and offer you a craft beer or hand-brewed coffee while having your grooming done.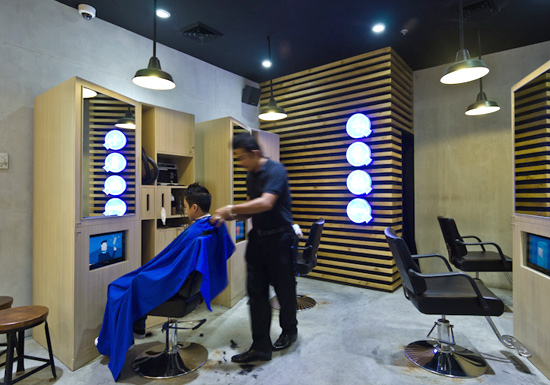 ADVERTISEMENT - CONTINUE READING BELOW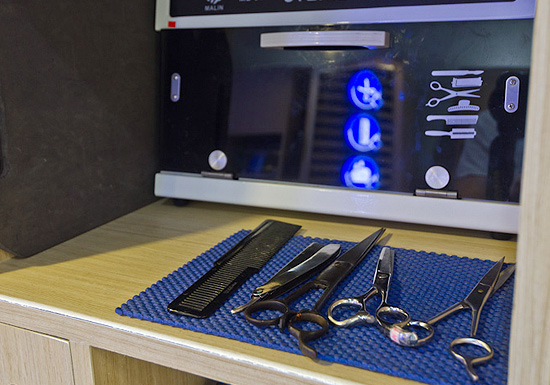 The Fast Lane: HQ Barbershop
Contact: hqbarbershop.ph@gmail.com
Address: Lower Ground Floor, The Annex, SM North EDSA, Quezon City
Operating hours: 10 a.m. to 9 p.m.
The lowdown: Tucked away at the end of a row of salons and health clinics is this barbershop that challenges the norms of space, service, and time. HQ occupies barely half the space of traditional barbershops in the metro-there's no welcome counter manned by a bubbly receptionist; no shelf displaying a bevy of hair products; no bulky barber chairs obstructing anyone's movement. There is, however, an electronic ticketing machine where guests pay before getting a cut. You sit on a short bench, and wait until a barber calls you up to a station, each one intricately designed and well equipped with every tool and machine to make the experience as fast, clean, and fuss-free as possible. There are even built-in vacuum machines in each station-one for cleaning your head and shoulders after the cut, and another for sucking up hair fallen on the floor. All that in just about a quarter of an hour!
ADVERTISEMENT - CONTINUE READING BELOW
Go for: The signature 10-minute haircut (P200)
Inspired by the barbershops found in train stations and beside convenience stores in Asian countries like Japan and Singapore, HQ offers their one and only service for men on the go. Without the unnecessary chitchat and dramatics, a barber can finish off your cut in just about 10 minutes.
The verdict: Anyone looking for a fast, fuss-free haircut should go for HQ at SM North EDSA Annex or its soon-to-open Taft branch. If you were wondering, cleanliness and sanitation are not an issue: they allot one comb per customer, which you can take home if you wish. HQ makes it conveniently possible to get groomed even when you're in a rush.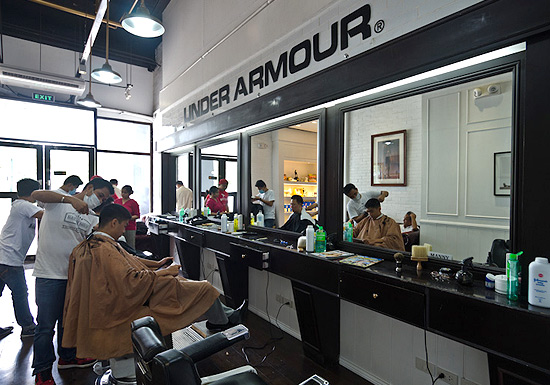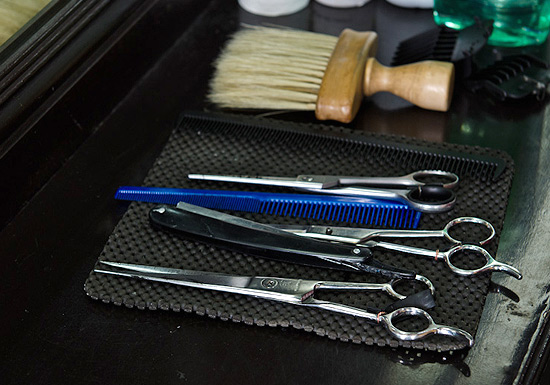 ADVERTISEMENT - CONTINUE READING BELOW
The Playground: Titan
Contact: 556-9771
Address: Two Parkade, 30th Street, Bonifacio Global City, Taguig; branches in San Juan, Katipunan, Taft, Glorietta and Alabang
Operating hours: Monday to Saturday 11 a.m. to 10 p.m.
www.titan22.com
The lowdown: "For Love of the Game." Walk up to Titan and you'll see these words scribbled above their doors. It's Titan's philosophy, it's what fuels their passion, and it is, of course, an invitation. Banking on the Filipino's love for basketball, Titan is where all types of hoops fanatics are most welcome. Whether you're a professional player, a loyal team fan, or a shoe junkie, any lover of the game would fit right in here. This retail concept works for everyone's advantage. You can check out the shoes on display, get your own basketball jersey made, watch the latest game on TV, and get your all your grooming needs done. And the chances of doing all that beside your favorite PBA player are pretty high. There's a spirit of camaraderie in the air, and that assures you a good, relaxing time right from the tip off.
Go for: Titan Special (P400)
It's not all fun and games. Featuring a cut, shave, and scalp massage, the Titan Special will make anyone feel like royalty. In your throne, your barber will make you feel like a king, especially via your crowning glory. You wouldn't want anything else after a hectic season or right before heading out for another ball game.
Other services: Cut (P200), Shave (P150), Cut and Shave (P250), Scalp Massage (P150), Full Massage (P300), Color (P400/P700), Scalp Treatment (P500)
ADVERTISEMENT - CONTINUE READING BELOW
The verdict: Titan definitely scores high in the field of grooming. They know a guy's needs, and they make it a point to deliver. Here, they know that the customer is always the most valuable player-and they will make you feel like no less.
Also read:
Share this story with your friends!
---
Help us make Spot.ph better!
Take the short survey
Load More Stories